Address
124 Edward Street, RM 170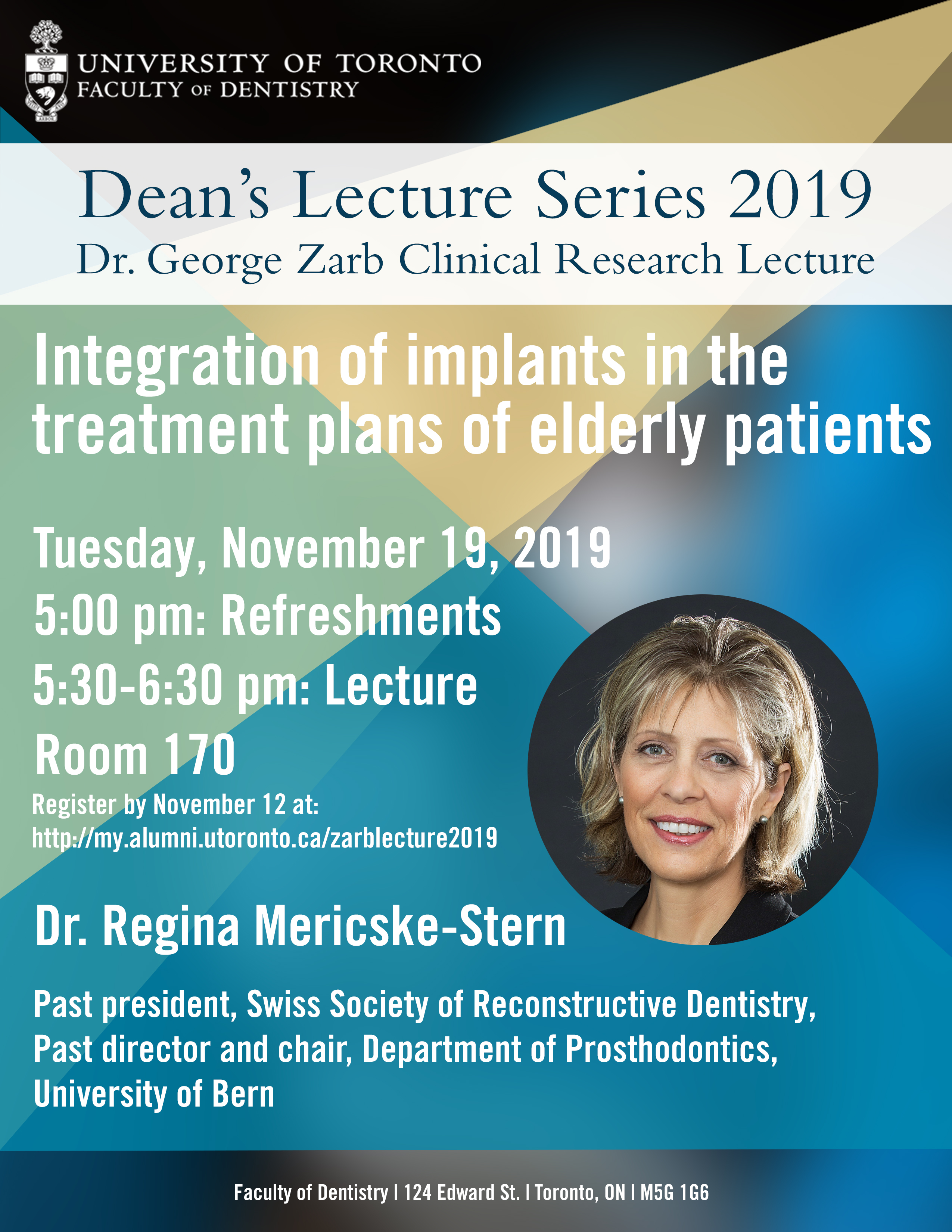 The Faculty of Dentistry is delighted to announce the 2019 Dr. George Zarb Clinical Research Lecture with Dr. Regina Mericske-Stern
Prof. em. Dr.med.dent.,  Lic.phil.; Specialist Prosthodontics (SSO); MAS Implantology (SSO)
RECEPTION: 5 pm; LECTURE: 5:30 - 6:30 pm
Open to all faculty, staff, students, and alumni. 
Integration of implants in the treatment plans of elderly patients
The placement of implants restored with fixed prostheses for the edentulous jaw brought a revolution in dentistry. However, investment in time and costs as well as invasiveness of surgical procedures may be high. Edentulousness was and still is more prevalent in elderly patients. Therefore a more simple procedure, i.e. Implant Overdentures (IOD), was introduced. Today, the mandibular IOD It is labeled a geriatric concept, which reduces the burden of poor muscle control, atrophic jawbone and vulnerable tissue.
However, prevention and long-term care of own natural teeth is emphasized. Subsequently, many elderly patients are maintaining some or many teeth, and together with the option of implant placement this brought an evolution in their prosthetic management.
The benefit of implants in the treatment strategy of elderly patients is twofold:
1) A few implants are placed in combination with the reduced natural dentition, which means an increase of prosthetic abutments to optimize prosthetic support. This is indicated particularly in the case of long span gaps, of an asymmetrical distribution of the remaining teeth or an unilateral edentulous jaw.
2) The radical extraction of the entire terminal dentition will result in an optimum arrangement of the prosthetic implant-abutments, and in a favorable design of the prosthesis. A reduced treatment goal such as mandibular IOD or maximum solutions with fixed prosthesis for a younger more demanding segment of the elderly patients are possible.
Obviously, decision-making becomes more complex and requires more analysis when including the option of elective surgical procedures with regard to the individual patients' conditions. The lecture will outline these aspects and include some perspectives of new technologies. 
ABOUT MERICSKE-STERN 
Prof. em. R. Mericske served as Director and Chair of the Department of Prosthodontics, University of Bern. Here she had received her undergraduate training in Dentistry and her PhD degree. She was director of the division of Continuing education and run the Master Program in Prosthodontics and Implant dentistry. The students elected her teacher of the year. As a visiting professor she spent one year at the Dental School of Toronto (Prof. Zarb) and thereafter became a regular guest professor. She has lectured worldwide in over 35 countries. She is a member of various national and international societies: honorary member of the Japanese Association of Implantology, past-president of the international College of Prosthodontists and the European Prosthodontic Association (ICP and EPA). In 2015 she completed her term as the president of the Swiss Society of Reconstructive Dentistry (SSRD). Her activities, both in clinical practice and clinical research, cover the field of oral implantology, prosthodontics including modern CAD CAM technologies and geriatric dentistry. These are represented in many publications, abstracts and book chapters. Currently she is practicing in the private dental clinic Bubenberg together with her husband.