Address
FACULTY OF DENTISTRY, ROOM 170, 124 EDWARD STREET, TORONTO
The Uncertain relationship between frailty and oral health
Speaker: Michael I MacEntee, University of British Columbia
Summary: There is much uncertainty in clinical practice yet it is a rarely acknowledged problem in medico-dental education or in clinical practice, and the consequences can be very unsettling for everyone involved. This lecture will explain the source and consequences of this uncertainty in the context of research on oral health care for people who are frail.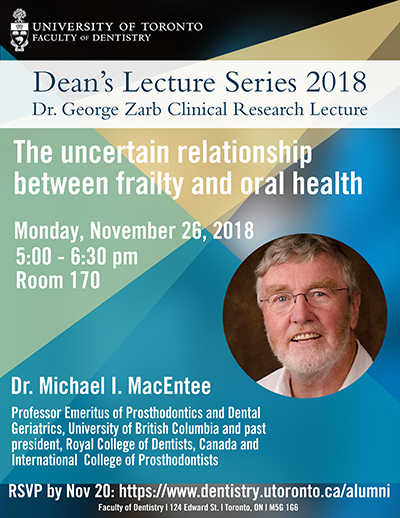 About Michael MacEntee:
Michael I. MacEntee, LDSI, Dip. Prosth., PhD, FRCDC, FCAHS is Professor Emeritus of Prosthodontics and Dental Geriatrics at the University of British Columbia. He is a teacher, researcher and clinician focused on prosthodontics, public health, quality of life and access to care for people who are disabled by physical, psychological or social circumstances with a special interest in geriatrics. He chaired the Division of Prosthodontics and Dental Geriatrics in the Faculty of Dentistry at UBC from 1981 to 2004. He has published numerous books, chapters, and papers on the measurement, distribution, impact and management of mouth-related disorders.
He is a past-president of the Royal College of Dentists of Canada, and of the International College of Prosthodontists.
DR. MacEntee was awarded a Distinguished Scientist Award from the International Association for Dental Research and a Killam Teaching Prize from UBC, and in 2015 he was elected a Fellow of the Canadian Academy of Health Sciences. He was also the Editor-in-Chief of Gerodontology from 2012 until March 2018, and serves on several editorial boards for scholarly journals.
[Further Information: http://gdp.dentistry.ubc.ca/files/2016/09/MacEntee.pdf]
To RSVP, click here.