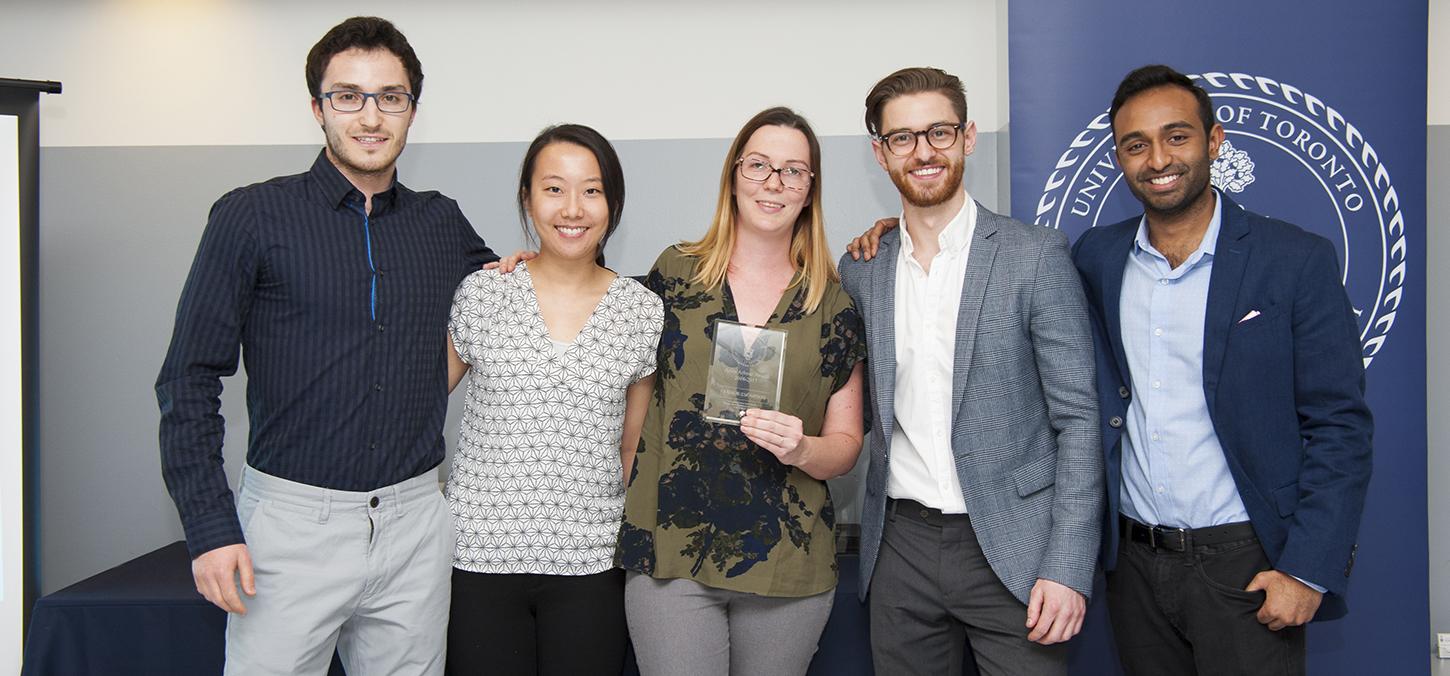 DDS Awards Night Honours Student Mentors
On April 4, the DSS held their annual feel-good DSS Awards Night, honouring the best professors, demos and instructors of the year. This year also saw the awarding of the second annual Colour Group Games Cup to Blue Team, for their outstanding participation in events all year. 
Congratulations to each of this year's winners!
| | |
| --- | --- |
| Anita Arbor | Frankie Thompson |
| Instructor of the Year | Dr. Babak Shokati |
| Anatomy | Dr. Yamini Arudechelvan |
| Dental Anatomy | Dr.Simon |
| CCP1 | Martha Clarke |
| Biomaterials | Gordana Dimitrijevic |
| Prosthodontics | Slawek Bilko |
| Restorative  | Dr. Joel Rosenbloom |
| | |
| --- | --- |
| Anita Arbor | Lily Lis |
| Instructor of the Year | Dr. Karen Burgess |
| Team 1 | Dr. Anthony Stokl |
| Team 2 | Dr. Corina Alexander  |
| Team 3 | Dr. Isabel Cumandra |
| Team 4 | Dr. Mona Mohsen |
| Team 5 | Dr. Stephen Murray |
| Team 6 | Dr. Eli Shem-Tov |
| Team 7 | Dr. Mario Mazeriegos |
| Team 8 | Dr. Victoria Sugarman |
| Team 9 | Dr. Daniel Biner |
| Team 10 | Dr. Phil Carnevale |
|   | Dr. Anthony DelCore |
| | |
| --- | --- |
| Anita Arbor | Rovena Meto |
| Instructor of the Year | Dr. David Powell |
| Orthodontics | Dr. Tracey J. Hendler |
| Restorative | Dr. J. Rosenbloom  |
| Prosthodontics | Dr. M. Abu Ruja |
| CCP2 | Ms. S. Mitri  |
| Endodontics | Dr. R. Dana |
| DPH | Dr. M. El Rabbany |
| | |
| --- | --- |
| Anita Arbor | Dr. David Lam |
| Instructor of the Year | Angie Kim |
| Team 1 | Dr. Eszter Somogyi-Ganss |
| Team 2 | Dr. Peter Model |
| Team 3 | Dr. Peter Brymer, Dr. Cowan |
| Team 4 | Dr. Hoang |
| Team 5 | Dr. Barrie |
| Team 6 | Dr. Anthony Stokl |
| Team 7 | Dr. Baker |
| Team 8 | Dr. Aras, Dr. Lawson |
DDS4 Honorary Class Members
Dr. Aviv Ouanounou
Dr. Eszter Somogyi-Ganss
Dr. Anthony Stokl
Dr. Lorne Chapnick
Ms. Alma Maksuti
Dr. Rose Marie Jones
Ms. Victoria Kellner
Dr. Joel Rosenbloom
Ms. Rhea Gold
Dr. Richard Rayman
Dr. Daniel Haas
Ms. Tanja Richards