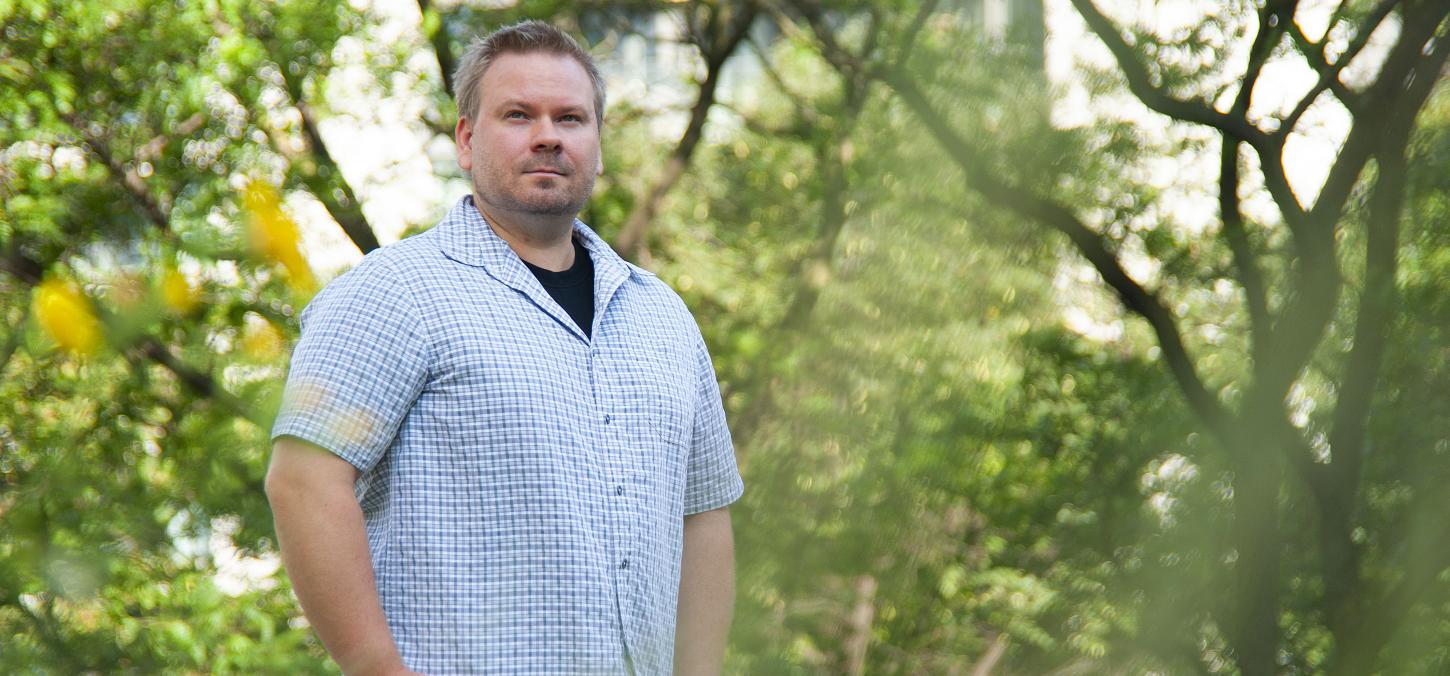 Student Profile: Eryk Waszczylo
A Sudbury, Ontario native, Eryk Waszczylo (DDS4) came to U of T's Faculty of Dentistry after deciding to change careers.
With an undergraduate degree in biomedical biology, Eryk's wife, Tiffany, suggested he try dentistry. When they moved to Toronto for Tiffany's residency in dermatology at U of T's Faculty of Medicine five years ago, Eryk applied to the Faculty of Dentistry. It turns out he really liked it – and he still likes it. "I enjoy the patient interaction," he said. "It's appealing to me and it's the best fit. I'm able to provide immediate help and problem solve. I like that aspect of dentistry."
Eryk and Tiffany balance a hectic school schedule with raising their three-year-old son, who Eryk says everyone refers to as his 'mini-me'. "My colleagues keep asking me to bring him into the clinic because he's pretty cute."
Eryk says he has learned a great deal at the Faculty. "I'm happy with this career choice, for sure." Coming to Toronto and undertaking this course of study he says "has been well worth it." When they both finish school, Eryk and Tiffany plan to move back to Sudbury where they plan to establish and grow their careers. Eryk says he likes the pace of life back home, and the access to the outdoors.
Do you have any mentors?
In terms of the Faculty, Dr. Greg Anderson has been a mentor to me. I admire how organized he is and how he has such an extensive knowledge base of all disciplines. Dr. Anderson spoke of challenges he faced working in Northern Ontario as a family practitioner, without always having access to specialists, and this can be the case in smaller cities like Sudbury. I'm looking forward to carving a path similar to his next year.
Do you have any advice for new students?
Coming into dentistry can be stressful, especially if dentistry is new to you, as it was new to me. Once you get the language and the vocabulary down you will be okay. You have to get through the first year, then you'll be fine. Try to manage your stress with exercise and getting out socially. My classmates admire that I don't get stressed. I'm effective at interacting with students and patients; I stay calm and I show them I know what I'm doing and that puts them at ease.
My advice to new and returning students is to be confident. It is important to have and to demonstrate, confidence in the clinic. Know the issues patients will present with, in terms of their oral health, and be prepared to handle them. Show the patients that you care and that you understand how they feel. Communicating with patients is as big a part of the job as is mastering the technical skills that envelop the profession.
Focus on school, but make sure you have fun in the off time. I personally enjoy outdoor activities – it's important to get outside and remain active.
Be sure to take advantage of the services that are available to all students at the Faculty and the University of Toronto, such as mental health services offered through Student Services. If you need help, don't be afraid to ask for it, and know that there's a tremendous amount of support from both your fellow students and faculty members here at U of T Dentistry.
Photo: Jeff Comber, IITS