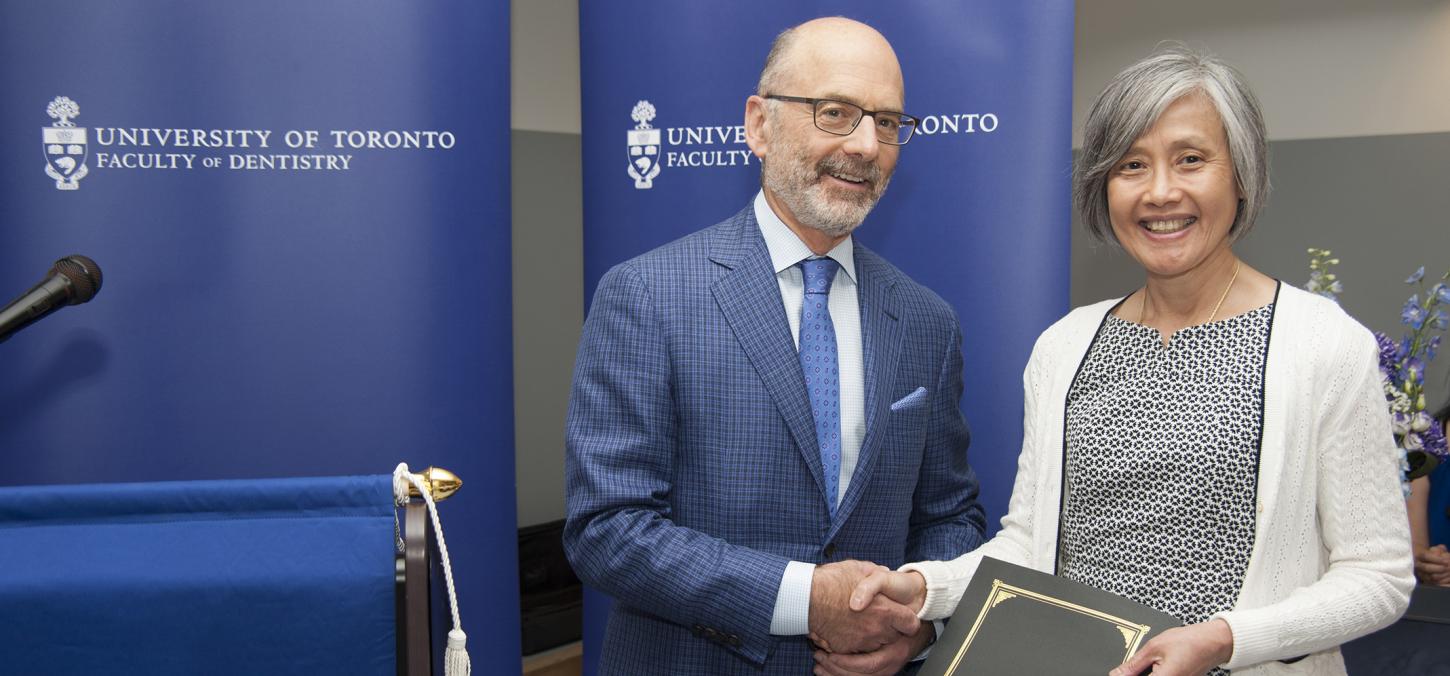 Summer Luncheon & Staff and Teaching Excellence Awards
On June 29, right before the start of the Canada Day long weekend, the Faculty of Dentistry hosted its annual Staff Luncheon featuring the Staff and Teaching Excellence Awards.
Dean Daniel Haas kicked the event off by welcoming everyone, thanking them for their hard work, dedication, and patience. He then proceeded to distribute the 2018 awards.
The Bruce Hord Master Teacher Awards are presented annually to recognize individuals who are exemplary role models, clinicians and teachers.
Dr. Greg Anderson was recognized for his collegial approach with his students and always making an extra effort to speak to every student to see how they're doing in clinic. His way of teaching is student-oriented and systematic.
Dr. Anthony Joseph Stokl is consistently recognized by many dental students in both 3rd and 4th years as a valuable instructor. He has received numerous teaching awards including being honorary class member for the graduating class of 2018.
The W.W. Wood Award for Excellence in Dental Education was established by the Association of Canadian Faculties of Dentistry, and it honours a faculty member who consistently demonstrates excellence through teaching.
This year's recipient is Dr. Grace Bradley who has played a pivotal role in undergraduate dental education. Dr. Bradley has demonstrated excellence in education both as the Associate Dean of Undergraduate Education and as the Director of Graduate Oral Pathology and Oral Medicine.
The Faculty of Dentistry Staff Excellence Award celebrates the professionalism, teamwork, contribution to morale, and excellence of a staff member or members. The committee chose three deserving recipients.
Marie-Christine Kean, Academic Administrator for Instructors in Dentistry, was recognized by her nominators for her professionalism, her keen attention to detail and her respect for confidentiality and collegiality.
Dorcas Johnson, Senior HR & Payroll Administrator. Dorcas's nominators noted how she establishes and maintains harmonious working relationships, both internally at the Faculty and externally with U of T. She was recently described by one instructor as 'a ray of sunshine.'    
Gail Lawrence, Clinical Procurement Coordinator, was acknowledged by her nominators for her calm and professional manner, especially when she is ensuring that policies are adhered to. She demonstrates 'pitching in' at the highest level.
The Dean concluded the event by saying: "I want to say thank you to each of you. I feel very fortunate to work alongside each one of you. I sincerely appreciate your commitment and dedication."
Photographer: Jeff Comber, Faculty of Dentistry