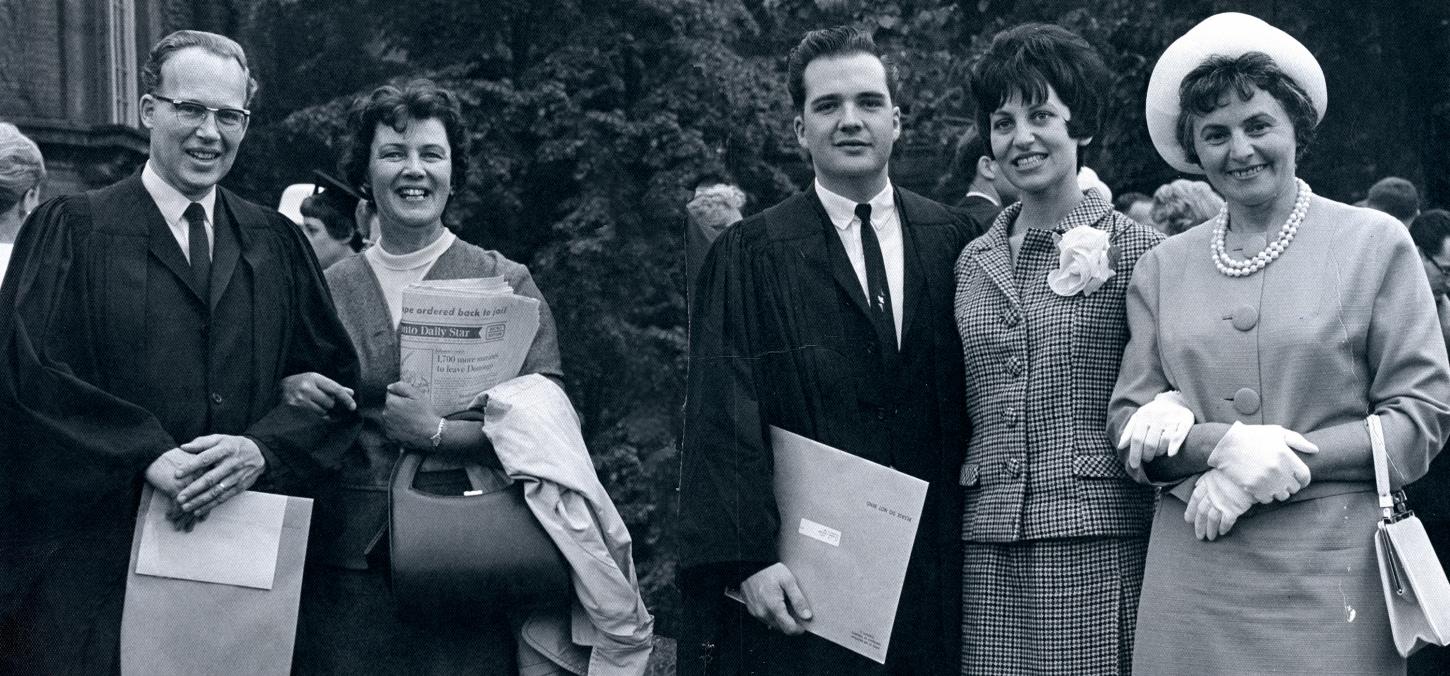 94 years, three generations, one building: meet Erik Langenholt and family
Walking through the bustling pathways between dental units in the Children's Clinic, 94 year-old Dr. Erik Langenholt, class of 6T5, recalls his first patient.
"He was twelve years old and for him, dentists were not 'top drawer,'" the spry nonagenarian says with a grin. "He sprang up from the chair and made a run for it."
By the time he was running down his young patient through the hallways of the Elm Street building it had been open for just four years. Langenholt had been in Canada for a mere 13. Dentistry would be his second profession, and one that he came to through an accident of fate.
Langenholt emigrated from a town near Copenhagen, Denmark, landing in Sudbury, Ontario at the age of 27. His family was in lumber, so when he moved to his new northern Canadian home — it was 1951— he took up the familiar career again, working for a lumber and building supply company for nearly nine years.
Then, a health scare would forever change his life.
Several men in the sales department developed tuberculosis. Every worker at the company had to go through a medical examination. Langenholt's x-ray came back positive for the deadly disease.
Despite the prognosis, Langenholt looked forward to the future. "I thought, 'If I'm sent to a sanatorium for a year, I could study something.'" The question was, what?
No sooner had Langenholt turned his mind to the idea of a new profession that he discovered he did not have TB after all — he had been misdiagnosed.
Still, Langenholt pursued a new career. His late wife, a Copenhagen-trained dental technician, suggested that he might make a good dentist. It seemed to fit the bill —also an accomplished furniture maker, Langenholt is good with his hands — so he attended the then-newly built Laurentian University to upgrade his education. He was soon admitted into the one-year pre-dentistry program at the University of Toronto.
At 37 years old, a mature student with two children, working in a second language, Langenholt started the DDS program.  
"It was great," says Langenholt with a grin. "I think I was fairly popular. Sometimes students would come to me and I would try to guide them."  He made close friends with students and several of the professors, remarking that they made the European-born student feel "really good," and "at home."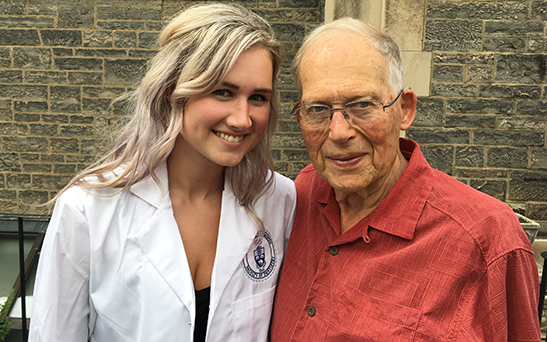 Calling his education "spiritual," Langenholt enjoyed most the ability to "learn about how life unfolds on a microscopic level." One of his most vivid memories is of dissecting dogfish in his anatomy classes. There was also "all that lovely machinery."
Langenholt graduated second in his class in 1965 — but that was hardly the end of the family affair. Just two years after her father's graduation, Langenholt's eldest daughter Anita (Agnete) entered the dental hygiene program at the Faculty. She graduated with the class of 6T9.
Now, as Langenholt walks through the hallways of his alma mater once again — not quite as shiny and new — his legacy at UofT Dentistry has taken on yet another dimension. This September, Langenholt's granddaughter, Krista MacDonald, joined the DDS class of 2T2.
"He was really excited to come back here and re-establish links with people he knew long ago," says MacDonald of her grandfather. "It's nice for him to remember that part of his life."
As the third generation from her family to attend the Faculty, MacDonald, who decided on dentistry because of its ties to her master's research in nutrition and the profession's hands-on appeal, says she was fortunate to get great advice.
"My grandfather and aunt both said a lot of the same things that we heard when we arrived here, about balance and getting involved in extracurricular programs."
Dentantics, the Faculty's student-run variety show staged annually since 1921, has loomed particularly large in the family's history.
"My aunt was a part of that," says MacDonald, "and my grandfather remembered going to shows."
"I remember having little sleep for several weeks because of the many rehearsals and the need, of course, to study — just running on adrenalin," recalls Agnete, who acted in the show for the two years she attended UofT Dentistry. Her husband, Rick Cooper 6T9, was involved behind the scenes as a technician.
For MacDonald, her family's connection to the Faculty lends her a unique perspective on being a student here. "As I walk around I wonder what things are still the same as when my grandfather first went to school here."
Regardless of what's changed and what's stayed the same, Langenholt has just one thing on his mind: "I'd like to come back, to take classes again."
Top: Erik Langenholt (left) with his wife and fellow graduates at the 1965 DDS convocation ceremony, University of Toronto. Courtesy Anita Cooper.
Inset: Erik Langenholt with granddaughter Krista MacDonald at the DDS Class of 2T2 White Coat Ceremony, courtesy Krista MacDonald.