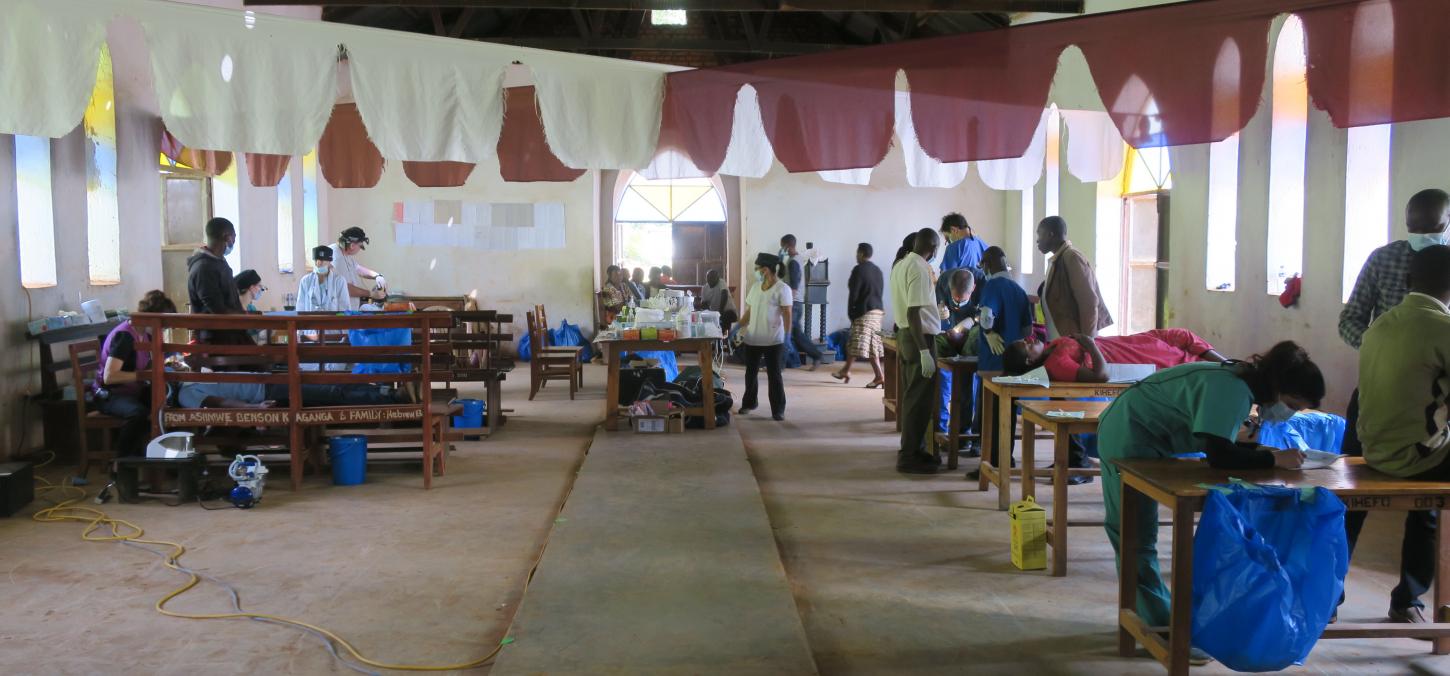 Dentistry in Uganda Program
For the past six years, Bridge to Health (BtH) and the Kigezi Healthcare Foundation (BTH's Ugandan not-for-profit partner in rural Kabale, Uganda) have worked together to provide comprehensive medical and dental care to people living in rural, underserviced communities in Uganda's southwestern region.
To ensure program sustainability, these organizations worked together to establish an international training program for Ugandan medical and dental officers, to deliver continuous health care, to build healthcare infrastructure and to perform essential health research.
I could talk about numbers... But this experience isn't about the numbers. It's about educating and screening every single child that walks through our clinic, to provide the same hygiene opportunities that Canadians are granted daily.
U of T Dentistry has been collaborating with these organizations for four years, sending two student practitioners and several faculty members into the heart of the Ugandan countryside for two week excursions, where they perform hundreds of extractions and create up to 20 dentures per day.
Faculty supervisor: Dr. Izchak Barzilay (Head, Divison of Prosthodontics and Restorative Dentistry, Mount Sinai Hospital; Instructor in Dentistry, University of Toronto).  
"There are no words to describe the impact this experience has had on my personal development and professional goals, and no distance will ever weaken the bonds that were formed with my colleagues in the field. I am very thankful to the University of Toronto and Bridge to Health for inviting me to be a part of this brigade again and mentor the dental students who joined us this year." 
- Chetna Mistry (volunteer dentist, former U of T volunteer student, AEGD resident, Texas A&M University). 
"I could talk about numbers... But this experience isn't about the numbers. It's about educating and screening every single child that walks through our clinic, to provide the same hygiene opportunities that Canadians are granted daily. It's about collaborating with doctors, nurses, pharmacists, physiotherapists and chiropractors, to provide all-encompassing care, to never neglect a silent issue, and to learn from each other along the way. And most importantly, it's about simultaneously teaching and learning alongside local officers, who remain behind to treat, educate, and maintain efforts for health sustainability once we are long gone…If every student could be afforded such an opportunity, our profession would be ripe with compassionate, understanding dental practices and a greater global dental community. I cannot express the impact it has made for me, my patients, and my future care practice. It has been truly good for the soul." 
- Irina Baranova (DDS 4 student, Faculty of Dentistry, University of Toronto)