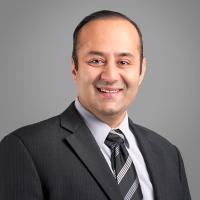 Other Appointments
D.D.S., M.Sc., F.R.C.D.(C) (DPH), Cert. Endo., Ph.D., F.R.C.D.(C) (Endo)
Email
Amir.Azarpazhooh@dentistry.utoronto.ca
A prolific, evidenced-based researcher, Dr. Azarpazhooh pursues research focused on the patient, from patient-centered outcome measurement to prompting patient utility to exploring the effectiveness of clinical interventions. 
Research & Clinical Specialties
Distinctions
Best Demonstrator Award, DDS Class of 1T6 (2015)
A. Bruce Hord Master Teacher Award (2013)
Fellow, Royal College of Dentists of Canada in Endodontics (2011)
Cochrane Canada Review of the Year (2012)
The American Dental Education Association/Academy for Academic Leadership Institute for Teaching and Learning Scholar, Atlanta, GA, USA (2010)
Endodontic Educator Fellow, American Association of Endodontists (2008-2011)
Fellow, the Royal College of Dentists of Canada in Dental Public Health (2007)
Select Publications
Azarpazhooh A, Dao T, Ungar WJ, Da Costa J, Figueiredo R, Krahn M, Friedman S.. "Patients' Values Related to Treatment Options for Teeth with Apical Periodontitis." J Endod. 2016 Mar;42(3):365-70. doi: 10.1016/j.joen.2015.11.022. Epub 2016 Jan 6.
Chang E, Lam E, Shah P, Azarpazhooh A. "Cone-beam Computed Tomography for Detecting Vertical Root Fractures in Endodontically Treated Teeth: A Systematic Review." J Endod. 2016 Feb;42(2):177-85. doi: 10.1016/j.joen.2015.10.005. Epub 2015 Nov 26. Review.
Carrasco-Labra A, Brignardello-Petersen R, Azarpazhooh A, Glick M, Guyatt GH. "A practical approach to evidence-based dentistry: X: How to avoid being misled by clinical studies' results in dentistry." J Am Dent Assoc. 2015 Dec;146(12):919-24. doi: 10.1016/j.adaj.2015.08.008.