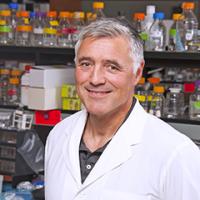 Rank
Professor
Vice Dean, Research
Cross Appointments
Professor, Institute of Biomaterials & Biomedical Engineering (IBBME)
Email
Bernhard.Ganss@dentistry.utoronto.ca
A member of the Matrix Dynamics research group, Dr. Ganss explores research in bioengineering and biomaterials that tests the regulation of gene transcription, explores the developmental biology of mineralized connective tissue (tooth, bone, cartilage), and seeks molecular genetic strategies for tissue regeneration.
Research & Clinical Specialties
Distinctions
IADR/GSK Innovation in Oral Care Award, International Association of Dental Research (IADR), 2013
Young Investigator's Award at the International Conference on the Chemistry and Biology of Connective Tissue, American Academy of Orthopaedic Surgeons, 1998
Select Publications
Abbarin N, San Miguel S, Holcroft J, Iwasaki K, Ganss B. The enamel protein amelotin is a promoter of hydroxyapatite mineralization. J Bone Miner Res. 2015 May;30(5):775-85. 
Nakayama Y, Holcroft J, Ganss B. Enamel Hypomineralization and Structural Defects in Amelotin-deficient Mice. J Dent Res. 2015 May;94(5):697-705. 
Iwasaki K, Bajenova E, Somogyi-Ganss E, Miller M, Nguyen V, Nourkeyhani H, Gao Y, Wendel M, Ganss B. Amelotin--a Novel Secreted, Ameloblast-specific Protein. J Dent Res. 2005 Dec;84(12):1127-32.