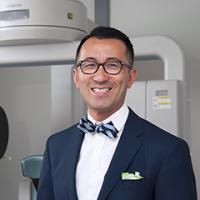 Rank
Professor
Associate Dean, Graduate Education
Graduate Program Director, Oral and Maxillofacial Radiology
The Dr. Lloyd and Mrs. Kay Chapman Chair in Clinical Sciences
Other Appointments
B.Sc. (Hons.), D.M.D., M.Sc., Cert. O.M.R., Ph.D., Dip. A.B.O.M.R., F.R.C.D. (C)
Email
Ernest.Lam@dentistry.utoronto.ca
Professor Lam's areas of research and clinical interests are in oral and maxillofacial radiology and oral and maxillofacial radiology education research. He serves as Associate Dean, Graduate Studies and Director of the Graduate program in Oral and Maxillofacial Radiology.
Research & Clinical Specialties
Distinctions
Fellowship Award, the Medical Research Council of Canada (1995-1998)
Clinical Investigator Award, the Alberta Heritage Foundation for Medical Research (2001-2005)
W.W. Wood Teaching Award, the Association of Canadian Faculties of Dentistry (2003)
The Dr. Lloyd and Mrs. Kay Chapman Chair in Clinical Sciences (2013 to present)
Fellow of the Royal College of Dentists of Canada in Oral and Maxillofacial Radiology
Diplomate of the American Board of Oral and Maxillofacial Radiology
Select Publications
Gillies RC, Quinonez C, Wood RE, Lam EWN.  X-ray prescription practices of dentists in Ontario, Canada. J. Am. Dent. Assoc. 2021 Apr;152(4):284-292. doi: 10.1016/j.adaj.2020.12.007.
Phaneuf T, Kishen A, Moayedi M, Lam EWN.  Effectiveness of commercial software-enhanced image artifact reduction software. J. Endod. 2021 May;47(5):820-826. doi: 10.1016/j.joen.2020.11.028.
Lam EWN, Law AS, Nguyen RHN, Basile SM, Austah O, Gilbert GH, Lindauer PA, Romano MJ, Nixdorf DR, Fellows JL and the National Dental Practice-based Research Network Collaborative Group.  Inter-examiner Agreement in the Radiologic Identification of Apical Periodontitis/Rarefying Osteitis in the National Dental PBRN PREDICT Endodontic Study.  J. Endod. 2021 Jul 16;S0099-2399(21)00485-4. doi: 10.1016/j.joen.2021.07.008.