Garry
Aslanyan
D.M.D., M.P.H., F.R.C.D.(C)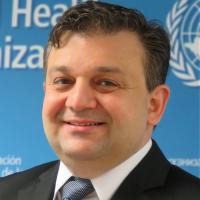 Main Appointments
Adjunct Professor, Faculty of Dentistry
Manager, Partnerships and Governance, World Health Organization (WHO) Special Programme on Research and Training on Tropical Diseases
Cross Appointments
Adjunct Professor, Dental Public Health, Faculty of Dentistry, University of British Columbia
Adjunct Professor in Clinical Public Health and Institute of Health Policy, Management and Evaluation (IHPME), Dalla Lana School of Public Health, University of Toronto.  
Adjunct Professor, International Health, Faculty of Medicine, University of Ottawa
Email
Garry.Aslanyan@dentistry.utoronto.ca
An expert in dental public health and international health, Dr. Garry Aslanyan manages partnerships between health organizations, governments and communities to help eliminate rare infectious diseases in developing nations.
Research & Clinical Specialties
Distinctions
Member, Guidelines Review Committee, World Health Organization, Geneva, Switzerland
Chair, Policy and Advocacy Committee, Canadian Association of Public Health Dentistry (CAPHD)
Editorial Advisor, Bulletin of the World Health Organization, Geneva, Switzerland
Editor-in-Chief, UN Special Magazine, WHO-UN, Geneva, Switzerland
Councillor for Dental Public Health, Royal College of Dentists of Canada (RCDC)
Examiner, Dental Public Health, Royal College of Dentists of Canada (RCDC)
Member, Canadian Coalition for Public Health in the 21st Century (CCPH21)
Member of Executive, Oral Health Working Group, World Federation of Public Health Associations (WFPHA)
Chair of Board Directors, Canadian Coalition for Global Health Research (CCGHR)
Past President, Ontario Public Health Association (OPHA)
Select Publications
Zicker F, Faid M, Reeder J, Aslanyan G. Building coherence and synergy among global health initiatives.  Health Res Policy Syst. 2015 Dec 9;13:75. doi: 10.1186/s12961-015-0062-3.
Ogundahunsi OAT, Vahedi M, Kamau EM, Aslanyan G, Terry RF, et al. Strengthening Research Capacity—TDR's Evolving Experience in Low- and Middle-Income Countries. PLoS Negl Trop Dis 2015; 9(1):3380.
Cole DC, Aslanyan G, Dunn A, Boyd A, Bates I. Dilemmas of evaluation: health research capacity initiatives Bull World Health Organ 2014;92:920–921.