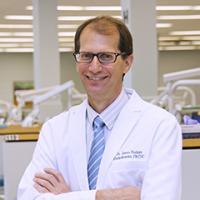 Rank
Director of Clinical Affairs
Assistant Professor, Teaching Stream 
Other Appointments
B.Sc., D.D.S., D. Ortho., M.Ed., F.R.C.D (C)
Email
james.posluns@dentistry.utoronto.ca
From safety to Access to Care funding for patients, Dr. Posluns oversees the operation of each of the Faculty's 14 clinics (294 chairs) and its staff. As well as being an expert in clinical matters, Dr. Posluns is a practicing orthodontist.
Research & Clinical Specialties
Distinctions
Manly Badner Award (2008)
Select Publications
Posluns J. Enamel decalcification in orthodontics: A survey of Canadian orthodontists. Ontario Dentist. 76(3): 15-24, 1999.
Posluns J. Diversity in Dentistry. Ontario Dentist. 81(7): 35-7, 2004.
Rosenberg H., Sander M., Posluns J. The effectiveness of computer-aided learning (CAL) in teaching orthodontics: a review of the literature. Am J Orthod. Dentofac Orthop 127(5):599-605, 2005