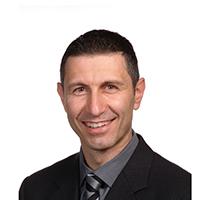 Rank
Associate Professor, Teaching Stream
Other Appointments
D.D.S., M.Sc., F.R.C.D.(C)
Email
John.Daskalogiannakis@dentistry.utoronto.ca
Specializing in craniofacial anomalies treatment and research, including cleft palate care, Dr. Daskalogiannakis is interested in multi-disciplinary approaches to patient treatment, with an emphasis on pediatric care. He has served as Coordinator (Orthodontics), in the Department of Dentistry, Bloorview-MacMillan Children's Centre.
Research & Clinical Specialties
Distinctions
Faculty of Dentistry Teacher of the Year (2006) 
Select Publications
Yunusova Y, Rosenthal JS, Rudy K, Baljiko M, Daskalogiannakis J. Positional targets for lingual consonants defined using electromagnetic articulography.J Acoust Soc Am 2012 Aug;132(2):1027-38.
Phillips JH, Nish I, Daskalogiannakis J. Orthognathic surgery in cleft patients. Plast Reconstr Surg 2012 Mar;129(3):535e-548e.
Oliver CL, Daskalogiannakis J, Tompson BD. Archwire depth is a significant parameter in the frictional resistance of active and interactive, but not passive, self-ligating brackets. Angle Orthod 2011 Nov;81(6):1036-44. Epub 2011 Jun 23.