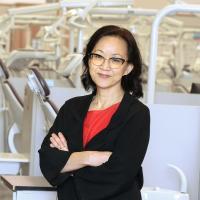 Rank
Professor
Associate Dean, Undergraduate Education
Email
Laura.Tam@dentistry.utoronto.ca
As Director of the Comprehensive Care program, Dr. Laura Tam ensures that DDS candidates receive comprehensive professional training. Her research in restorative dentistry explores short and long-term effects of wear and tear on restorative dental materials – for example, the effects of saliva on dentin-resin.
Research & Clinical Specialties
Select Publications
Tam, LE, Woo, J and Ho, S. The effect of bleaching time on dentin fracture toughness in vitro. J Esthet and Restor. Dent, 22(3):179-185, 2010.
Ryan, E-A, Tam, LE and McComb, E. Comparative translucency of esthetic composite resins in relation to tooth structure. J Can Dent Assoc, 76(4): 221-222, 2010 (abridged version) and J Can Dent Assoc., 76: a84, 2010 (electronic full version).
Shokati, B, Tam, LE, Santerre JP, Finer, Y. Effect of salivary esterase on the integrity and fracture toughness of dentin-resin interface. J Biomed Mater Res, Part B: Applied Research, 94B(1): 230-237, 2010.