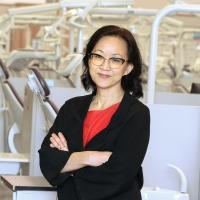 Rank
Interim Dean and Professor
Email
Laura.Tam@dentistry.utoronto.ca
Professor Tam's research in restorative dentistry explores vital tooth bleaching and dental restorative materials.  
Research & Clinical Specialties
Select Publications
In vivo biodegradation of a urethane-modified and a bisGMA based resin composite materials. 
         MacAulay, M, Tam, LE, Santerre, JP, Finer, Y*. JDR Clinical & Translational Research, 2 (2) Issue 4: 397-405, Oct 2017. 
Effect of whitening strips on fatigue resistance and flexural strength of bovine dentin. 
         Tam, LE*, Kim, N, De Souza, GM, PLOS ONE, published March 9, 2017, http://dx.doi.org/10.1371/journal.pone.0173480.
Effect of prolonged direct and indirect peroxide bleaching on fracture toughness of human dentin
         Tam, LE*, Kuo, V and Noroozi, A, J Esthet and Restor Dent, 19: 100-110, 2007.
Fracture Toughness of Dentin/Resin-composite Adhesive Interfaces,
          Tam, LE* and Pilliar, RM.
          J Dental Research 72:953-959,  May 1993.