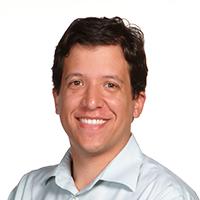 Email
Marco.Magalhaes@dentistry.utoronto.ca
Dr. Magalhaes' research explores areas related to cancer, including developing better cancer medicines, and the mechanisms of cell invasion and metastasis. Currently, Dr. Magalhaes is looking into the development of an early diagnosis test for oral cancer.   
Research & Clinical Specialties
Distinctions
Wilson G. Harron Award - Faculty of Dentistry, University of Toronto (2007)
CIHR Strategic Training Fellow - Cellsignals Canadian Institutes of Health Research
Select Publications
Glogauer J, Sun CX, Bradley G, Magalhaes MA. Neutrophils Increase Oral Squamous Cell Carcinoma Invasion Through An Invadopodia-Dependent Pathway. Cancer Immunol Res. 2015 Jun 25. pii: canimm.0017.2015. [Epub ahead of print] PubMed PMID: 26112922.
Magalhaes MA, Zeina Ghorab, Julien Morneault, Josephine Akinfolarin and Grace Bradley. Age-related Epstein–Barr virus-positive mucocutaneousulcer: a case report. Clinical Case Reports, 2015. DOI: 10.1002/ccr3.287
Magalhaes MA, Glogauer J., Glogauer M. Neutrophils and oral squamous cell carcinoma: lessons learned and future directions. Journal of Leukocyte Biology, 2014, in press.