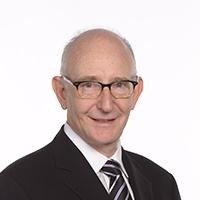 Rank
Associate Professor, Teaching Stream
Other Appointments
B.Sc., M.Sc., D.D.S., Dip. Perio, F.R.C.D (C)
Email
M.Goldberg@dentistry.utoronto.ca
Dr. Goldberg investigates the diagnosis and management of chronic orofacial pain, severe/refractory periodontal disease, and peri-implant diseases in two of the Faculty's groundbreaking clinics. Through his research, Dr. Goldberg seeks connections between oral and systemic health.
Distinctions
Member, School of Graduate Studies, University of Toronto
Select Publications
Grossi M, Goldberg M, Locker D, Mock D, Tenenbaum HC.  Neuropsychological Deficits as Predictors of Treatment Failure in Patients with Temporomandibular Disorders, J. Dent. Research 1997 Aabstract 50);77:112
Moncarz A, Mock D, Goldberg MB, Tenenbaum HC, Gordon A.  Initial outcome in the use of Botulinum Toxin in a chronic pain treatment facility, Canadian Pain Society, May 2003, Toronto, Ontario
Johnstone A, Goldberg MB, Glogauer M. Neutrophil function in chronic refractory periodontal disease patients.  American Academy of Periodontology, Annual Meeting, Orlando, Florida.