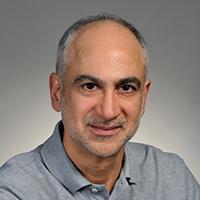 Rank
Professor
Interim Vice Dean, Research
Email
M.Manolson@dentistry.utoronto.ca
With the University of Toronto Bonelab, Professor Morris Manolson's research explores the conditions leading to pathological bone loss, and develops therapeutics to prevent it. Professor Manolson has recently won a CIHR grant to study V-ATPases, the body's "acid pumps," a study which may reveal novel new therapeutic targets for diseases ranging from arthritis to cancer.
Research & Clinical Specialties
Distinctions
Canadian Institute of Health Research-Institute for Gender Health/Ontario Women's Health Council Senior Investigator Award (2008-13)
Canadian Institute of Health Research-Institute of Musculoskeletal Health and Arthritis (IMHA) Quality of Life Award (2007)
Select Publications
Esmail S, Yao Y, Kartner N, Li J, Reithmeier RA, Manolson MF. N-Linked Glycosylation Is Required for Vacuolar H+ -ATPase (V-ATPase) a4 Subunit Stability, Assembly, and Cell Surface Expression.J Cell Biochem. 2016 Dec;117(12):2757-2768. doi: 10.1002/jcb.25574.
Crasto GJ, Kartner N, Reznik N, Spatafora MV, Chen H, Williams R, Burns PN, Clokie C, Manolson MF, Peel SA. Controlled bone formation using ultrasound-triggered release of BMP-2 from liposomes. J Control Release. 2016 Sep 28;243:99-108. doi: 10.1016/j.jconrel.2016.09.032.
Kartner N, Manolson MF. Novel techniques in the development of osteoporosis drug therapy: the osteoclast ruffled-border vacuolar H(+)-ATPase as an emerging target. Expert Opin Drug Discov. 2014 May;9(5):505-22. doi: 10.1517/17460441.2014.902155. Review.