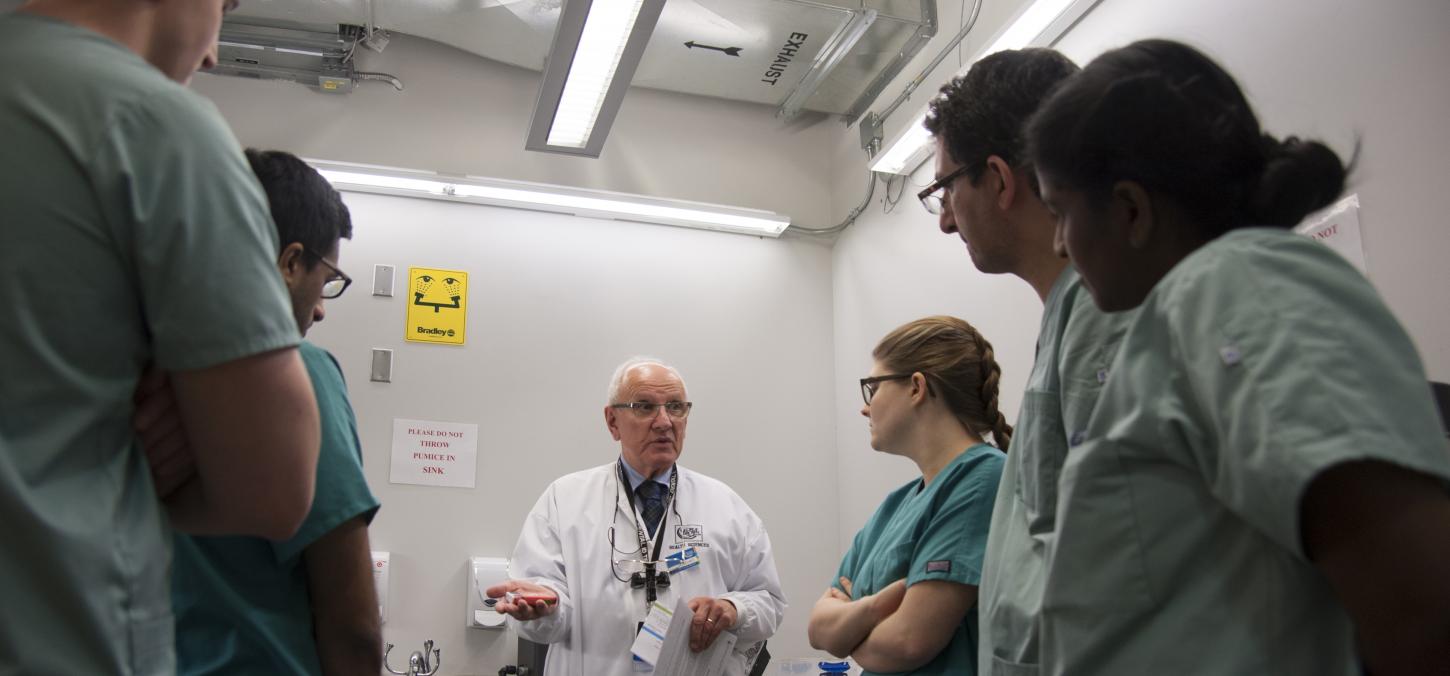 Resources for Instructors in Dentistry
A VITAL ROLE IN DENTAL EDUCATION
As an Instructor in Dentistry, you play a major role in training the next generation of dental professionals.
Your support and professional training of our students is a vital part of our academic mission, and our Instructors in Dentistry are an integral part of our community. The following information has been compiled to help you navigate through the sometimes complex clinical and teaching operations here at the Faculty.
WHY BECOME AN INSTRUCTOR AT THE FACULTY OF DENTISTRY?
As an Instructor in Dentistry at the Faculty of Toronto, you are a teaching member of the University of Toronto. This position entitles you to certain privileges, including:
Library privileges through the U of T library system
Voting rights in U of T's Governing Council Elections
Discounted rates on Continuing Education Courses
RCDSO Continuing Education points
NEW TO THE FACULTY? INFORMATION FOR NEW INSTRUCTORS
***COVID-19 Protocol is indicated below ***
WELCOME
Meet with the Course Director to learn more about your role and the academic expectations at the Faculty. Review this video which contains helpful onboarding information. https://vimeo.com/418499426
*** You will be provided access to the DEN COVID-19 Curriculum that will need to be completed prior to your start in the clinics. This will be available through Quercus and will be sent as an invitation through your utoronto email account. You will also be required to complete the self-assessment acknowledgment which will be sent to you from the Director of Clinic Affairs ahead of your start date.
LAB COATS
To adhere to Health and Safety standards, all instructors are required to wear lab coats on the clinic floors.
How to get one?
***At this time Lab Coat allocation is being directly coordinated with each clinic. Please see your clinic Reception or Team Leader to arrange this.
Outside of the COVID-19 restrictions Lab coats would typically be distributed as follows:
Instructors assigned to Undergraduate Clinics (Clinic 1, 2, OD/Emergency, Radiology and the Children's Clinic) will need to pick up a bar code, to be affixed to the individual instructor's staff ID card, from Clinic Administrative staff, Anna Pullano in Room 205 (located in Clinic 2).
Lab coats will be picked up from the Laundry room, and checked out using the bar code, and can be returned to any undergraduate dispensary.
Instructors working in other clinics will have their lab coats distributed by administrative staff.
PHOTO ID
***Currently you will need to provide a photo to the IITS help desk in order to have your ID card created. Instructions for this will be sent to you ahead of your start date.
Outside of the COVID-19 restrictions: Visit the Faculty's Information and Instructional Technology Services Department (IITS), RM 346, to have your photo ID taken and get help setting up your @utoronto.ca email address, which will become the default mode of communication with the Faculty of Dentistry.
You will need to have your photo ID on you at all times to access the axiUm system. Please remember to bring your UTOR ID letter, obtained from Human Resources, RM 305.
AXIUM TRAINING
The Faculty's patient management software is axiUm. Visit https://iits.dentistry.utoronto.ca/faq/8 and click on the 'Introduction to Axium' on the right column.
ABSENCES
Please note that a minimum of 48 hours' notice is required for all absences. These must be reported to your relevant Academic Administrative Assistant and Course Director. Where possible, please arrange appropriate coverage for your scheduled clinic time with another available Instructor in Dentistry.
MEET YOUR TEAM LEADERS
Team leaders organize and supervise day-to-day operations. Your Course Director can introduce you to these important members of our staff on your first day in the clinic.
PROFESSIONALISM STARTS HERE
Instructors in Dentistry Code of Conduct
As an Instructor in Dentistry with the Faculty of Dentistry you are an ambassador for the University of Toronto, and an important role model. Instructors are asked to adhere to the same high standard of conduct and behaviour governing all academic and clinical staff across the University.
Instructors in Dentistry should always:
Maintain patient confidentiality
Be punctual
Be courteous – keep conversations profes­sional and polite at all times
Be aware – maintain appropriate boundaries with others
Know the curriculum – being aware of what students are taught will facilitate your teaching process
Feedback for students' work is crucial to the learning process, and should be constructive in nature and delivered in private, away from patients and other students
Grade appropriately and as consistently as possible: Grades marked "NI" ("Needs Improve­ment") or "H," ("Honours") must be supported with thorough documentation
Discussions about fee alterations should nev­er take place with patients unless prior authori­zation has been obtained by the Clinic Office
if, in an emergency, you must leave before the end of a shift, please ensure that there is adequate coverage in the clinic
AT A GLANCE: CLINIC POLICIES & PROCEDURES
Clinic sessions run Monday through Friday, 09:45 am-1:00 pm and 2:00 pm-5:00 pm
Professional dress is required of Clinical Associates at all times, including:
Dress Slacks (no denim), professional skirts or dresses
Collared shirt (men)
Closed-toe shoes
Socks or nylons
White overgowns 
Instructors in Dentistry must carry their Faculty-issued photo ID at all times. This card will be used to approve each entry into the axiUm clinic management software system. Every procedure completed by a student must be approved by an instructor by the end of the day in order for the correct code, grading and charges to be allocated
Procedures must be verbally approved by Instructors before students begin their sessions
Serious conflicts with staff or students must be documented and brought to the attention of the Director of Clinics, Dr. James Posluns.
Confrontational or abusive patients should be brought to the attention of the Director of Clinics, Dr. James Posluns