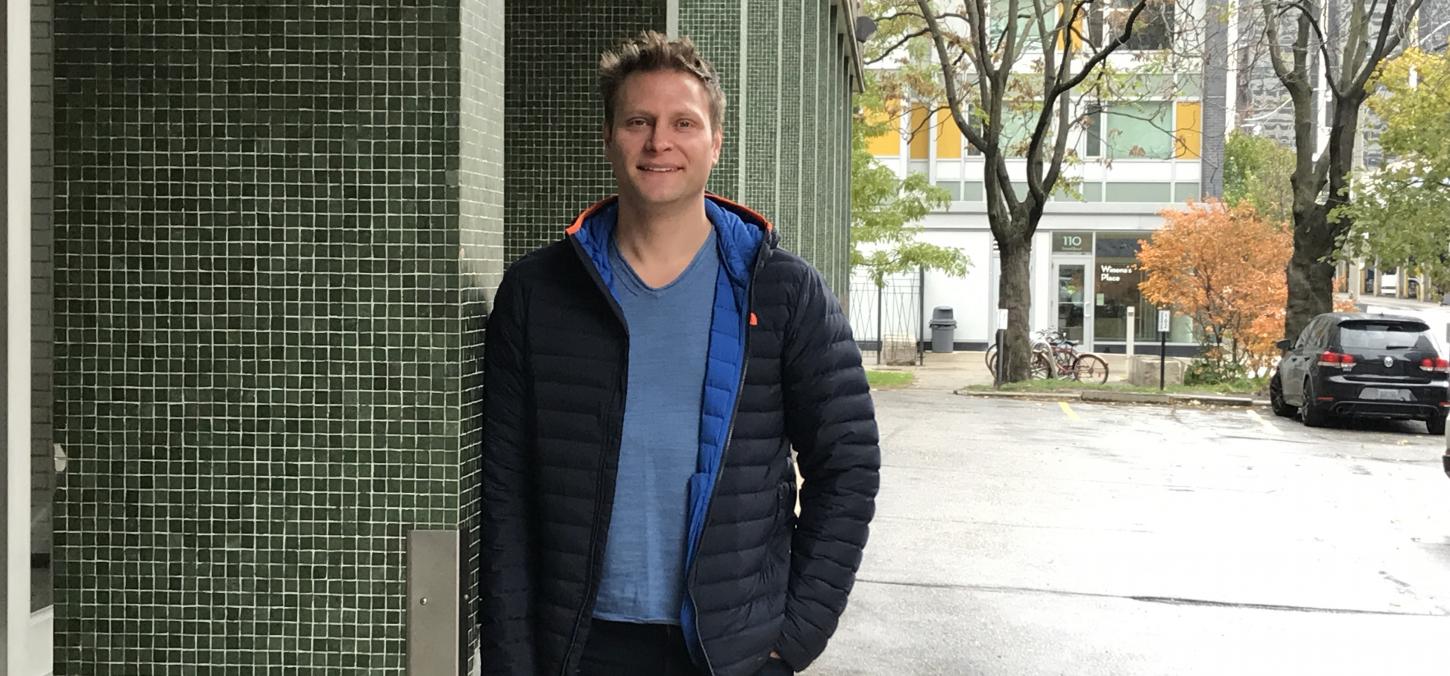 Aaron Fox images the future of Endo
Can you choose an endodontic root filling material that minimizes artifact when using modern imaging technology?
For the past three years, that's the question that drove Aaron Fox, who graduates from the Faculty of Dentistry's MSc speciality program in Endodontics on November 7th.
"My objective was to focus on emerging and developing trends," explains Fox, who obtained his DDS from the Faculty of Dentistry in 2006.  "I'm graduating with new ideas and current knowledge."
Early in his career — Fox was a general practitioner for nine years — he discovered his passion for clinical endodontics, and as the number of endodontics cases he was treating rose, Fox decided he wanted to "reinvest and expand his knowledge" and skill-set, with endo cases accounting for "100 per cent' of his professional time." He entered the graduate specialty program in endodontics in 2015.
His decision to return to UofT was largely due to the people involved in the renowned graduate specialty program, says Fox, in which students "inherit a philosophy and an approach."
Students inherit a philosophy and an approach.
Still, Fox took an interdisciplinary approach to his degree as he worked to fill an important gap in the research: as cone-beam CT imaging (CBCT) has become increasingly relevant in dentistry (and endo), current root canal filling materials produce undesirable features on the CBCT volume, distorting the image and limiting its diagnostic value.
Gutta percha, after all, was developed in an era where when 3D imaging wasn't yet an alternative to classical 2D imaging techniques.
And while much research has gone into solving this problem, "Nobody had really looked at the influence of the radiologic properties of root filling materials in other studies. Instead, they focused on reduction algorithms," says Fox, who completed his first undergraduate degree in Math at Dalhousie University.
Fox tried a different approach.
Using a phantom tooth, Fox was able to characterize the attenuation at a number of different commercially-available forms of filler. Not surprisingly, gutta percha materials left the greatest margin of artifact in the cone beam imaging. The least? That came with zirconium particles.
Fox's study also looked at the problem quantitatively. During the second part of his study, Fox drew upon the expertise of a team of six radiology experts, who observed 176 extracted human teeth. The teeth had been artificially fractured and repaired with either conventional gutta percha or zirconium. Observations were randomized.
"We now have statistically significant evidence that [observers] were better able to detect fractures with zirconium particles," says Fox.
This is especially important given just how much Cone Beam CT use is on the rise in contemporary dentistry. According one study, approximately 80% of members of the American Association of Endodontists have access to a CBCT device, 50% of which are on-site. Meanwhile, actual usage in dentistry may be much higher, especially given the variety of diagnostic capabilities of 3D imaging.
"The work demonstrates the importance of graduate student engagement in the research process, ingenuity, and a willingness to work collaboratively with others outside of his own clinical specialty," says Fox's supervisor, Ernest Lam, assistant dean, graduate education, and graduate specialty program director in oral and maxillofacial radiology.
"I think the future direction of this research would mainly consider the radiologic properties for the materials we're using in our clinical practices because they have an impact."
Fox intends to use his research on a daily basis as he builds his specialty career. But it's also having an impact on the wider dentistry community. In May of 2018 he had two of his MSc research manuscripts appear in the Journal of Endodontics, the top journal in the field.
"These two original peer-reviewed publications will move clinical research in endodontics in a bit of a different direction," says Lam. 
Image: Aaron Fox, courtesy E. Vollick