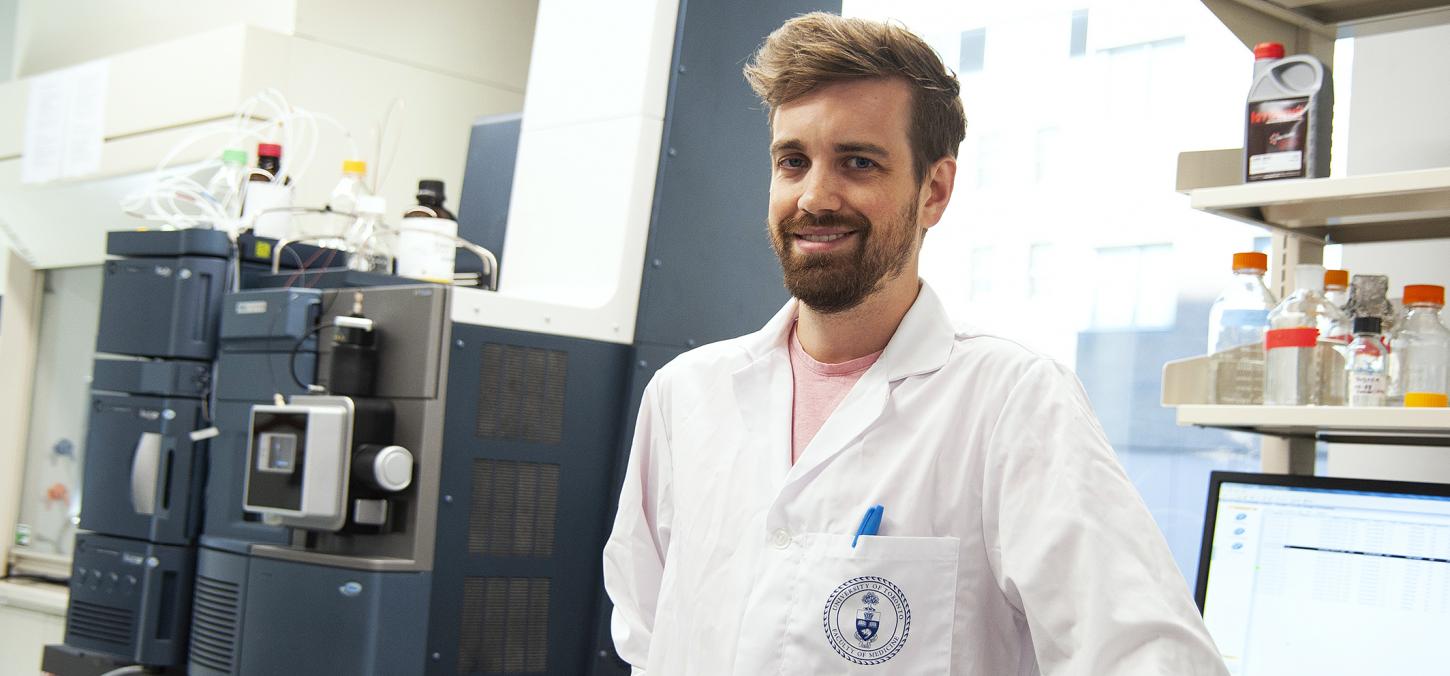 Profile: Cameron Stewart
Cameron Stewart is an engineer. And just recently, he successfully defended his PhD thesis with the Faculty of Dentistry/IBBME. 
His co-supervisor, Dr. Ben Hatton, originally encouraged Cameron to come to University of Toronto's Faculty of Dentistry when and they met at a social gathering at the Massachusetts Institute of Technology (MIT) where Cameron was taking part in an internship connected with his engineering studies.
As a dentistry graduate student, Cameron conducted almost all of his most recent work in the Faculty. He was a PhD student for five years in biomedical engineering, officially under IBBME and supervised by Dr. Yoav Finer in the Faculty of Dentistry and Dr. Hatton in the Materials Science and Engineering department.
Cameron recently won an IADR award through Dentistry to attend the IADR conference in London to present his research. Every year Kulzer sponsors a travel award for dental materials research. Submitted abstracts are judged by the IADR dental materials scientific group and a winner from each region is chosen to receive $2,500 U.S. "It definitely was appreciated as it covered all of my expenses to go to the conference," says Cameron.
"My own research focused on materials development, specifically ultra-long-term antimicrobial materials to prevent recurrent caries. The results I presented at IADR this year covered some secondary effects of the antimicrobial-releasing material I've developed," he says. "The antimicrobial drug I'm using also unexpectedly stopped the biodegradation of common dental filling materials, and was able to preserve the bond strength of the restoration to tooth. This was in addition to killing bacteria."
Now that he has finished his degree, Cameron is focusing on business and his dental materials start up Mesosil. He wants to bring his antimicrobial-releasing material to market, so he's in the grant writing process right now. "It costs a lot to bring something like this to market, but I feel strongly about it," he said. Cameron would like to partner with a company to create long-lasting dental fillings for cavities, one of the most common diseases on the planet. "I want to produce something that will have impact and help people in the long term. This doesn't happen overnight. It takes years of research."
Cameron also has a philanthropic side. He and his wife, Danielle, a chartered accountant, participate in a charity called Not Just Tourists that arranges to take medical supplies in donated suitcases abroad to countries that need them, such as South America and Central America and Cuba. These donated supplies can help to preserve the health of patients and health care providers.
Cameron is looking forward to this new stage in his life. "I enjoyed being a student, but now it's time to move forward in my career," he said. "I know there will be new challenges, but I'm excited to face them."
Photo: Jeff Combers, IITS