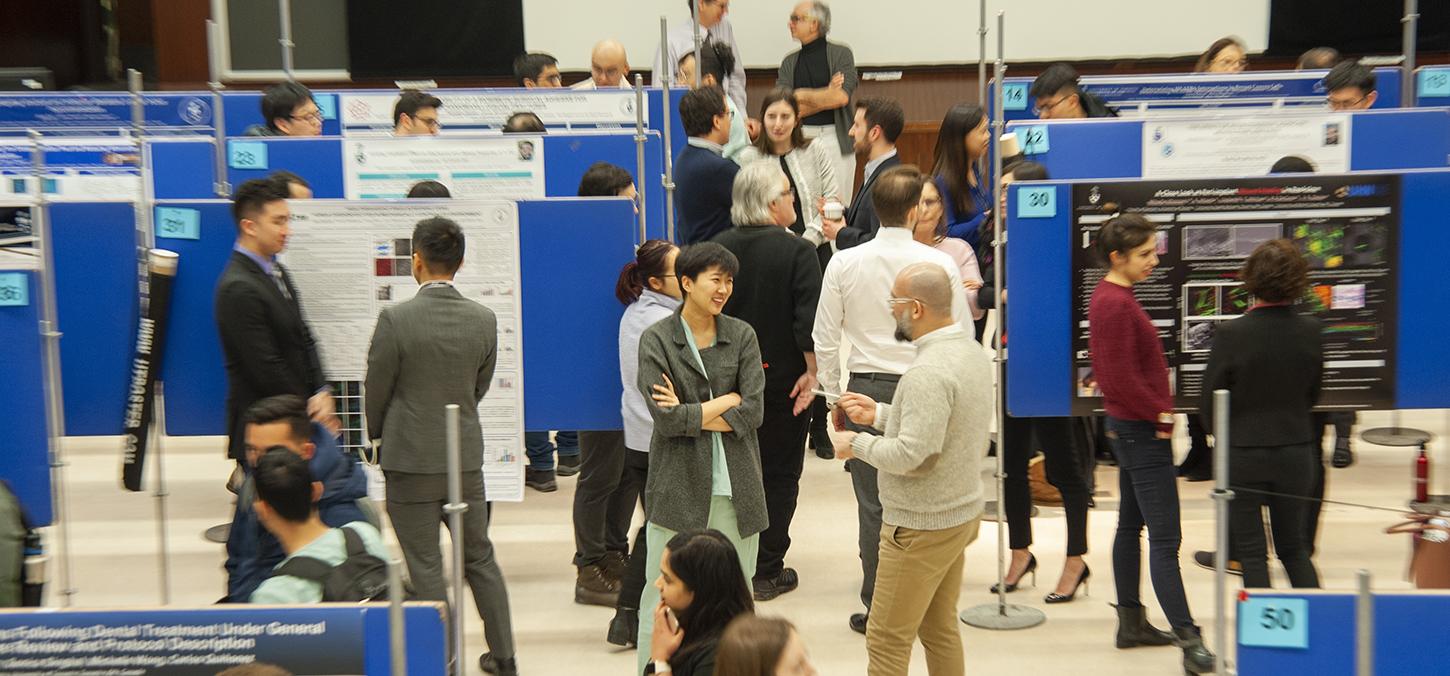 From cells to society: Highlights from Research Day 2019
The annual Research Day event, which spotlights the breadth of clinical and basic science of the Faculty of Dentistry's students, took place on February 12. This year, the conversation veered from the micro level of cells and proteins to the macro world of economic policies and their effect on the oral health of communities – from "bone tape" to wealth/health inequities in the United States. 
Keynote speaker (sponsored by the Ontario Dental Association) Dr. Daniel Fried from the University of California, San Francisco, lectured on new and novel tools for the detection and diagnosis of dental decay, while faculty lecturers, distinguished professor Boris Hinz and assistant professor Massieh Moayedi, discussed their research programs, respectively, on connective tissue disease and pain modalities in the brain. 
Among the events were oral presentation competitions and a poster competition, the results of which are below. 
Congratulations to all who participated in this exceptional event.
View the photo gallery of this event here. 
Undergraduate (Summer Student) Category (3 awards):  
First place: George Rumman, poster #15
Supervisor(s): Dr. Paul Santerre
Title of poster:  "Improved Usability of a Biomimetic Surgical Adhesive for Craniomaxillofacial Fractures."
Second place: Tina Tsai, poster #19
Supervisor(s): Dr. Herenia Lawrence
Title of poster:  "Psychological Adverse Childhood Experiences are Associated with Severe ECC in Indigenous Children."
Third place: Anish Nanda, poster #10
Supervisor(s): Dr. Christopher McCulloch
Title of poster: "IQGAP1 Associates with Flightless in Collagen Remodelling."
Graduate Student Science Category (3 awards):  
First place:  Mehrnoosh Neshatian, poster #35
Supervisor(s): Dr. B. Ganss, Dr. A. Kishen
Title of poster:  "The Combination of the Enamel Protein AMTN and Nanohydroxyapatite Accelerates Dentin Remineralization."
Second place:  Robert Liddell, poster #32
Supervisor(s): Dr. John E. Davies
Title of poster:  "The Relative Effects of Three Scale Ranges of Implant Surface Design on Osseointegration and Bone Anchorage."
Third place: Anthony Staibano, poster #40
Supervisor(s): Dr. John E. Davies, Dr. Vanessa Mendes
Title of poster:  "Effect of Resveratrol and Various Surface Topographies on Hyperglycemia-Induced Impaired Bone Healing in Titanium Implant Placement."
Photos: Jeff Comber