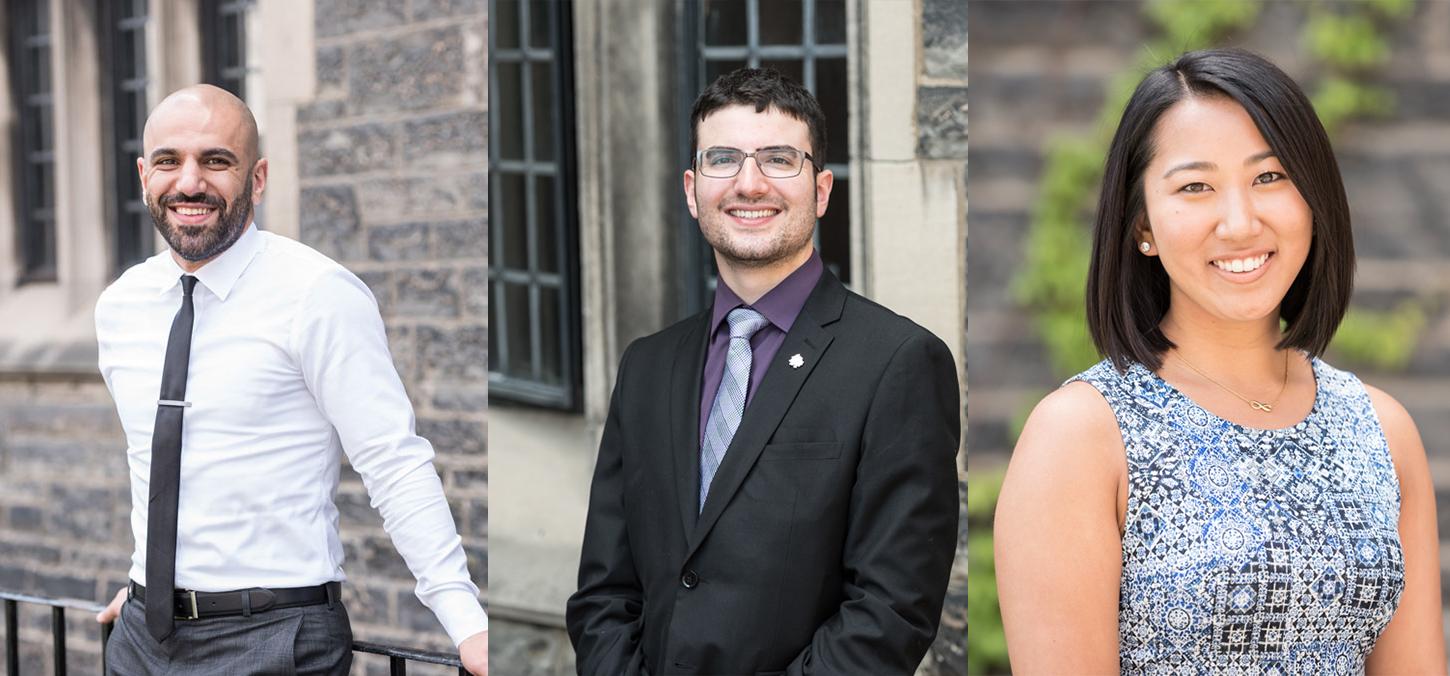 Ahmed Witwit
Originally from Iraq, Ahmed Witwit was studying dentistry at the University of Baghdad when war and severe hardship changed the course of his life.
He made the difficult and life-changing decision to leave his home country. He soon applied for immigration to Canada, and in 2013 he was sponsored to come to Toronto.
Ahmed became aware of the Faculty of Dentistry's International Dentist Advanced Placement Program (IDAPP) from friends in the city, and he was thrilled when he was accepted into the program in 2016.
"From the beginning, I loved it," he said. "What I really appreciated is that my instructors helped me to communicate more effectively with patients. It's not just about how you fill a cavity, for example, it's about how you speak to your patient and establish rapport and trust."
He will always remember the knowledge gained from mentors such as Dr. Peter Model. "He has the ability to explain something in 15 minutes that would take two hours to learn using my text books," he said.
"He trained us to get what we need in a short period of time. It prepared us well, I think, for how to deal with things in clinic in the future."
University of Toronto's international reputation always impressed Ahmed. "U of T is a big deal for me," he said.
"It is a well-known and respected university around the world and its Dentistry program is prestigious. I feel very proud to be a graduate and pleased to celebrate this accomplishment."
Ahmed already has a job as a dental associate lined up for him in Ottawa; he will start in July, right after Canada Day. He is looking forward to putting his skills to work, and he'll be delighted to let people know he's a U of T Dentistry grad.
"My degree means a lot – it is proof that I am good at what I do and a valuable member of the profession. And I am a member of a profession that values what I do," he said. "My patients will know that I am a part of the best of the best."
For Ahmed, graduation is a happy ending to some difficult days over the course of some tough years. 
"Convocation was light at the end of the tunnel. I've come a long way and I don't take anything for granted."
Eric Moryoussef
Growing up, a trip to the dentist was a good experience for Eric Moryoussef. He liked Dr. Benbassat, his dentist, and the environment at the dental office – he always felt good when he left. Now it's Eric – the dentist – who will have the chance to create positive memories for patients of his own. 
Eric was interested in the sciences at school. Health care and working with patients appealed to him, and these would eventually influence his career choice. "Now that I've graduated from dental school, I know I'm in the right place," he said.  
Graduation week 2018 was a busy one for Eric. Not only did he and his classmates have a full social schedule, including a formal and graduation, but as class president, Eric had to prepare a speech for the Licensing and Awards Ceremony.
In doing so, he recalled his time at the Faculty of Dentistry and what graduation means to him. "I am happy for my classmates and proud of myself," he says. "I value the skills that I've learned. Now I'm ready to get out into the world and translate this new knowledge into excellent patient care."
He appreciates how mentors such as Drs. Cornell, Barrie, Ganss and Rayman guided him and gave him the tools to approach various clinical situations, and inspired him to care for his patients. 
In his address to the class at the Licensing and Awards ceremony, Eric thanked these mentors and instructors, and he said to his fellow graduates: "Think about what the patient is telling you. Think; listen to what they're saying. Think about it from their point of view. Once you start doing that…you understand more…" 
Eric has a job as a full-time job as a dental associate waiting for him in Fort Erie, Niagara. He will start at the end of June, and he will be joined by his partner Emily Nisbett – also a 1T8 Dentistry graduate. Their boss will be another U of T Dentistry graduate, Dr. Joseph Schirru, from the class of 0T1. "We are really excited to take the next steps in our careers," he said. "It's a really great time in our lives."
Eric is the recipient of the Edward G. Dore Award that recognizes the student who demonstrates excellence in clinical oral surgery. He is also the winner of the Oral Anatomy Scholarship that is awarded to the student with honours standing in oral anatomy in first year, and honours standing in oral surgery and orthodontics in fourth year.
Kelsey Motomura
Kelsey Motomura recalls the class composite photo she would see hanging in her father's dental office in Cambridge, Ontario. Her dad, Dr. Ken Motomura, is a 8T6 Dentistry graduate. "It was a reminder of what he accomplished and the group of people he would always be connected to," she said.
When Kelsey decided on a career in dentistry, she hoped to follow in her father's footsteps and go to the University of Toronto. Now as a 1T8 Dentistry grad, Kelsey is part of the same community and has a class photo of her own.
Kelsey always wanted to help other people and pursue a career in health care. "I also liked working with my hands, so dentistry was a good fit," she said. "The biggest appeal with general dentistry is building a relationship with your patients and getting to know them over many years."
From orientation week on, she started building friendships and getting involved in activities such as student council, mentorship programs and outreach opportunities. "My classmates and fellow DDS students became my support system," she said. "We got to know each other in class, and at social activities organized through the Faculty and Dental Student Society." She hopes she can maintain her friendships and stay in touch with classmates, much like her dad has done with his friends from dental school.
Graduation was a memorable day for Kelsey, especially having her dad greet her on stage after receiving her diploma, as a University of Toronto Dentistry alumnus.
Kelsey has accepted a position in her father's practice. "I'm going back home to Cambridge in August, after a bit of travelling," she says. "I'm excited to work alongside my father and build on my foundation in general dentistry – I still have a lot to learn."
Kelsey reflected on the past and now looks forward to the future. "It was a tough program, and a challenging four years, but what made it worthwhile are the friendships I made, the patients I helped in clinic, and my school involvement," she said. "Now I feel ready to enter the real world of dentistry and put into practice what I have been taught in school."
Kelsey is the winner of J.G. Bourassa Cup, awarded to a student on the basis of academic proficiency and extra-curricular activities, including participation in student affairs and athletics over the past four years. She was also one of 13 students named to the Dean's List which was presented to the top students based on academic achievement.