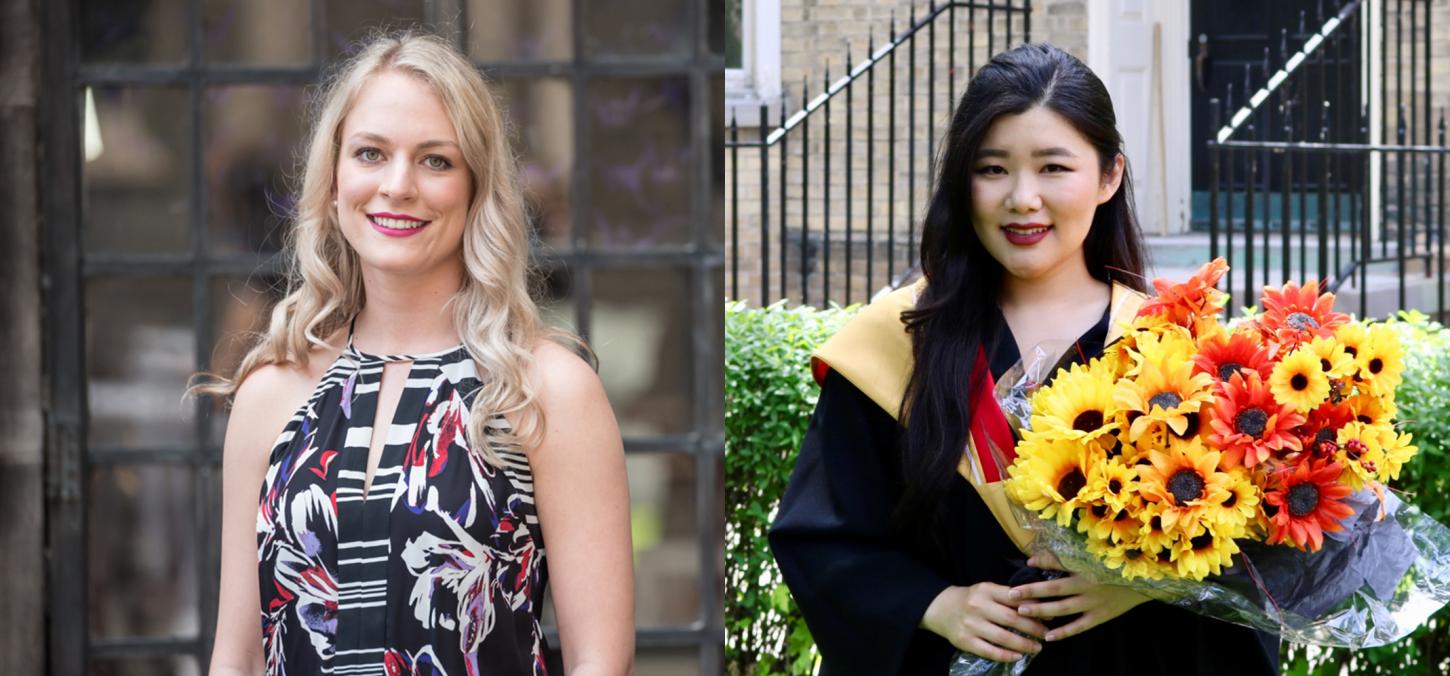 Rachel Filice
Rachel Filice's life is changing in many important ways. This month she began her career as a dentist, and next summer she is getting married.  
Rachel knows dentistry; she grew up around her father's practice – she even helped out in the office over the years. Dr. Elio Filice (a Dentistry 8T8 grad) has a clinic in Hamilton, Ontario, and Rachel has joined his practice.
Before she applied to U of T's Faculty of Dentistry, she spoke with some professionals with established careers in the fields of dentistry and medicine. Rachel assessed what she liked and didn't like, then decided to pursue a dental career. Once she started the program at U of T, she said: "I knew pretty quickly that it's definitely the right pick for me."
Rachel fully appreciates the value of her U of T education. "We work so hard to get in; it's an excellent program," she said. 
It wasn't always about the work and studies for Rachel. She, like many of her classmates, got involved in a number of extra-curricular activities – including running a half marathon with Rayman's Runners. This initiative, started by the Faculty's Director of Student Life Dr. Rick Rayman, raises funds for the dental clinic at Princess Margaret Cancer Centre. Over the last four years, they raised just short of $23,000. This year, Rachel served as the community outreach liaison.
Rachel got to know Dr. Rayman. "He was a good mentor," she said. "I plan to stay in touch him and our other incredible clinical instructors."
It's hard for her to fathom that she has finished school. "Graduation was so surreal. It was a good time for our class to celebrate our achievements," she said. "It's a true stepping stone to the future."
Rachel is looking forward to working with her father and with patients. "I like to help others to better their lives," she said. "A person's smile makes a big difference; it can help them gain self-confidence and even help with a job search. I also enjoy the artistic aspect, and working with your hands – dentistry is really an art too."
After a lot of hard work over the last four years, she's ready to start this new chapter in her life. "I'm looking forward to settling into the work and gaining more experience," she said. "I'm interested in all of it – it's such a great profession."
Rachel's fiancé is in medical school in Regina and his upcoming residency may impact where she practices dentistry in the coming years, but she's ready for the adventure. "I'm excited about what the future holds," she said.  "Wherever it may take me."
Rachel is the winner of the 2018 Dean's Gold Medal – the Faculty's top prize awarded to a student demonstrating exceptional achievement throughout the four years of the DDS Program. Rachel is also a member of the Dean's List, awarded to the top students based on academic achievement.
Photographer: Lisa Sakulensky
Yi-Shan (Annie) Liu
"The joy in a patient's eyes when they have a new smile they're proud to show off means everything," says 2018 Dentistry graduate Yi-Shan (Annie) Liu.
Transformative dentistry – work that can improve not only the patient's function, but also his or her self-esteem – is what she is particularly interested in.
It would only make sense then, that Annie was the national winner of the 2018 Dentsply Sirona Restorative Global Clinical Case Contest (GCCC) featuring aesthetic case studies. Her winning submission was based on her aesthetic restorative work with a patient at the Faculty of Dentistry.
This was the first time Canada took part in the contest and U of T's Faculty of Dentistry was well represented, with five students in addition to Annie (Brandon Yee, Helen Sheng, Jae Hwan Oh, Katie Chung, and Ming Hao Li) taking part.
"My colleagues are all exceptionally outstanding, so to be able to be chosen from a cohort of skilled and amazing individuals is truly an honour," she said. As the winner, Annie also headed to Konstanz, Germany, to represent our school and country in the global contest.
Annie always aspired to work in the health sciences field because she enjoyed interacting with people and helping them live healthier lives. From a young age, she also immersed herself in the arts. So, she thought it was perfect that she could amalgamate her two passions in a career in dentistry.
Annie knew she wanted to be a U of T Dentistry student. She remembers that from her first day, she was welcomed by a supportive group of classmates and upperclassmen, faculty, and staff. She was moved by the camaraderie. "I think the mentors are really what make U of T Dentistry the best (in my opinion) dental school in Canada," she said.
Annie will be entering a Toronto practice in August. Her primary goal for the time being is to gain ample experience as a clinician and discover her own style of dentistry. "I'd also love to be able to one day return to the Faculty as an instructor and contribute to the learning of future dentists-to-be just as my mentors have contributed to mine," she said.
Certain that she will be a student again in the near future and on many occasions throughout her life, graduation for Annie is a 'semicolon'. "Graduation, for me, is like pressing pause to change gears," she said. "It is still very exciting because it opens a new chapter in my life."
Annie is the winner of the Bridget Wang Memorial CPP Award that recognizes the most outstanding combined performance in 3rd and 4th year CCP who finished 4th year with exemplary standing.
She also won the Alpha Omega Fraternity Prize, awarded to the student with the highest overall achievement in the four years of dental studies at the Faculty. Annie is also on the Dean's List.
Photo courtesy of Annie Liu.