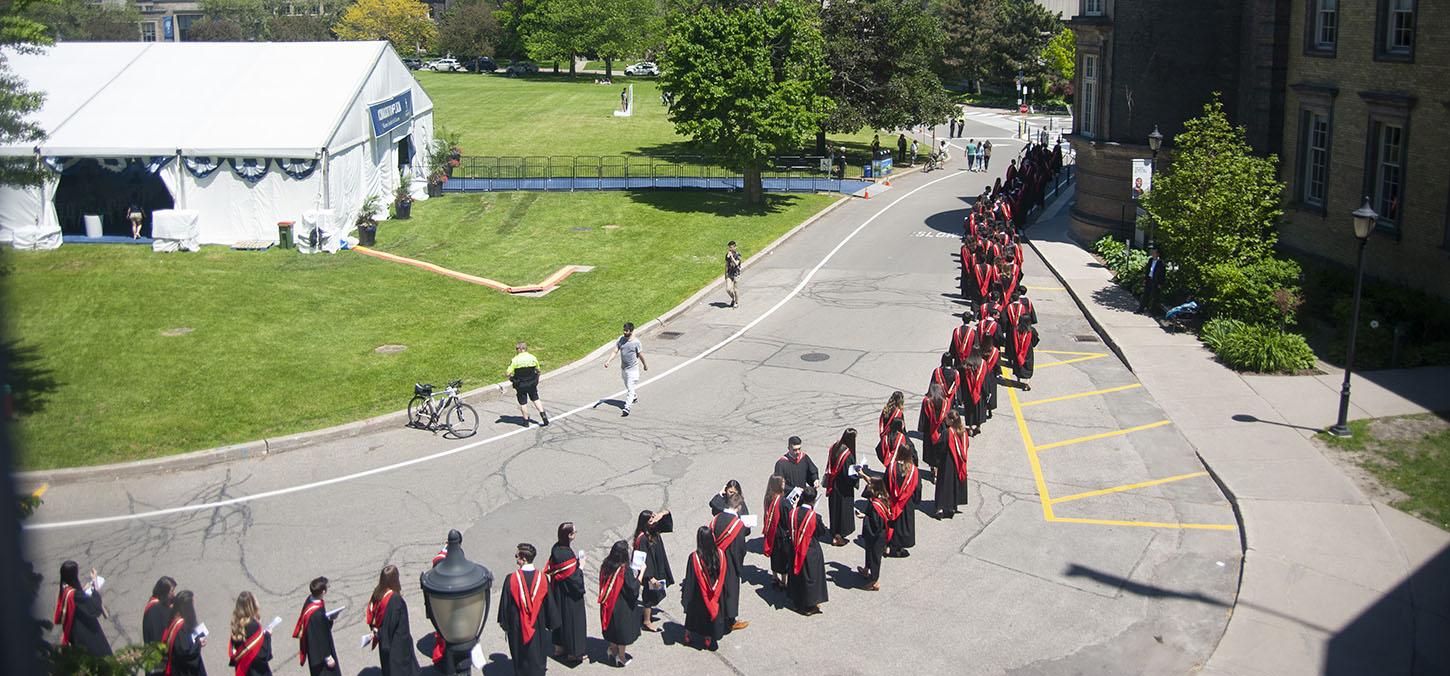 Congratulations to the Class of 2019!
The DDS Class of 2019 said goodbye to their student scrubs this past Friday, June 7th as they received their Doctor of Dental Surgery degrees and practice licenses. 
The day began with the Licensing and Awards ceremony, held at Hart House, and attended by special guests Dr. David Stevenson (immediate past president, Ontario Dental Association) and Dr. Flavio Turchet (President, Royal College of Dental Surgeons of Ontario). 
In the afternoon, students and their families strolled over to Convocation Hall, and were presented to Chancellor Rose Patten and Dean Daniel Haas for admittance to their degrees, where they joined students graduating from the Leslie Dan Faculty of Pharmacy. This year's Convocation speaker was Dr. Leslie Dan, generous benefactor to the University of Toronto.  In addition to the 120 students receiving their DDS degrees, 4 students from our Faculty received their graduate degrees.
This year's DDS student award recipients are: 
Course-Based Awards
Joseph Harker Johnson Scholarship
Ali Abbas-Tehrani 
Barry Korzen Award in Endodontics
Golnoush Ariafar
Prosthodontic Prize
Mojgan Ansari
Lynda Sellars Award In Comprehensive Patient Care
Amanda Vincci Chiu
George Hare Endodontic Study Club Scholarship
Amanda Vincci Chiu
The Canadian Academy of Periodontology Prize
Amanda Vincci Chiu
William R. Jackson Award
Amanda Vincci Chiu
Piret Truuvert Memorial Award
Chantal Diniz
Edward G. Dore Award
Matthew Galli 
S. A. MacGregor Prize
Simran Gill
Orthodontic Book Prize
Simran Gill
Dr. Paula Gregory Memorial Award
Boris Godoy-Galves
Dr. Horace Wells Prize
Cameron Goertzen
Dr. Alan K. Joe and Family Scholarship in Orthodontics--First Prize
Hussein Haji
Davis Orthodontics Award
Neda Khebreh
Albert E. Webster Memorial Scholarship
Neda Khebreh
Dr. Edward G. Sonley Book Award
Neda Khebreh
Dr. Charles Hyman Moses Award
Hwabin Lee
Dr. Boris Pulec Dental Implant Scholarship
Hwabin Lee
Harold Keith Box Prize – Silver Medal
Ming Hao (Mary) Li
Dr. Norman Levine Award in Paediatric Dentistry & Orthodontics
Ming Hao (Mary) Li
Maxwell Rockman Memorial Prize
Ming Hao (Mary) Li
Crown and Bridge Study Club (Toronto Academy) Scholarship
Ming Hao (Mary) Li
Zindart Award in Comprehensive Care
Ming Hao (Mary) Li
Dr. Kenneth F. Pownall Memorial Award
Parniansadat Mirzasoleimanbarzi 
Dr. Michael Oliver Memorial Scholarship
Ryan Noh
Oral Anatomy Scholarship
Ryan Noh
George Hare Essay in Endodontics Award
Saira Paredes
Dr. Alan K. Joe and Family Scholarship in Orthodontics
Saman Rahbar
Hugh Alexander Hoskin Scholarship
Paul Sirek
Bridget Wang Memorial Comprehensive Care Program Award
Christi Steele
Harold Keith Box Prize – Gold Medal
Christi Steele
Irwin Fefergrad Award
Paul Tinto 
Paul Takahashi Scholarship
Paul Tinto