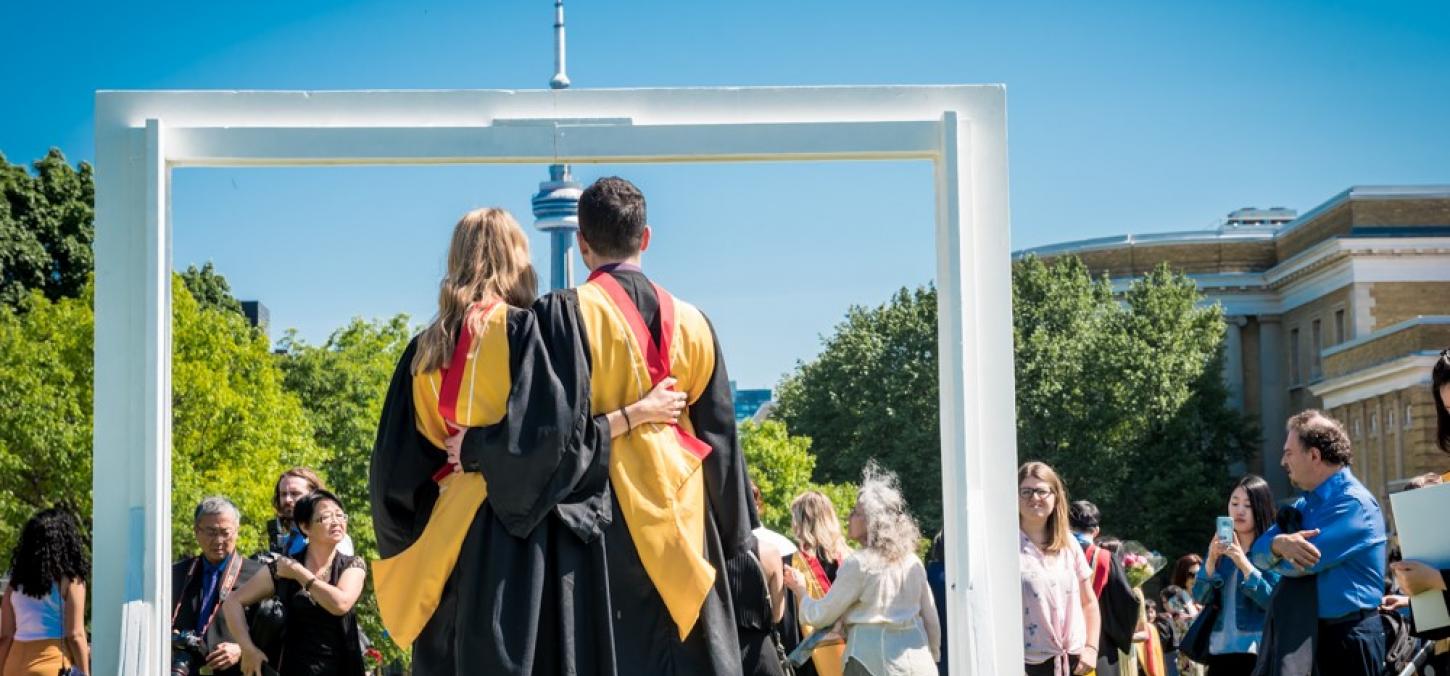 Congratulations to the Class of 1T8!
June 8, 2018 was a particularly beautiful day in the city. For the 119 graduates from University of Toronto's Faculty of Dentistry, it was the day that marked a significant milestone in their lives.
They began Convocation Day at Hart House Theatre for the Licensing & Awards Ceremony where families, friends and professors watched and cheered for the new grads as they received their dental licenses. After several years of rigorous work and dedication to their education they celebrated their achievements, and they celebrated the friendships they formed at the Faculty.  
"From this day forward, you should always carry with you the deep satisfaction that comes from knowing that you have been successful at one of the most challenging and rigorous programs that exist," said Dean Daniel Haas in his address to the class. "You should always feel immense pride in your accomplishments here." 
"Whether your future will include serving patients and the public, shaping policies for practice, teaching at a dental school, or conducting vital research, each of you has an opportunity to bring change to the individuals you come across – and in turn, bring change to the world – and transform our profession as you do."
The Dean was joined on stage by a distinguished platform party including the Faculty of Dentistry's program leaders such as Vice Dean of Education Dr. Jim Lai, Director of Student Life Dr. Rick Rayman and Dentistry's 2018 Award of Distinction honoree and long-time faculty member, Dr. James Leake.
Past-President of the Ontario Dental Association (ODA) Dr. LouAnn Visconti, and Vice-President of the Royal College of Dental Surgeons of Ontario (RCDSO) Dr. Flavio Turchet spoke on behalf of their respective organizations. They recognized the exceptional commitment, dedication and drive that brought each graduate to that moment. "This dental degree is much more than a piece of paper, more than the initials behind your name," said Dr. Turchet. "It is the beginning of a new set of opportunities and responsibilities."
Student leaders Caroline Conway, President of the DSS and Eric Moryoussef, 2018 Class President congratulated their fellow graduates. "We have persevered through each challenge change and obstacle - and even had some fun along the way," said Caroline. "We've leaned on each other and become a family...and now with license in hand, the sky's the limit!"
Eric echoed Caroline's sentiments as he praised their instructors. "It is a great feeling to know that, as we take the next step in our dental careers, we can draw on the support and wisdom of such great role models." 
Awards for exceptional performance were given out, including the Dean's List which recognized 13 top students based on academic achievement. The Dean's Gold Medal was presented to Rachel Filice in recognition of her exceptional achievement throughout the four years of the DDS program.
Later that afternoon, graduates entered Convocation Hall in procession for the ceremony featuring President Meric Gertler, Vice-President & Provost Cheryl Regehr, Dean Haas and Dr. Grace Bradley and left as proud graduates of the University of Toronto. 
"To the class of 2018, congratulations on this remarkable achievement," said Dean Haas. "Today is your day. Enjoy the moment. Celebrate. You deserve it."
View photos from Licensing & Awards.
Photo Credit: Lisa Sakulensky Photography