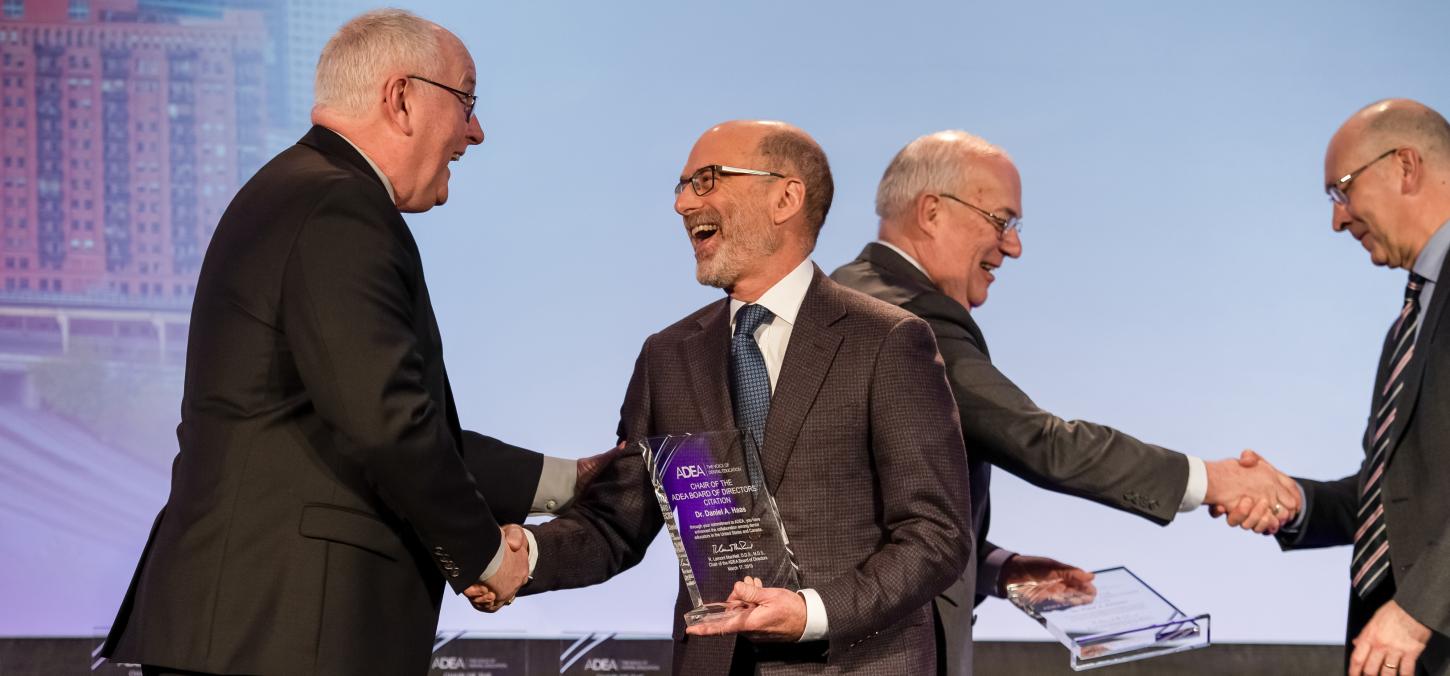 Dean Daniel Haas awarded ADEA citation for leadership
Leadership of U of T, McGill recognized for building bridges between Canadian and American dental faculties
Daniel Haas, dean of the Faculty of Dentistry, was recognized with the 2019 Chair of the American Dental Education Association (ADEA) Board of Directors Citation on March 17, at the annual meeting.
The Citation honours the leadership of the University of Toronto and McGill University's Faculties of Dentistry, through their positions on the Association of Canadian Faculties of Dentistry (ACFD), for bringing ADEA into greater prominence with Canadian schools. 
Both Haas, during his term as president and then as the immediate past president of the ACFD, and Paul Allison, the current president, worked to bring Canada's 10 Canadian schools closer to their American counterparts.
"We can learn from our international partners. Together we end up getting stronger." 
Monty MacNeil, chair of the ADEA Board, cited Haas for his "vision for what could be achieved, and the energy to see it through."
"When ADEA approached our Canadian member dental schools to determine how it could be more helpful to them, certain leaders emerged who could see the value in a renewed partnership. One was Dr. Dan Haas. He helped organize the Canadian dental deans and brought them, along with the ACFD, into a new and creative discussion with ADEA. In a true collaborative approach, we have all benefitted," he added.
"We're taking a broader, better view," says Haas, "we can learn from our international partners. Together we end up getting stronger." 
Under the leadership of Allison and Haas, several ADEA initiatives have been adopted by the Canadian schools. All ten of the Canadian faculties of dentistry have adopted a tailored ADEA national student exit survey, for instance, which collects important data on a range of topics, from where graduates are finding work to their debt load.
"This is important information we can use in future. All ten schools are doing this now," says Haas.
The University of Toronto was also the first Canadian school to start a student ADEA chapter. And it is the first school to concurrently incorporate the ADEA centralized application service, allowing candidates to apply to multiple schools through its system.
"Through your commitment to ADEA, you have enhanced the collaboration among dental educators in the United States and Canada," said Richard Valachovic, President and CEO of ADEA, in a statement.
Photo: courtesy of ADEA