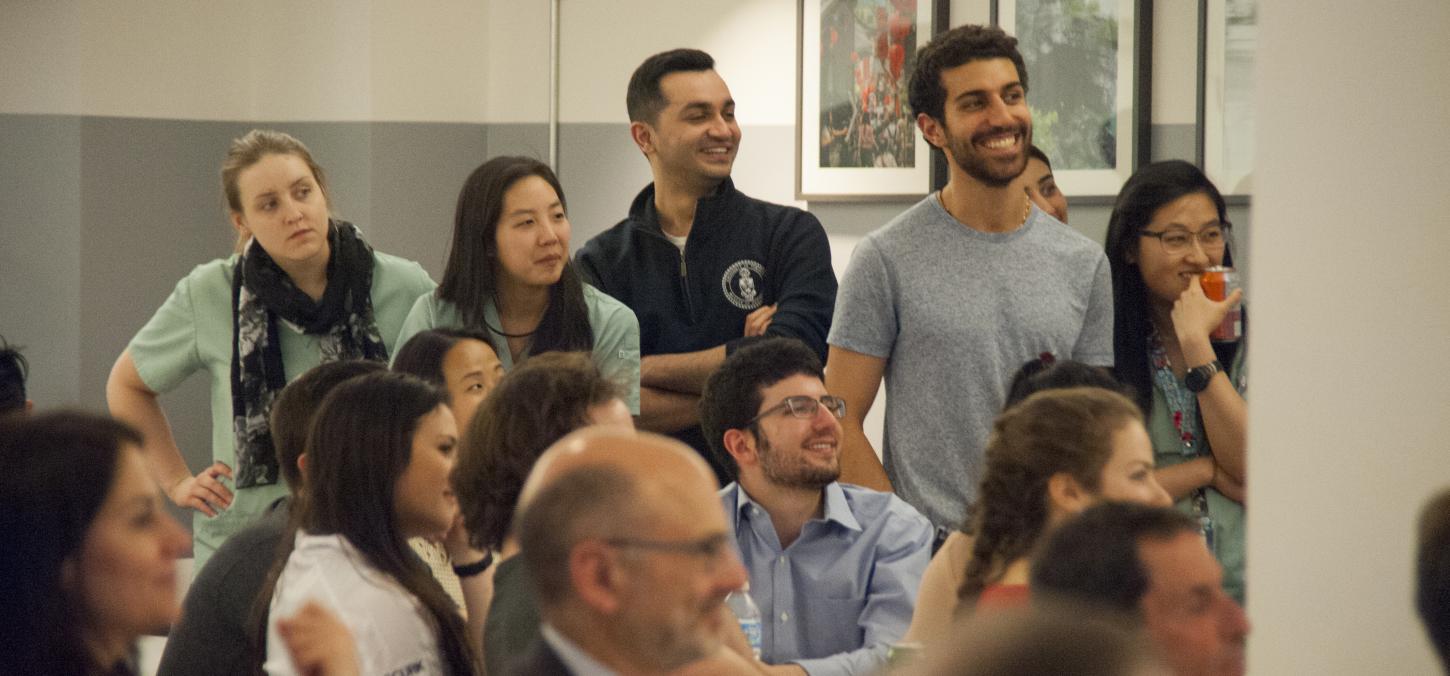 Dentistry prioritizes student well-being, connections with house initiative
Back when the Faculty of Dentistry was forced to close its doors to all but essential emergency services and students were studying remotely, assistant professor Ryan Schure had a bright idea.
That vital personal connection between students and faculty, Schure felt, had gone missing. He wondered how that would affect students if in-person restrictions continued.
"I was thinking of my synagogue during quarantine," says Schure. "Everyone got a personal call, just to check in, and I wondered how that could be translated here."
House rules
That train of thought led Schure to develop a program called the house initiative. Slated to roll out in its beta phase this November, students in the Doctor of Dental Surgery program will be assigned to a house.
Those houses, approximately 20 in all, will serve an important function: each will host both a faculty mentor as well as upper year mentors. The faculty mentors, approximately 20 volunteers in all, will connect with each student assigned to their group. And while students can reach out to their faculty mentor for support, information and advice, they additionally can lean on a built-in network of students and mentors from all years.
"The ultimate vision here is to develop personal relationships between manageable groups of students and faculty members," says Schure.
"There are some students who may never speak to a faculty member outside of a classroom setting. I want to break down some of those barriers." 
Schure knows just how vital those connections are between students and faculty members — and what a huge difference they can make to students' success. Appointed to a faculty role on July 1 of this year, Schure is also a double graduate of the Faculty, having obtained his DDS degree in 2010, and his Master of Science in periodontics degree in 2013.
And while Schure was very involved in the life of the school as a student — he was treasurer for the Dental Students' Society and sat on a number of committees — he knows that's not for every student.
"There are some students who may never speak to a faculty member outside of a classroom setting," says Schure. "With this program, I want to break down some of those barriers."
"We're trying to develop a sense of belonging, well-being, community and friendship," says Dentistry's director of student life, Richard Rayman, who is also a co-lead of the program's development and implementation. "We'd like the students to get to know each other better and interact," he adds, stressing that "We're not here to counsel. We're just here to listen." 
 
A house of mentors
One of the big advantages of the new initiative is that it will integrate the Faculty's two existing mentorship programs, both led by students, within the house structure.
Big Sibs/Little Sibs is one of those programs. A one-on-one mentorship program, Big Sibs/Little Sibs matches a second-year "big sibling" with a first year "little sib," with the aim of helping smooth incoming students' transition into the professional dentistry program.
"In first year, things are really tough," says David Dunbar, second year class president and one of the students who helped Schure fine-tune the house concept. Dunbar felt the mentorship programs would be an important resource to continue within the house system. "Leaning on upper years is very helpful. It's especially helpful this year, which is so strange and isolating."
The Peer Mentor program will also be folded into the new initiative: that program, also student-driven, assigns DDS1 students into groups, which are then assigned two upper year mentors: one in DDS3 and another from DDS4. Typically, there are nine groups in total.
Madonna Rofaeel, a fourth-year student and one of the leads of the Peer Mentor program, says these programs are incredibly valuable for Dentistry students. "We really reach out as often as we can. We're here to help them. I hope they've been finding it helpful for their transition," she says.
"I'm here today because of all the mentors I've had. I feel obligated to pay it forward"
Peer mentors connect with mentees on a range of topics and offer students academic as well as social support. This year, for instance, the mentors held a virtual presentation on stress and time management during the demanding DDS program.
(In fact, the mentors created this awesome video for the incoming DDS, to give first years the advice they wish they had going into dental school).
"Mentorship is extremely important," says Rofaeel. "I'm here today because of all the mentors I've had. I feel obligated to pay it forward, to share what I wish I knew [when I started]."
The house initiative, says Schure, will build upon and expand those existing mentorship relationships. "Your big sibling will be in your house. An upper year peer mentor or mentors will be in your house. We're integrating all these programs a little more within the Faculty," he says.
COVID-19
A compelling idea in a regular year, the house initiative takes on greater significance as 2020's COVID-19 pandemic wears on.
"Should there be another lockdown this year, we want it in place," stresses Schure.
It's a move the students welcome. While health and wellbeing is an important overall priority for the Faculty— in fact, a strategic working group was struck in 2019 to develop initiatives and programs to boost wellness awareness among students, staff and faculty— COVID-19 has made finding new ways of coping with the stresses of daily life and dental school of vital importance.  
"It's crucial," Rofaeel says, "especially now with COVID. The students are having a really challenging time meeting each other," she says, adding to anxieties in a program where connection to one's peers and faculty is often an important factor to one's success.
"I think it's safe to say that people are stressed. There's a fear of the unknown," says Rofaeel.  
With its focus on building resilience and support systems within the student community — even should physical distancing continue for some time — the house initiative may be the silver lining to the cloud. 
"My hope is that our school can continue to operate, at least to some degree, in person. Either way, [the house system] may help some people feel more interconnected, and that their voice is heard in the right way," says Dunbar, adding that it's also a way to check in on people's mental health. "We really don't know how people are feeling on a day-to-day basis right now," he says.
The program will be implemented this November. For its inaugural year, the structure will incorporate only the first and second- year students; third and fourth-year students will be assigned to houses next September. According to Schure, the feedback from both faculty and students has been enormously positive.
In fact, Rofaeel says, her only regret is that that the house system wasn't available to her throughout her time at the Faculty of Dentistry. "I wish I had this opportunity when I was going through the program. It will be really exciting to see how it benefits first years, upper years and mentors," she says.
Photo: DSS Awards Night celebrations, 2018