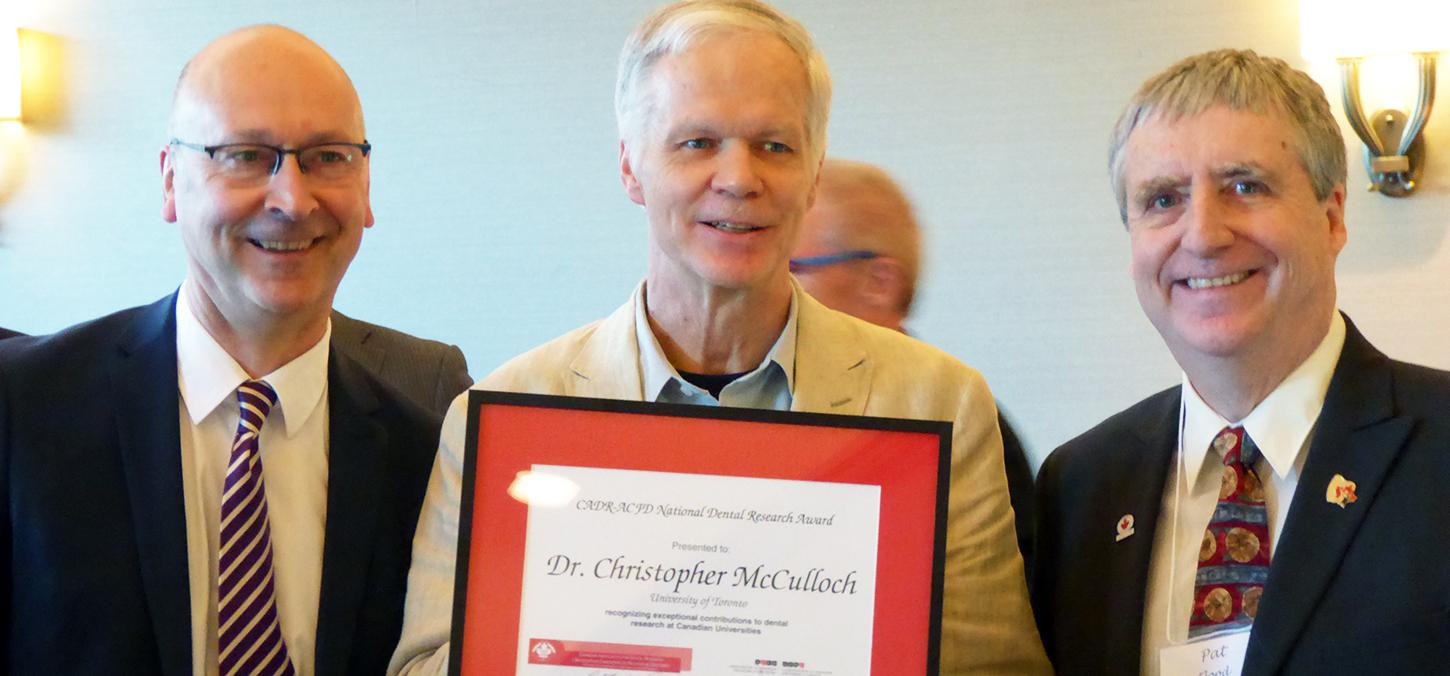 Dentistry prof honoured with inaugural CADR/ACFD National Dental Research Award
U of T Dentistry's professor Chris McCulloch was honoured with the first-ever Canadian Association of Dental Research (CADR) /Association of Canadian Faculties of Dentistry (ACFD) National Dental Research Award at a special awards ceremony on June 18 held in Vancouver.   
The award recognizes McCulloch's remarkable contributions across the field of oral health, but also his mentorship, his research innovation, and his leadership.  
At the ceremony, the awards committee outlined a number of McCulloch's accomplishments, which include 295 peer-reviewed papers; over 9,500 citations, and a remarkable H-index score of 61. Over the course of his career, the committee noted, McCulloch has received over $55,000,000 in research funding.  
"Chris has been one of the most productive researchers in the Canadian basic science landscape – far beyond dental research," said Bernhard Ganss, vice dean of research, in a statement. "He has continuously held competitive funds through tri‐council agencies and other highly competitive agencies. And he has forged collaborations on a national, international and global scale," Ganss added. 
Lauded for his impact on research, specifically his work on cell-matrix communications, the award also captured McCulloch's far-reaching impact on academia: he has graduated 25 PhD and 35 MSc students and currently has 10 trainees under his supervision.   
The ceremony took place as a prelude to the International Association of Dental Research (IADR) conference, held in Vancouver on June 19-22.   
Photo: Courtesy Marna MacDonald