Is dentistry ready for the future?
Zarb lecturer Dean Christian Stohler peers into the future of practice
It's the model dentistry has followed for the past hundred years, in which a community of patients revolves around a solitary dental practice. But according to Dr. Christian S. Stohler, the Faculty's 2016 George Zarb Clinical Research Lecturer, it's also quickly becoming a thing of the past.
According to Stohler, dentistry's traditional model is being eroded as society itself undergoes a vast shift due to forces beyond this profession's control: from changes to insurance structures, the tides of governmental money, and the ubiquitous issue of what patients can afford, dentistry's practice model needs to respond to a new world order.
In particular, with the rise of "big data" and precision/personalized medicine, Stohler, Professor and Dean in the College of Dental Medicine at Columbia University, also foresees a time when medicine and dentistry will need to join forces.
Like an Orwellian vision of the future, Stohler predicts that part of this shift will involve the conjoining of consumerism and medicine. Fueled by comprehensive electronic health records, dentistry will no longer stand outside the medical system as a separate health profession. From what you buy at the grocery store to how far you drive your car each day, everything an individual does will be tracked and used to treat the patient. As health systems become more holistic, so too will the profession of dentistry.
"You can't have this discipline that is dealing with inflammation and infections outside the system, because all these things interact," he explains.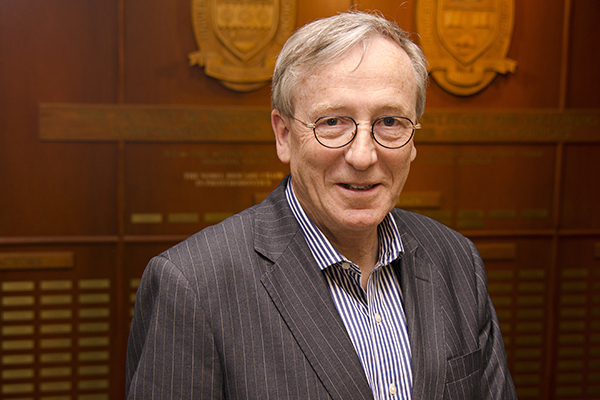 Yet if dentistry stands at the fulcrum of evolution, its practitioners need to be on the leading edge of research. And according to Stohler, UofT might be one of a handful of schools able to not just navigate this change, but drive it.
Dentistry's traditional model is being eroded as society itself undergoes a vast shift due to forces beyond this profession's control
Aligned with some of the top hospitals in Canada, as well as the world-renowned Institute of Biomaterials and Biomedical Engineering, Stohler believes UofT Dentistry students have an edge on their competition.
"UofT Dentistry is one of the most prominent intensive research dentistry schools in North America, and our students in dentistry need to be trained more holistically, in the unique environment that is created here," he cites, adding that the University of Toronto's emphasis on entrepreneurism and translational medicine is an important factor in the future survival – or success – of the profession.
Leading universities are responsible for "putting their students in the future," Stohler reminds. And while the responsibility may seem monumental, at the same time, the Zarb lecturer's message is infused with hope: "The professions of the 21st century haven't been discovered yet. New professions will be created by merging fields. But if you know the future you can prepare yourself for it." 
 Images: Robot, public domain image; Dean Christian Stohler, courtesy Jeff Comber, IITS