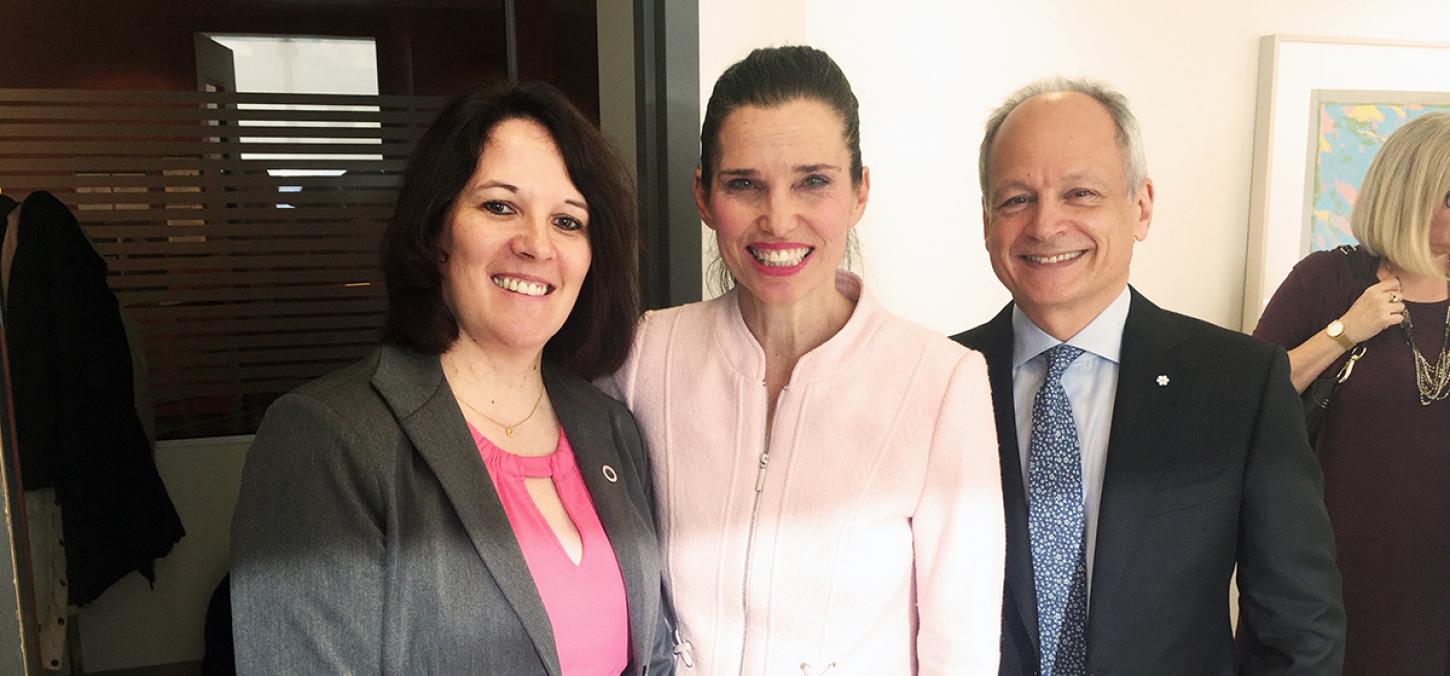 Dentistry's Celine Levesque named one of 25 Canada Research Chairs at UofT
Celine Levesque, Associate Professor at the Faculty of Dentistry, was among one of 25 Canada Research Chairs awarded today to the University of Toronto.
Worth a total of $19.7 million, the positions were announced today by federal Science Minister Kirsty Duncan at a national news conference held at U of T's Factor-Inwentash Faculty of Social Work. The government is also providing $1.4 million in infrastructure funding to support the chairs.
The majority of U of T's new chairs – 16 in total – are women.
"It is wonderful to see their excellence more fully represented among our Canada Research Chairs, and I have no doubt that this is a harbinger of further progress in the years to come," said U of T President Meric Gertler.
All 25 of the U of T recipients are conducting globally important research in a number of fields with the potential to profoundly change our health and interactions with the world – from memory research to spatial ecology, mood disorders, transportation, air quality and ancient philosophy.
They are among 203 new and renewed chairs at 48 postsecondary institutions across the country, representing a $173-million investment in cutting-edge research and infrastructure from coast-to-coast, Duncan said.
"This is a great honour," said Levesque, who holds the only Canada Research Chair in oral microbiology in Canada. She was first awarded a Tier 2 CRC in Oral Microbial Genetics in 2011.
Levesque's research looks to understand how biofilm bacteria resist antibiotics and can live in the body for months after treatment. Through her research, scientists now know that some of the bacteria in biofilms can make themselves dormant, or actually kill themselves, in a process called "programmed cell death (PCD)." These strategies enable the bacteria to evade the antibiotics and help their fellow microbes survive and thrive.
By studying the genetic systems used by these bacteria to evade eradication, Levesque's work may help researchers develop better treatments for a wide host of bacterial-driven diseases, from caries and children's ear infections to cystic fibrosis pneumonia and necrotizing fasciitis ("flesh-eating disease").
Image; courtesy Celine Leveque