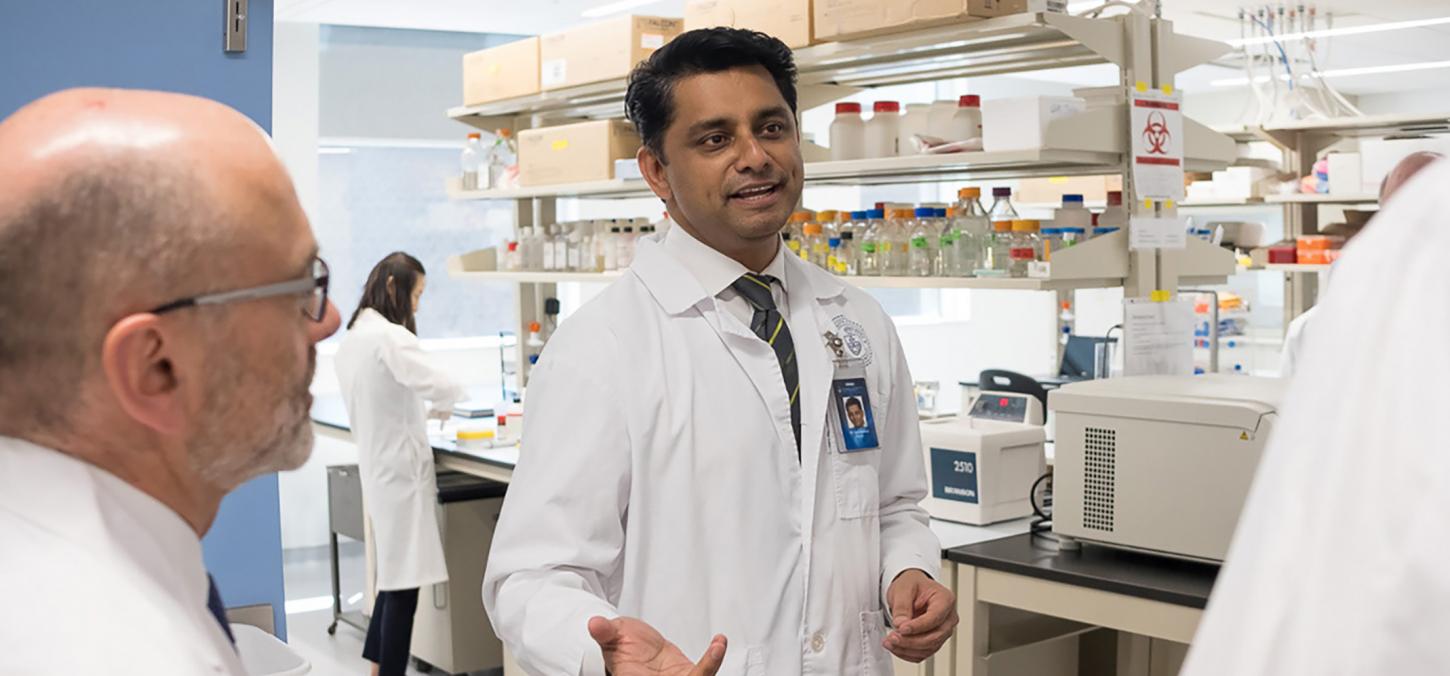 Dentistry's Revitalized Lab & Research Space Officially Opens, Marking the Conclusion U of T's Historic LIFT Project
University of Toronto's Faculty of Dentistry launched a new era in research, education and patient care with the official opening of the renovated lab and research space on the top two floors of 124 Edward Street. 
On May 25th, a ribbon cutting ceremony held at U of T's Faculty of Dentistry included staff, faculty, students, alumni, friends and donors, President Meric Gertler and other representatives from University of Toronto and the Government of Canada, who came together to celebrate the Faculty's world-class researchers and unlimited potential. 
The celebration marked the completion of The Lab Innovation for Toronto project (LIFT) – U of T's game-changing Infrastructure Project that kicked off two years ago as the result of significant infrastructure support from the federal government through the Post-Secondary Institutions Strategic Investment Fund (SIF). U of T selected the Faculty of Dentistry to showcase this impressive accomplishment.
"This is a great day for the Faculty of Dentistry and for the entire University of Toronto, as we celebrate the revitalization of hundreds of labs here and across our three campuses," said President Meric Gertler. "It is also an occasion to celebrate the power of partnership, in advancing Canada's capacity for world-leading science and innovation."
Hosted by President Gertler and Dean of Dentistry Daniel Haas, the event featured Chair of Governing Council Claire Kennedy, Dentistry's Vice Dean of Research, Professor Bernhard Ganss, graduate student Terry Stavroullakis, and Marianne Bruin, Senior Communications Advisor from Innovation, Science and Economic Development Canada.
University of Toronto received a collective investment of $190 million from SIF for the revitalization of labs across the university and this funding enabled University of Toronto to upgrade nearly half of its research labs across all three campuses and eight academic divisions, including the Faculty of Dentistry.
As a result, Dentistry was able to renovate 2 full floors – essentially its entire research space – reconfiguring 95 cluttered and crowded labs into 21 spectacular larger facilities that feature modernized research labs and expanded usable space, to inspire increased collaboration and enhanced quality of research.
"Now, the work of our exceptionally talented researchers – experts in areas such as biomaterials, tissue regeneration and repair, and the neuroscience of pain – will no longer be limited in what they can accomplish simply due to outdated infrastructure," said Dean Haas.
"The innovative new space will help the faculty to capitalize on their potential and allow sustainable excellence. But it will also extend multi-disciplinary focus to better solve clinical problems."
The modern new facilities will incorporate the move of a group of five principal investigators from a satellite location into the dentistry building. The versatile work space includes benches that can be unplugged and moved, allowing for ease and flexibility when new members join the space. Throughout the facility, state-of-the art green technologies have been implemented, ensuring that we responsibly reduce our carbon footprint.
"You can see it clearly in the lab space around us, but from start to finish, and right across our three campuses, this initiative has seen outstanding results, and was completed successfully in such a short amount of time," said Claire Kennedy of the LIFT initiative. "Everyone who was involved in this historic undertaking deserves to be proud and excited at the contribution they've made, that will have an impact for generations to come."
The Dean thanked the Governments of Canada and of Ontario for their generous support. He also acknowledged the involvement, dedication and generosity of countless staff, students, and faculty, notably the contribution of Mary Choi, Assistant Dean Administration, Building Operations Manager, Tina Harvey-Kane, and Vice Dean of Research Bernhard Ganss, whose collective vision helped frame the complex and varying needs of this space to help propel U of T Dentistry research into the future. He also thanked the Faculty's building partners – Harbridge and Cross, and Stantec. 
The Dean was pleased to extend a special welcome to some of the Faculty's generous donors who were in attendance, including Arthur Zwingenberger and Dr. Mark Nusbaum.
U of T's Faculty of Dentistry is the first and most established dental school in Canada. The May 25 event marked the completion of the most significant renovation to 124 Edward Street since the 1980s. The building dates back to 1959 and the Faculty originated in 1925.
"Ultimately, improvements to our research facilities will have an immeasurable effect on our ability to conduct health care research," said Haas. "And to have an impact not just locally, but also globally."
Above: Professor Anil Kishen, Researcher, Graduate Coordinator, and Principal Investigator for the Kishen Lab, was a featured speaker during a tour provided for President Gertler and other guests. To his right is Dean Daniel Haas. 
Photo credit: Gustavo Toledo Photography