Faculty Hockey Team wins Battle of Ontario over Western
By Rachel Boutet
The U of T Dental Hockey Club are the winners of the 2022 Ontario Dental Cup, defeating Western's Mighty Dents with a score of 4-1 on their home ice. 
This is the fourth year in a row the Faculty of Dentistry's intramural hockey team has taken the champion title. The team was led to victory by its captain, Braedan Prete, and alternate captains Scott Poortinga and Trevor Burgess, all members of the class of 2022.
"It was a battle of Ontario dental schools," says Prete. "We missed playing the last two years due to COVID-19 restrictions so it was great to get back on the ice for a little friendly rivalry."
This traditional game dates back to 2008 – since then each team has won six games, with the recent match breaking the tie. Competition aside, the annual event represents the positive relationships and collegiality of the dental community in Ontario, where dentists, students, sponsors and volunteers join together with a unified purpose – to raise funds for two causes: the CAMH Dental Clinic in Toronto and the Wright Clinic in London. 
The money was raised from ticket sales, sponsorships, including the lead sponsor, Patterson Dental, and the "Mouth Guards for Mental Health" event which allowed any student to take impressions of the hockey team for a monetary donation, giving first year students an opportunity to do something they wouldn't typically get to do until upper years. 
"We are thrilled to have raised nearly $20,000 this year to be split between both organizations," says Poortinga. "We couldn't have done it without the leadership of our head coach, Dr. Joel Rosenbloom. He's always helping to recruit people to our team and supporting students throughout their journey. He's so selfless, and is admired by each member of the DHC."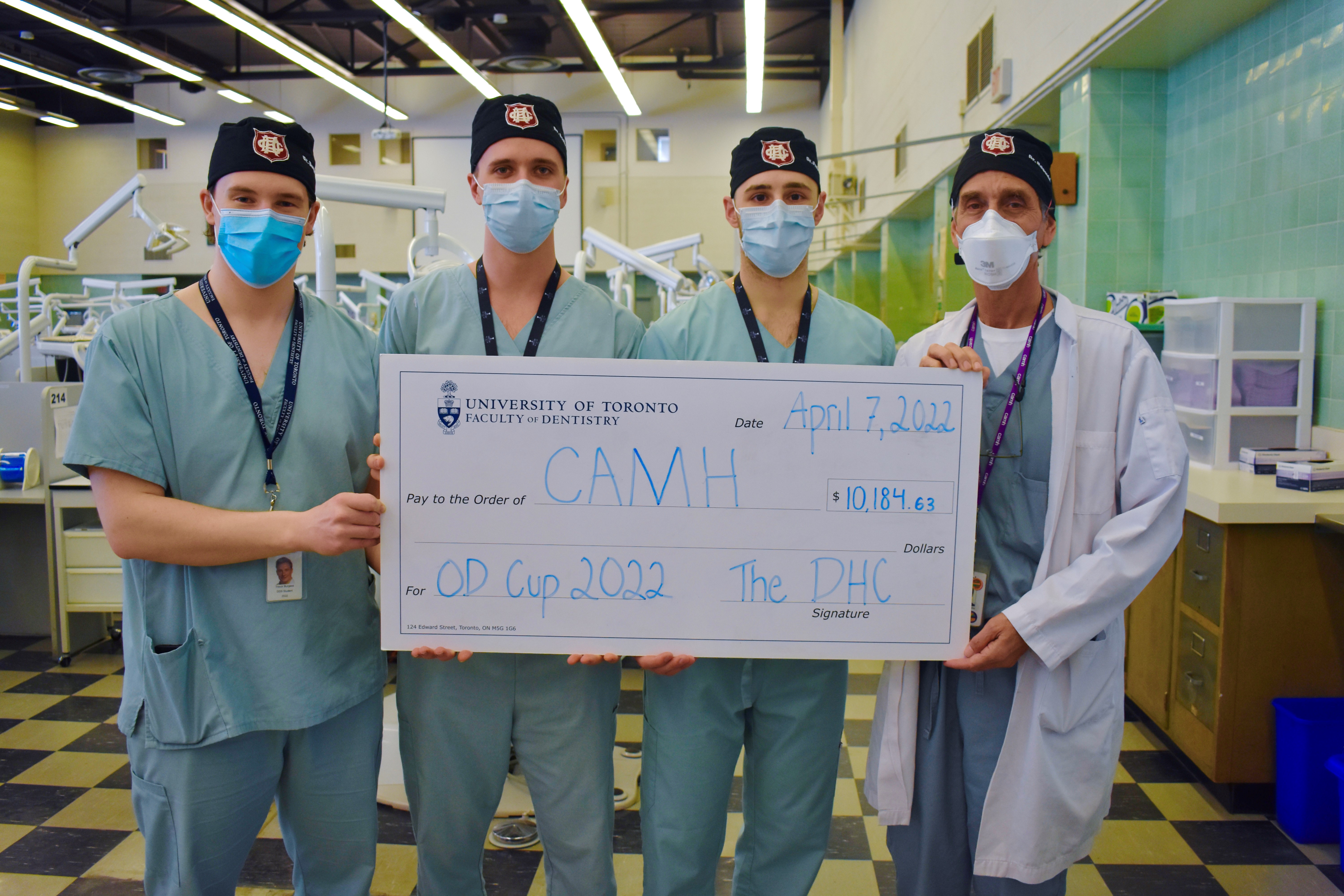 Rosenbloom is an assistant professor, teaching stream at the Faculty and spends two days a week as a staff dentist at CAMH. DDS3 students are given the option to do a one-week clinical rotation at CAMH and every DDS4 student is required to attend for one day. Burgess says his experience with one patient at CAMH forever inspired him.
"The patient shared with me how CAMH literally saved his life and how his treatment in the dental clinic restored his confidence to pursue job interviews," he says. "Ultimately this helped him land a job he always wanted."
Prete notes that the hockey game is a unique event compared to other fundraisers because the money goes directly back into the clinic.
"As fourth-year students, we get to see the impact of that money – it goes directly into the patient's mouths," he says. "Our fundraising efforts were very successful this year, it's the most we've ever raised and we're so excited to see the positive impact it will make in the lives of CAMH patients."
Poortinga adds that U of T Dental Hockey Club is also a great way to foster relationships between students.
"The Dental Hockey Club gives first-year students a unique opportunity to connect with upper years," he says. "A DHC Alumni Association has already been established, and is continuing to grow. There's a lot of passion for this team."
Prete says they are already recruiting for next year's team and encourages those interested to get involved. 
"Playing in the OD Cup is one of my favourite memories of dental school," he says. "You genuinely feel like you're in an NHL game and I will cherish and remember that feeling forever. We are more than an intramural team, we go above and beyond to make a difference especially within the Faculty, and we're proud to continue to give back to the community that supports us."
Photo: U of T Dental Hockey Club celebrating their win with Patterson Dental representative Fraser Clair (far left) and Kavo representative Michelle Brock (far right). (Ajay Plaha)