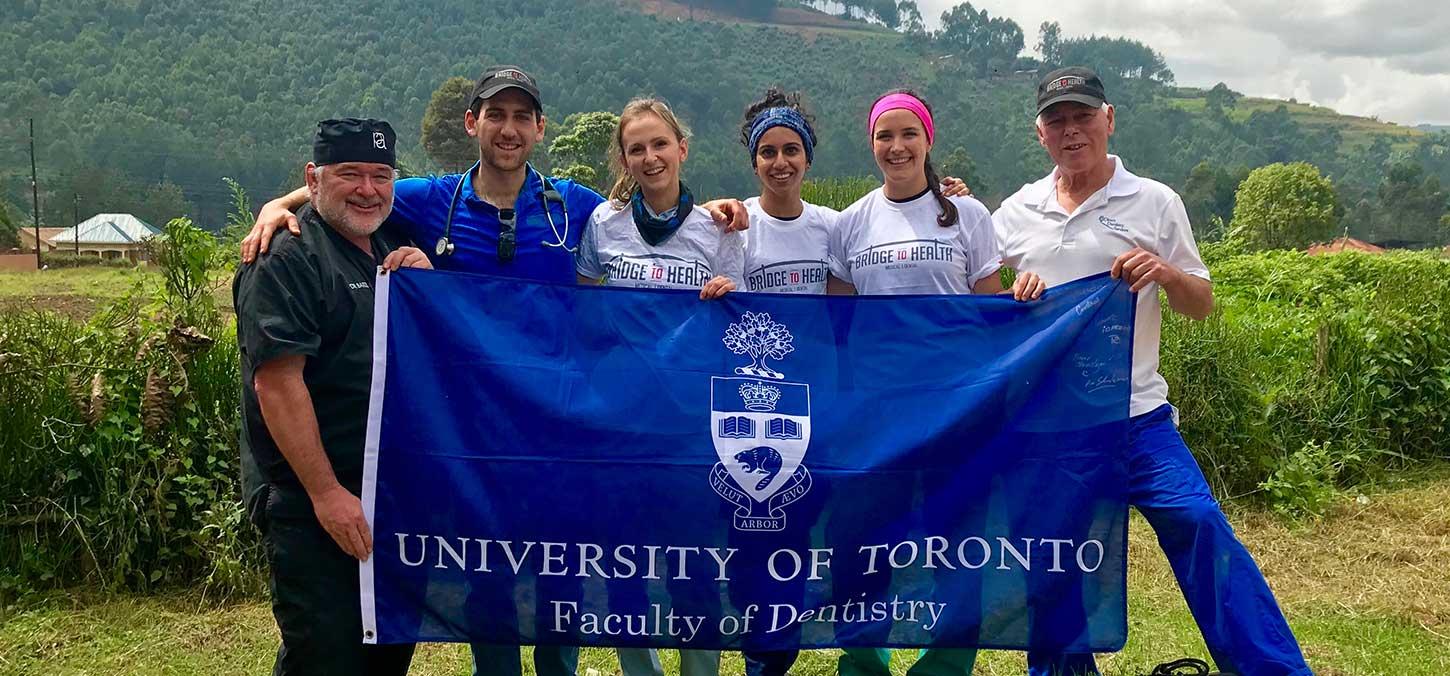 Faculty of Dentistry sends largest ever team to Uganda
Global Outreach: The Impact of Service Learning
Dentistry's Global Outreach Program has been sending students and staff overseas for service learning for four successful years. The countries the Faculty serves are: Uganda, Honduras, Guatemala, Dominican Republic and Ethiopia.
This past winter, the Faculty sent two students to Uganda as part of the Bridge to Health team. They comprised 30 healthcare providers and were in partnership with Kigezi Healthcare Foundation (KIHEFO), a local not-for-profit NGO. Over the course of two weeks, the entire team provided treatment to approximately 9,000 patients who were also treated for their medical, nursing, public health, obstetric and ophthalmologic needs by other Bridge to Health members.
Under the supervision of Dr. Izchak Barzilay, the dental team screened thousands of children, at the rate of approximately 500 children per day.
They provided screening for tooth decay, provided fluoride varnishing, oral hygiene education and they supplied tooth-brushes, tooth-paste, and training on how to use local supplies to brush. In addition to primary care, the team had a very busy extraction program and restorative hygiene program with over 1,000 patients seen. On the prosthodontic side, dozens of men and women were seen and treated and now have brand-new, beautiful smiles.
This partnership between Bridge to Health, KIHEFO and University of Toronto, Faculty of Dentistry is extremely effective in providing far reaching health-care.
Run by Course Director Dr. Amir Azarpazhooh, with support from Research Associate Elaine Cardoso, the Global Outreach Program has increased its capacity to support patients with each visit. "We are aiming to have an impact in many communities overseas," says Dr. Azarpazhooh. "Even if service is provided in a short period of time – we still feel we're succeeding. Plus, we choose outstanding students who have the drive and the interest to help across the globe."
In May, for the purpose of knowledge exchange, Innocent Tummusingize a Ugandan Dental Officer came to visit the Faculty of Dentistry. Innocent spent two weeks in the city, and he came to the Faculty each weekday. He sat in on classes, and socialized with students and faculty. Innocent sat down to speak with us about his work in Uganda, and his first visit to Toronto.
The Faculty is very pleased to welcome you. Thank you for speaking with us. What type of dental issues do you regularly see in Uganda?
Dental Officers like me undertake all procedures, just not surgery. Surgeons, often with more than 15 years of experience, take on the more serious cases – but they are few and far between and they are located in the cities only. They do train us to do more these things when we need to.
We provide services in oral hygiene (self-cleaning), restoration, bridges, cavity fillings, denture fittings and restoration. We also deal with acute dental pain and tooth extraction, and periodontal cases.
A major dental issue is broken jaws that are a result of road traffic accidents. Many of the taxi cab drivers do not receive sufficient training, and often operate without permits. As a result, there are many car accidents that directly cause broken jaws – there are sometimes fights after the accidents that make things worsen. Dental officers deal with broken jaws quite frequently!
What is the role of U of T Dental students when they visit?
In most cases they go to the schools and teach the children how to care for their teeth. They provide much-needed fluoride treatments for children; they work on varnishing and all the extractions. The students from University of Toronto also take part in extractions, prosthodontic procedures, and denture fittings in the community.  
We see up to 200 patients each day. Mostly, we do extractions. The students and other local dental officers teach the children about the benefits of oral hygiene. The more they spread the word about this the more children will benefit from this and clean and have better health as children and for the future - perhaps this can lessen extractions in the future.
Every day we go to a new community. The Canadian students benefit from learning and getting to see more patients. The students also grow in their skill sets. There are eight dental officers in addition to visitors from Canada. We work together and we have translators. The patients don't mind being seen by visitors – they sometimes push to be seen by the Canadians!
Is there an issue with perception, maybe that we are seen as 'better than' the local service providers? We don't want to be a burden to the local health care program.
It's not an issue. At the end of the day we all have skills.  Some of the locals don't know us. We all have uniforms; we are also doctors or dentists. We don't see it as a bad thing. We know the students who come to work with us are good. Extractions are often guided by the locals, so the Canadian students look up to us. We don't feel there is an issue. 
What is the difference between the approaches to procedures?
Visitors from Canada approach care the way they have been taught; they take each step and they want to carry out each process meticulously. We want to work on as many as possible, so we can't always do that. It is difficult in the field; once I get the patient, I take vitals, then 'where is the problem'? We usually know what it is right away. They point to the tooth, and then I freeze. You have to work fast. The students who come from Canada give it more time – they spend more time with each patient. We appreciate that this is the right way to do it. At the end of the day, we just want to see as many patients as possible, especially in some of the remote areas. We can certainly merge our approaches. From the patient's point of view, they just want as little pain as possible.
We do take short cuts in some of the procedures because we don't have all the equipment we need. We can't afford all these things. 
In terms of an extraction we use hypodermic syringes for freezing. They are big and more painful. Sometimes we use metallic ones that you can sterilize and reuse, and sometimes we use plastic ones and discard them. If you work in private practice in Uganda, you use metallic syringes. The groups from Canada plan very well and bring lots of supplies.
Do you feel you learn from each other?
Yes. We have the skills and we all learn from each other. It's a good exchange. The U of T students are great! They are also there to learn. Sometimes, the locals would prefer that the 'foreigners' (U of T students) work on them because they think it's 'cool'.
This program exposes U of T students to things that can work better and more effectively in the local setting. They listen to the community and adjust to local needs. Yes, the approach to local needs should to be worked on. But we're always asking ourselves: How can we see more patients? Bridge to Health comes once every year. We cover a lot of patients in that time.
As a result of my visit to Toronto, my practice will change for the better. Most people I know have not been outside of Uganda. So, insights from his trip will greatly benefit my colleagues. Patients will also receive better services from me and my colleagues where I work, and other places who I can teach. There will be positive change. The Canadians are doing a great job. Send us more! The more students you send us the more dental officers will learn and then more improvements can be made.
What would you like to see improve in dental care in Uganda?
I would like to be able to focus more in preventive measures in oral health care. I would like to teach tooth brushing techniques, the effectiveness of fluoride treatment, varnishing. I would like to expand education – especially to kids in schools and children. Proper, basic, hygiene can be life-changing.
Many families cannot afford to floss and tooth brush - it costs a lot of money to buy these products and maintain the process. With this education, this can lead to a reduction in tooth extraction. Hygiene addressed brushing and flossing. We take out so many teeth because often they cannot be saved - this education could prevent that. Bridge to Health gives out tooth brushes.
What steps do local population use if they cannot afford conventional oral health care?
They can learn first by using a 'chewing twig' to brush - certain twigs are used in some communities to help maintain the hygiene essentials. They use local materials to maintain these practices including table salt.
People are in pain. Some communities do not have dental services available. Distance is an issue – people have to travel for hours, or days, to receive care. Populations suffer to come to the dentist. They sometimes arrive and the dental team has left. Some patients have suffered for years in pain. Prevention is still key. Children and adults can change their habits - they just need to be taught how to do it.
What could your team benefit from? What do you need? 
We would like to improve on the crude way in which we are providing care. A mobile unit - that would be amazing. In some photos I've seen, there is a dental chair inside the vehicle. You could go everywhere with that vehicle and help the community. This kind of vehicle is like a mobile hospital; it would more effectively serve the remote communities where we provide care.
Preventive measures, such as teaching community members about the importance of brushing, fluoride and varnishing – and then providing those services – can be life-changing. Sometimes I feel some of the teeth I take out could really have been saved. Prevention and education can make a big difference.