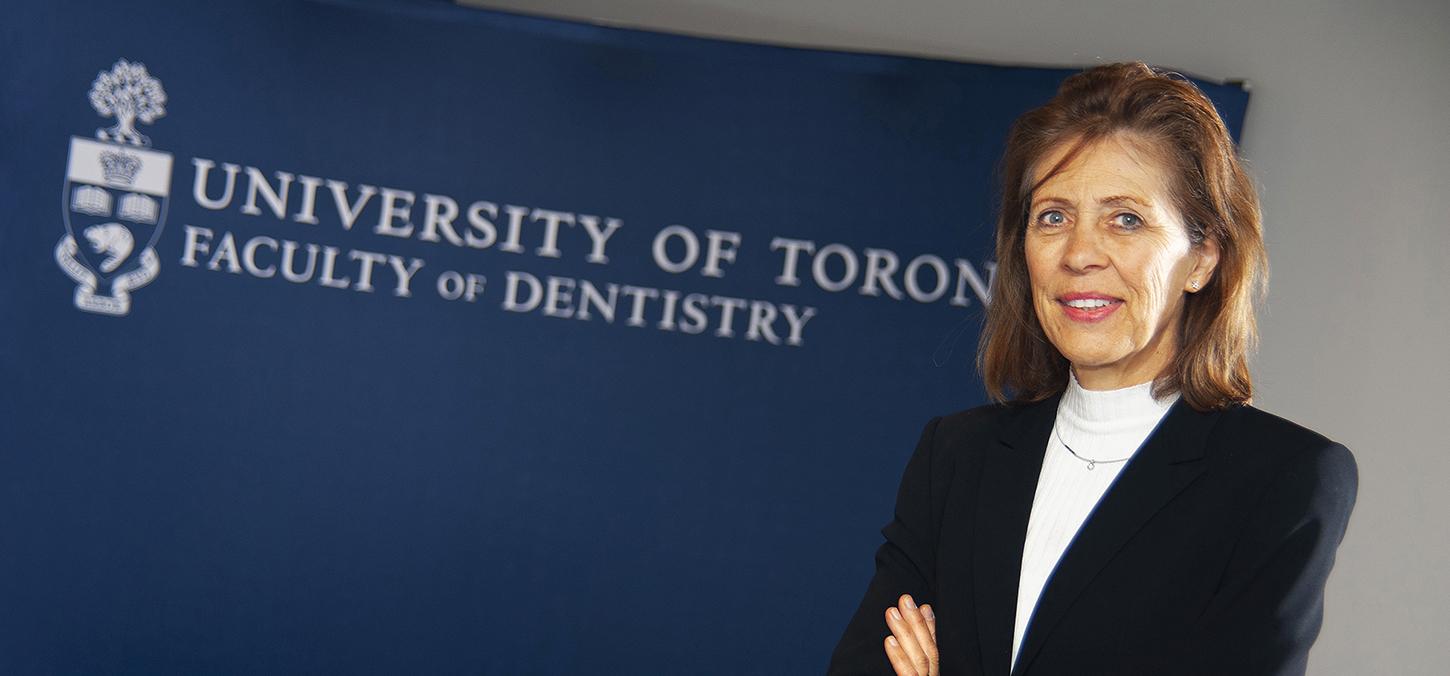 The history and future of implants: Zarb lecturer Dr. Regina Mericske-Stern
What was it like to place implants in the 1980s? Dr. Regina Mericske-Stern, the Faculty of Dentistry's 2019 Dr. George Zarb clinical research lecturer, has first-hand knowledge. 
"We didn't have very good tools for planning, and all the radiographic imaging was missing," says Mericske-Stern, who retires this year as director and chair of the department of prosthodontics at the University of Bern, Switzerland. "Brånemark published a good book. It was our bible. But really good research papers or research didn't exist."
Nevertheless, implantology has come a long way over the past 40 years ago. Mericske-Stern has witnessed that growth. She first came to work at the University of Toronto's Faculty of Dentistry, with Dr. George Zarb himself, in 1992-1993, to study the graduate training program in prosthodontics. 
That trip helped Merickse-Stern form the first formally recognized graduate specialty training program in prosthodontics in Switzerland. The program became federally accredited in 2000. 
In the early 90s, though, Mericske-Stern began building a geriatric curriculum, something that hadn't existed when she had been a student.
"Once a week [our students] went to a geriatric hospital. Students had to see additional problems for patients who were more frail than at the dental school or in private clinics. Being old doesn't mean everybody is old in the same way," she adds. 
Over the years, as interest in implants grew, they became an obvious tool in the treatment of geriatric populations. Overdenture implants in geriatric patients, for instance — the focus of her November 19 lecture — tend to be quite successful, says Mericske-Stern. In fact, there is a 95 per cent survival rate over five years with anterior placement of the mandibular overdenture.
Still, osseointegration can sometimes fail, and there is a lack of good data as to the underlying causes. "Why failure starts or occurs is very difficult to recognize. Good maintenance and oral health helps," Mericske-Stern says, but even with that, and with a growing field of supporting research, 100 per cent success is not yet a reality.
In the future, Mericske-Stern hopes that the science behind implantology continues to evolve and grow. She additionally hopes that patients' expectations stay within realistic bounds. "Some patients think that getting an implant is like going to buy a pair of shoes. But we still have to look at it as a medical issue, not cosmetic or technical."  
But while she ponders the future of implants, Mericske-Stern comes full circle to the beginning of a remarkably impactful career as an implantologist: a guest lecturer of a series named for her former mentor, where she met with him once again.
"This was going to be my last official lecture," she explains.  
Photo: Dr. Regina Mericske-Stern, photo by Jeff Comber