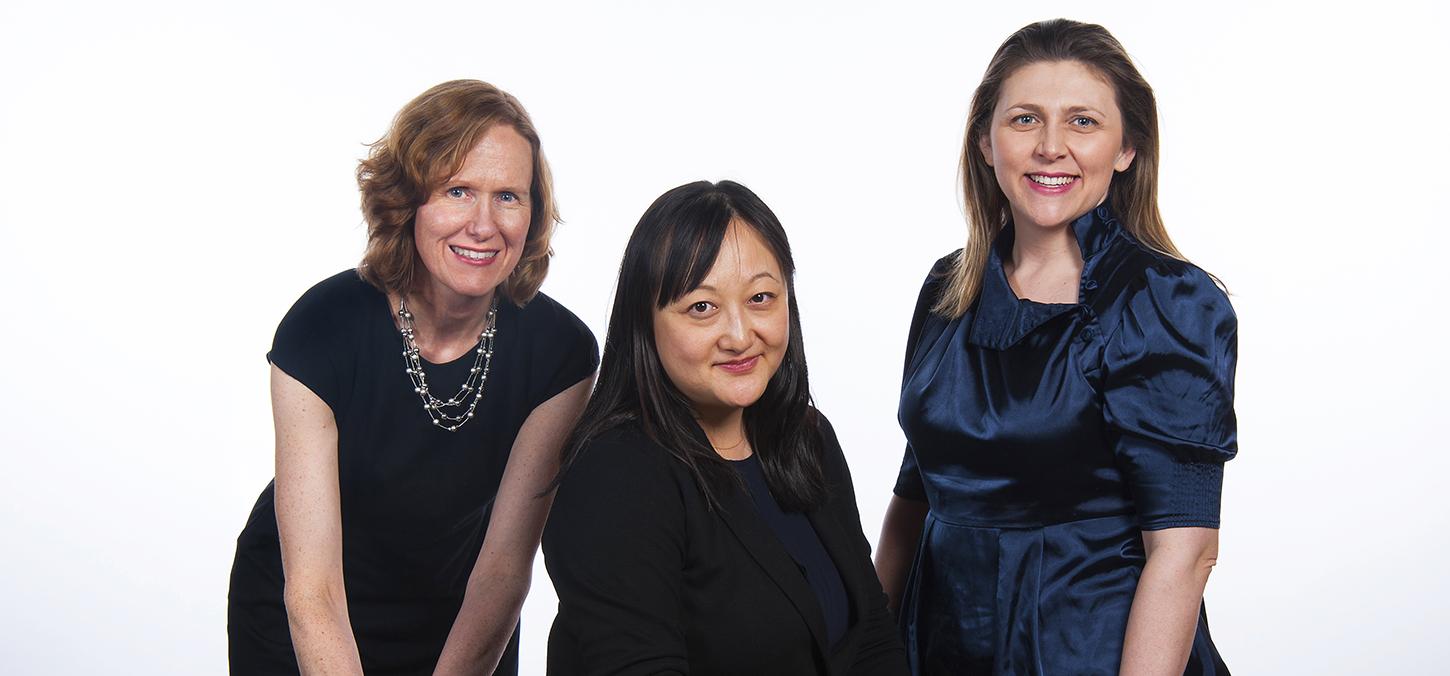 A wave of fresh new talent hits Dentistry this month as the Faculty welcomes three new managers. Who are these powerhouses? We sat down with Beth Hensler (Manager, Academic Administration), Rebecca Ko (Manager, Human Resources) and Susan Rodgers (Manager, Finance & Procurement) to find out more about our new managers and what the Faculty can expect in the days ahead.
Beth Hensler, Manger, Academic Administration
What was your previous position?
I was the Graduate Education Manager in the School of Population and Public Health at the Faculty of Medicine, UBC.
Why Dentistry?
I was actually impressed by the Strategic Plan Progress Reports. Often institutions will put out a strategic plan that can be empty. What I noticed about Dentistry is that [the leaders were] holding themselves accountable to the goals they had outlined, and that was in black and white. I thought: "This will be a place where new ideas would be welcomed."
"Manager, Academic Administrators" is a new position­—what will this role add to our faculty structure?
My position has been put in place to help support the great day-to-day work that our academic administrative staff do, and to work with them to help improve processes across the Faculty. This is an opportunity to better understand the staff support that help make this Faculty what it is, and to also identify best practices and try to implement those across all areas.
What strengths do you bring that will help you in your role?
I'm a very strong believer in transparency, open communication and always approaching things with a student-centric perspective.
What sorts of changes do you hope to implement?
We have a growing need for standard operating procedures for activities that are across all areas in the Faculty. An example of this would be around term tests: making sure there is standardized formatting; standardized invigilation. One of the things we're going to do is do a session on public speaking for those who need to get up and deliver the pre-exam blurb before the test.
What are you most looking forward to in your new position?
Respectful change.
Rebecca Ko, Manager, Human Resources
What was your last position? What is your background at the University?
Most recently I was an HR Consultant at OISE, but I had worked there before. I've worked all over the University of Toronto: I've worked at OISE, at Central Administrative HR, at the Library, I've worked in Pension and Benefits, for Rotman HR… it's a long list of HR offices.
Why did you choose to work at Dentistry?
I had worked with Dorcas in the past, and I've worked with Mary Choi, who was a client of Central HR—and the Faculty's Strategic Plan seemed very exciting.
I also liked the opportunity to be in an HR office embedded in client group. Most of what I do is very back office—and you don't get to see how your work translates, how it impacts the client.
What do you want to accomplish in this role?
I would like to do the best job that I can to help the Dean move forward with his strategic plan, to help us get to where he'd like us to be. [Recently retired] Alison Mahoney was in this role for quite a long time. I'd like to build on the programs and services she's established for the Faculty.
What strengths do you bring to this position that will help meet the institution's goals.
I have worked at various positions at this University for the past 19 years.  My experience includes working in central and divisional offices in progressive human resources roles to provide strategic hr advice. I'm looking forward to applying these experiences and best practices at the Faculty.
What sorts of changes do you hope to implement?
Right now Joe-Anne Vanhorn (the Faculty's new HR/Consultant) and I are in the exploratory phase. We're trying to get a good sense of what's working, what we can do better, and what new things we can implement.
UofT is a "Top 100 Employer." I'd like to make sure that we contribute to maintaining that distinction. The truth is, we spend more time with our colleagues than sometimes our family. It would be nice if we can work together so that everyone enjoys that time.
What are you most looking forward to in your role?
I have a new team! I've worked with Dorcas and Vera in the past, Joe-Anne and Ruby have been colleagues, but I now have an opportunity to work with them more directly on the same team. I'm excited to hear new ideas and collaborate and exchange ideas with people. I want to move the faculty forward.
Susan Rodgers, Manager, Finance and Procurement
What is your background? What was your last position at the University?
I have a background in hospitals and government. But here at UofT I was in the Planning and Budget office at Simcoe Hall. I was responsible for allocating government grant money received by UofT, and for the academic revenue allocation budget model.                                                     
Why did you choose to work at Dentistry?
In my role in Planning and Budget, I had the opportunity to meet CAOs from across the University. I had met Mary Choi [which was a big draw], and I was familiar with Dentistry's financial position. Dentistry is a comfortable fit for me: the majority of my career was spent in the healthcare sector, so coming here was like coming home.
I feel pretty blessed to be at the Faculty of Dentistry. The team here is wonderful, and it's very clear to me that they are very dedicated to what they do.
What do you want to accomplish in this role?
One thing I will be doing is looking closely at the clinics from a financial point of view. It's important for any organization to understand its costs. For instance, the axiUm program tracks procedures and dollars at the visit level. This is strategic information that can be used to understand clinic costs.
What strengths do you bring to this position that will help you meet your goals?
I have a Masters in Economics, as well as an accounting designation (CPA,CMA). I also have a background in the healthcare sector, and have been teaching accounting at the college level for seven years.
The Finance Office has recently been reorganized into the Office of Finance & Procurement. What does this office do?
The finance side is responsible for budgeting, the processing of expenses and invoices, and banking and reconciliations. The clinic reception area, accounts receivable and payment plans are also part of the portfolio. Our procurement staff do all of the ordering and sourcing of goods and services, (with the exception of research) including the student kit.
What are some of the changes you hope to implement?
At this point I just want to better understand the systems and to use the rich datasets that we have. Currently we don't fully attribute revenues and expenses to each of the clinics. Although great strides are being made, there are still opportunities in this area that I'd like to pursue.
Photo: Courtesy Jeff Comber, IITS