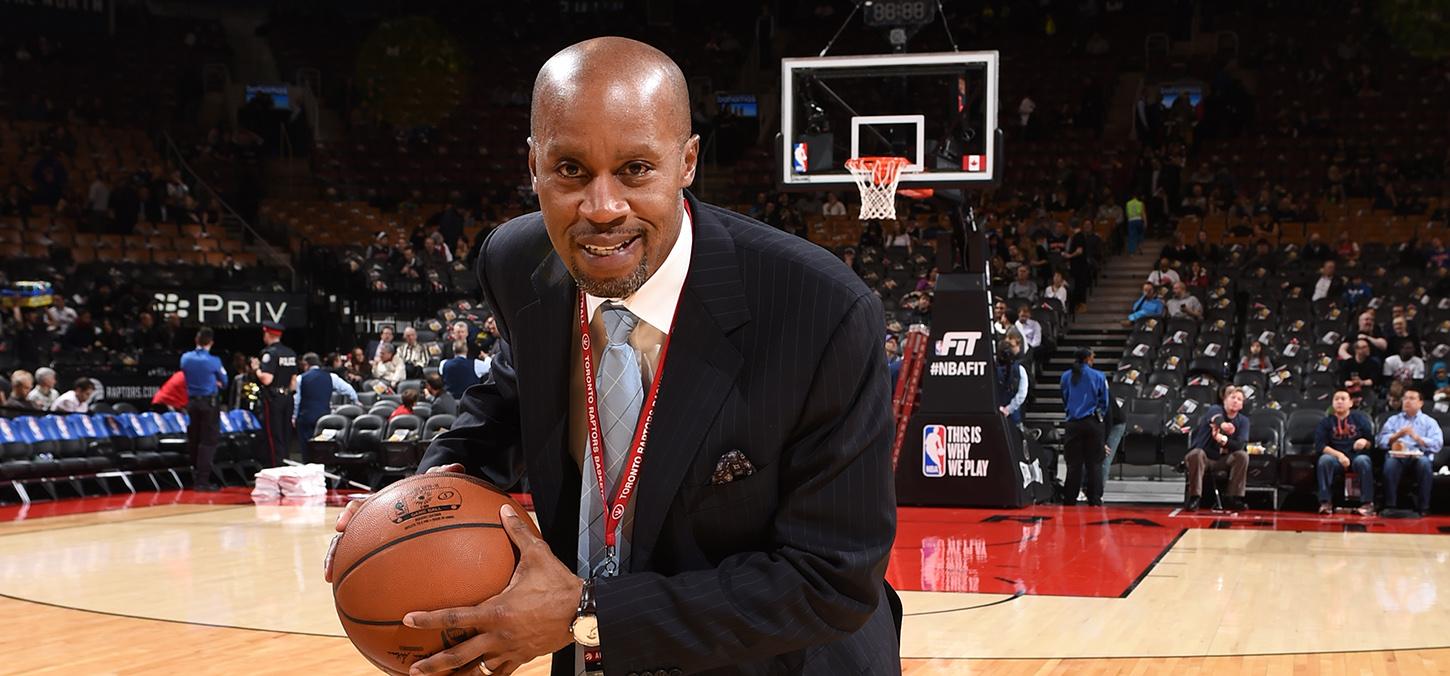 Meet Peter Nkansah: Raptor's Dentist and U of T alumnus
He's a U of T alumnus with a specialty in Dental Anaesthesia, a part-time Clinical Associate at the Faculty of Dentistry and full-time dentist with his own specialty practice. 
But Peter Nkansah (DDS 9T3, 9T6 MSc Anaes) is one other (little) thing: dentist to the NBA's Toronto Raptors... and a friend to the Curry's....
How much time do you devote to your various practices?
I teach at the Faculty one day a week, and run my practice 3 days a week, some Fridays, as well as one Saturday a month. 
The basketball job is more like a hobby. I'd say I spend about 1 percent of my time as the team's dental consultant. I'll be on site for the 41 regular season games, plus playoff and exhibition games, like the All Star game.
 I like that I'm close to basketball and at least peripherally involved in what is easily the best league in the world
How did you come to work for the Raptors?
I've been with the Raptors since they started in '95. I played basketball at U of T and knew the head of sports medicine here, Doug Richards. I ran into him at the World Championships where I happened to be working, [which led] to me being a part of the team submission for the Raptors' health care. 
What kind of dentistry do you perform on the teams during a game, and how often does this occur?
I'd say the times when I actually have to put on gloves is fairly rare – maybe every 10 to 15 games. I will also treat the visiting team's players and the refs, as well as the broadcasters. 
Basketball players need every kind of dentistry - the additional thing is trauma.  NBA basketball involves big guys, and when they're hit, they're hit hard. Teeth go through lips, teeth get bumped out. They have to be patched up and recover as quickly as possible.
Do you have a favourite player?
I have a list of favourites. If a player shows respect for the game and works hard, I like them.
I like Golden State Warrior's Steph Curry [for instance]. His father Dell Curry played here for 2 years. Steph would have been a 10-year old at the time. I used to watch this kid practice. He'd shoot and shoot and now he's the most dangerous [hoop] shooter on the planet.
What is your favourite part of being the dental consultant for the Raptors?
I like that I'm close to basketball and at least peripherally involved in what is easily the best league in the world. It has been a fascinating journey and I have gained a greater appreciation for how hard the lifestyle is: there's nothing covering your face. And you're constantly on the road. You need to be very disciplined to sleep and eat properly and keep playing to the best of your abilities. 
Reprinted from U of T's Off the Clock series, 2016
Photo: top: Peter Nkansah on site for a game, courtesy Ron Turenne and  the NBA; insert: Peter Nkansah with Raptors' Eastern Conference trophy, courtesy Raptors and NBA