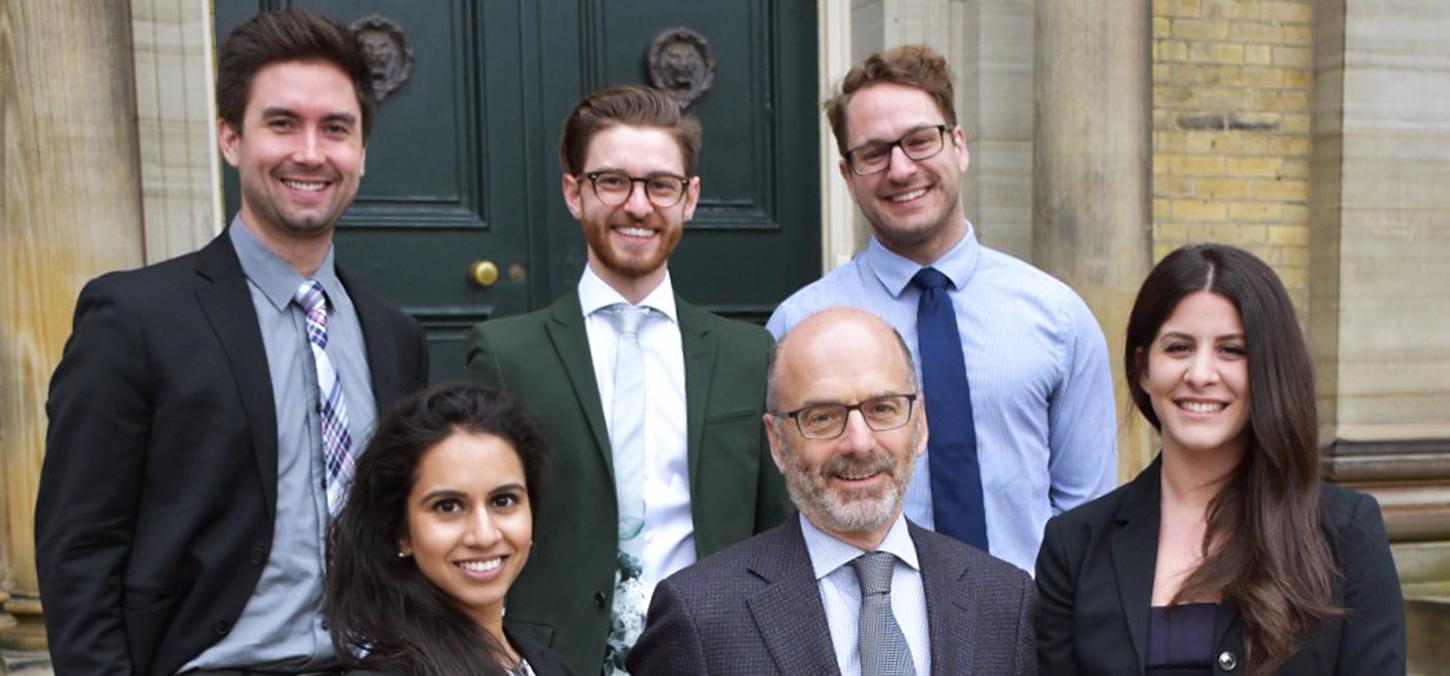 Meet your 2017 Cressy Leadership Award winners
The University of Toronto Cressy Awards, handed out at a special ceremony on April 25th, recognize graduating students for their community spirit and accomplishments throughout their time at the University. This year's fiercely dedicated Cressy Award winners exemplify this spirit in abundance—from Dentistry's top student leaders to its most active community reps, these five trailblazers illustrate the importance of getting involved.
How did you manage to balance extracurricular involvement with the hectic life of a dental student?
Nick: There is no doubt this program is demanding. Adding extracurricular activities on top of that was a challenge. This experience has taught me that it is essential to understand one's strengths and weaknesses in order to live a balanced lifestyle. By focusing primarily on student government and brainstorming ways to improve the Faculty, I can't say I attained this equilibrium. Nonetheless, the loss of sleep and countless hours of commitment was worthwhile, as it positively affected many others.
Chetna: As a Vice President for the Dental Students' Society, I had the privilege of being part of an incredible team of students who worked tirelessly, debated passionately, and remained committed to the goal of improving the student experience at our school. We established the expectation at the beginning of the year that we were all responsible for helping one another, even though we had separate portfolios. This culture of shared responsibilities fostered a strong team spirit, and this team approach allowed us to support numerous initiatives while juggling the many other duties of a dental student.
Geoff: I've laboured these past four years under the outlandish and entirely unorthodox assumption that achieving a dental degree isn't the most important thing I'll ever do in life; a reconciliation of the fact that while we are students in a program that places high demands on our time and energy, we are still people above all else. That awareness is the first and most important step in striking a healthy work-life balance.
Virginia: Working with the paediatric population, in some capacity, is something I am truly passionate about. I have always been drawn to the field of paediatrics, both for its unique psychological aspect of behaviour management, as well as for the potential to have a direct impact the quality of life of adults tomorrow, through the oral health care education of children today. Personally, I have found that no matter how busy I am, I can and will always find time to devote to things I enjoy, and I think that's the secret!  There are so many wonderful ways to be involved at the Faculty, there is bound to be something for everyone.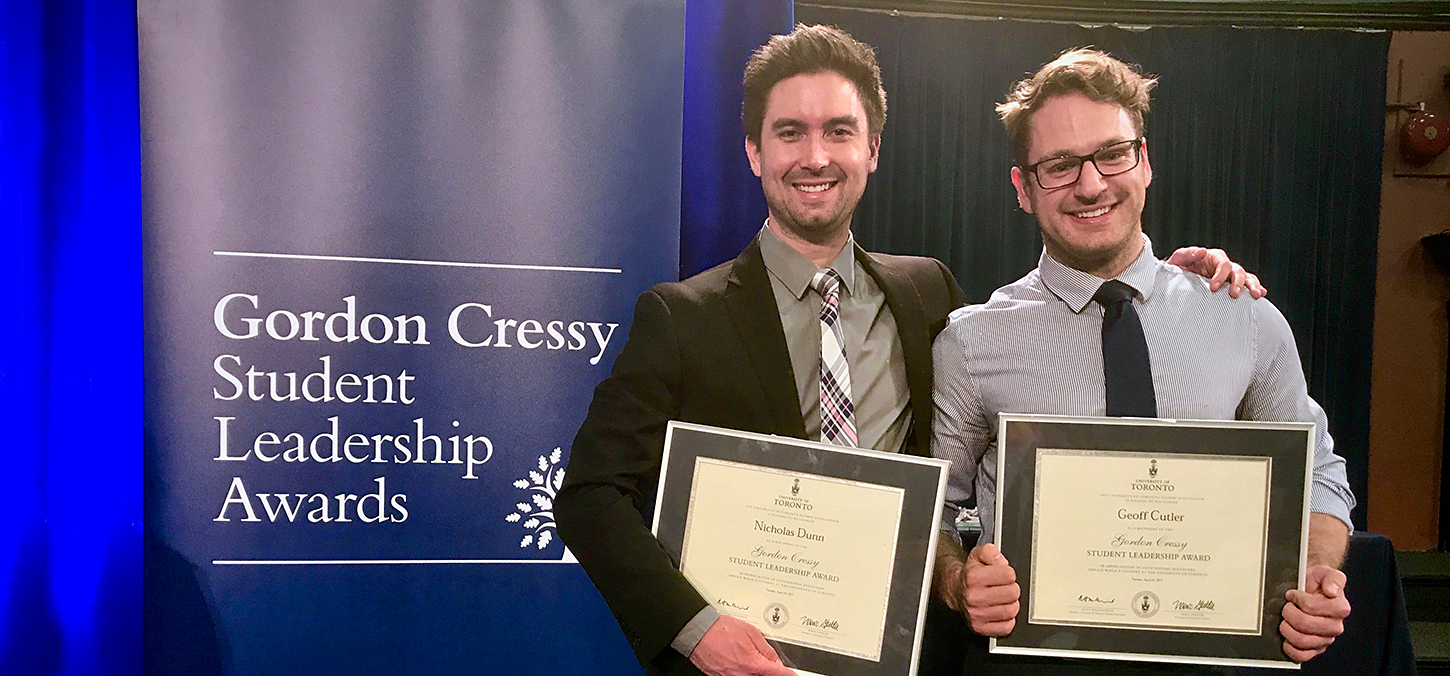 What did your involvement with the life of the school bring you?
Jacob: Growing up, I was extremely shy. My involvement around the school has been a transformative experience for me, as I have had the opportunity to meet so many people and develop relationships that I may have otherwise not had the opportunity to do. In regularly speaking in front of audiences, participating in meetings, pursuing initiatives, and managing the occasional conflict, I have gained a great deal of patience and empathy as well as a level of comfort with myself that I would have not otherwise thought was possible.
Virginia: The most valuable outcome that involvement with the life of the school has brought me is lasting friendships across all four years. I can recall as a first year student playing Women's Intramural Soccer alongside second, third, and fourth year students whom I looked up to and often sought mentorship from. Now a fourth year student myself (WOW how time flies!) this has come full circle, whereby the relationships fostered on the field have translated to a unique support system off the field. Whether sharing feedback on the student experience, advice on studying for exams and dealing with stress, or just chatting, it is comforting to know that there is always someone to turn to who has been through it.
Chetna: Since my first year at the school I've been involved with coordinating a dance performance for Dentantics. This particular experience was one of the most fulfilling and enriching experiences of dental school because it brought together such a fun, energetic, and committed group of students. Since I became the coordinator in second year, I reached out to enthusiastic and well-rounded students in each year to convince them to try-out for our widely popular Bhangra team. Our final performance was a testament to the hard work and dedication everyone put in over the years, and even though it may be over we finished with a sense of accomplishment, camaraderie, and family.
Why is it important to get involved with the school and student life?
Jacob: As with most things, you can expect to get out of the program what you put into it. There is an abundance of opportunities to get involved outside of the classrooms, labs, and clinics. From clubs, to arts and sports, to student governments, to research, to exploring your interests in any of the dental specialties, I truly believe that there is something here for everyone. Dental school can be so much more than simply a means to a career. It is a journey, and over the four years of the program there is the chance to not only set the foundation to become an amazing dentist, but to also forge lifelong memories and relationships. I strongly encourage everyone to seek out the individuals and opportunities that motivate them most, as this will make their experience, and future professional career, so much more enjoyable.
Nick: "Getting Involved" is the perfect way for like-minded individuals to come together and make sure they are getting as much value from their program both on and off campus. This has always been a priority of mine. For me, it is about leaving the Faculty of Dentistry at the University of Toronto with an invaluable educational experience, along with the hope that I helped others along the way. Change happens for a reason. Convert your words into actions, and be a part of that reason.
Geoff: More than anything, it's important to get involved in activities for which you have a passion—to go headlong into whatever brings you a sense of fulfillment, so that they might enrich your life as a student, dentist, and member of our community at the Faculty and beyond. Life's too short not to.