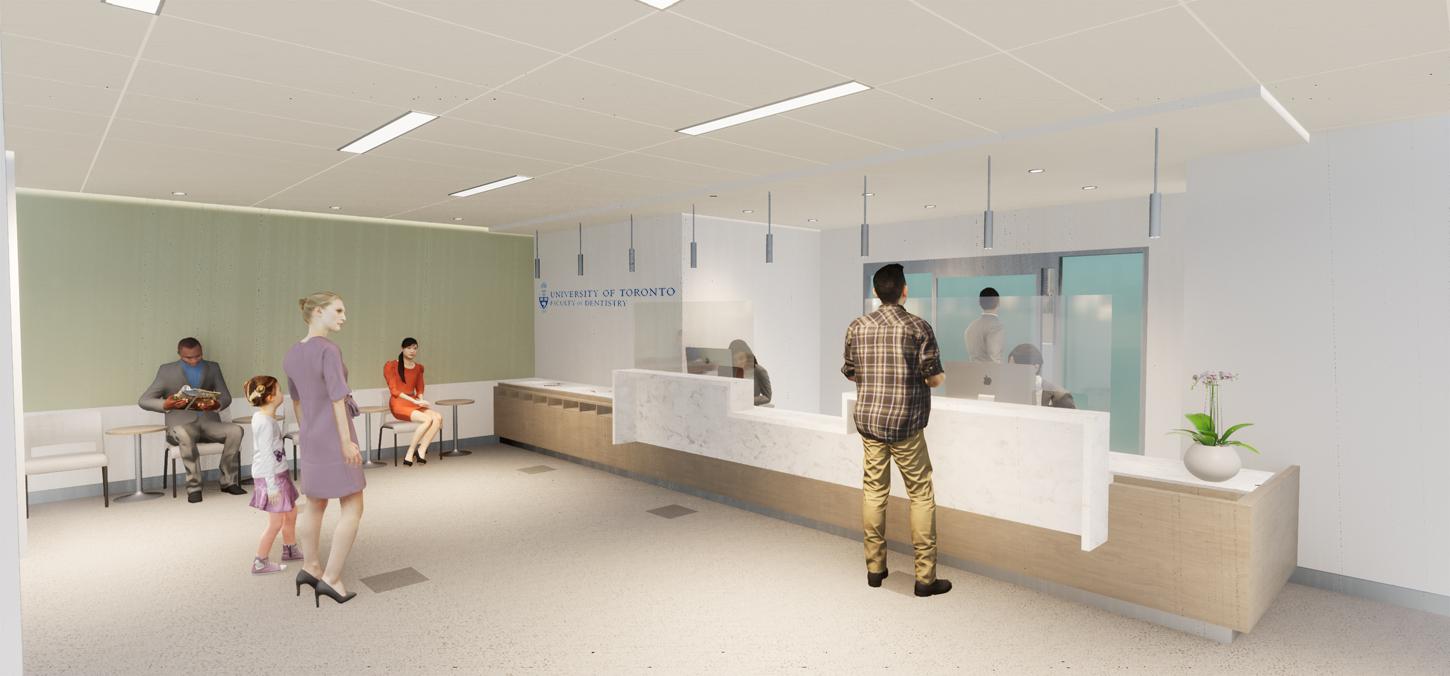 New satellite clinic for U of T Dentistry
By Diane Peters
The Faculty of Dentistry has leased a new, off-campus patient clinic. This satellite location, comprised of 40 enclosed operatories, will support students and patients for at least the next decade.
The clinic will be located at 777 Bay Street, which is part of the College Park complex. This is both close to the Faculty's Edward Street location and directly on the Yonge subway line, which provides easy access for patients.
The Faculty team and the consultants looked closely at the recommendations set out by the Royal College of Dental Surgeons of Ontario to ensure the clinic features would easily meet the standards currently and for the future. 
"Sustainability and enhancement of our clinical operations was at the centre of this innovation," says assistant dean of administration Mary Choi.
The new space is part of the vision for the future of clinical care and teaching at the Faculty. With an ambitious timeline for completion of September 2021, it will serve to increase the capacity for the clinical education of students and patient care. "As part of the Clinic Master Plan that was created in 2019, the vision includes the renovation of Clinic 2 and the simulation lab at 124 Edward Street. Closing them for many months at a time for their revitalization will cause capacity challenges that this off-campus clinic will alleviate," says dean Daniel Haas.
The new, 15,000 square-foot location will feature 40 enclosed operatories, along with a patient waiting area and support space for instructors and students. It will include an area for basic sterilization tasks while instrument reprocessing will happen back at the Faculty's main building with its new medical device reprocessor that provides state-of-the-art sterilization. 
"The feeling is with this virus and the possible next one, long term, enclosed is the way to go," says assistant professor James Posluns, director of clinical affairs for the Faculty.
The new satellite clinic, which features operatories with glass walls and sliding doors, meets current standards for aerosol-generating procedures, plus preserves sightlines so instructors can observe students and patients. 
"It's going to be a really positive thing for patients, students, staff and faculty," says Danielle Churchill, manager of building operations for the Faculty of Dentistry.
It will help students gain critical skills and serve patients while allowing for a reimagining of Faculty spaces to keep up with what students and patients need for the future. 
Renderings provided by Saccoccio Weppler Architects Inc.