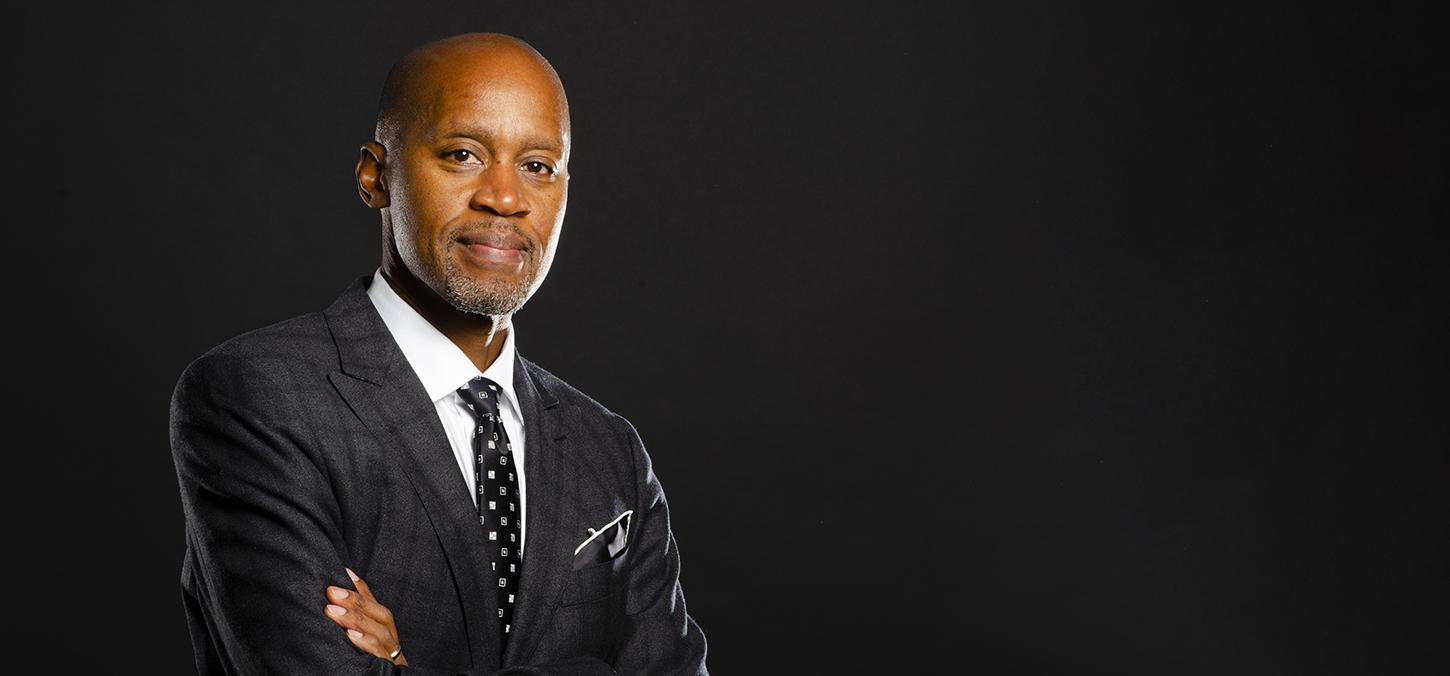 Blackness and the Benefit of the Doubt
By Peter Nkansah, written in 2020
Peter Nkansah DDS 9T3, 9T6 MSc Anaes is an assistant professor in the graduate specialty program in dental anaesthesia, as well as an instructor in the Faculty's Continuing Education program. As well as running a successful private practice, he is also the dentist of the NBA's Toronto Raptors.
Recently, I read an opinion piece by Dr. Zaneta Hamlin in the American Dental Association's New Dentist News. Dr. Hamlin is a Black female dentist "with [dread]locks" practicing in Virginia. In her piece she expressed some outrage at her experiences with race-based microaggressions ("When is the doctor coming?") and macroaggressions (e.g. being stopped by the police, ostensibly for no other reason than being Black and driving a nice car). To be a Black professional in North America means that these, or similar experiences, are nearly universal. This is a time for reflection and for change. The murder of George Floyd for all to see during the COVID-19 pandemic lockdown created the "perfect storm" to re-ignite action against racism in general, and anti-Black racism in particular.
I have been on the receiving end of anti-Black microaggressions. To be honest, I don't think that I've experienced too many macroaggressions, but my point of reference is only my own. What's on the other side of these behaviours? Are the aggressors being hateful or malicious? Or are they being fearful or naïve? Sometimes the answer is "yes" to each. Dealing with hate and malice is not easy, but it is straightforward. Dealing with fear or naivety requires a different skill set and mindset, starting with the benefit of the doubt.
"Challenge yourself and your colleagues to do more, and to be better"
I lived in a predominantly White neighbourhood starting in the summer before fourth grade. Until grade six, I was the only Black child in my school. Some classmates would ask to touch my hair or try to "normalize" my Ghanaian last name, or they would discuss with me the factors that allowed Black people to run faster or dance better than White people. Through high school, university and beyond, the questions kept coming. For the most part, I felt no hate or malice: just curiosity. After all, I was one of few Black students at York Mills Collegiate Institute. I was one of few Black students at Western University (fewer still in Sciences). I was the only Black student in my master's program. I was the only Black Don at Victoria University. I was one of three Black students in my dental school class. I am one of the few Black assistant professors at the Faculty of Dentistry. As far as I know, I'm the only Black Dental Anaesthesiologist in the country.
Was it — is it — okay for adults to keep asking me questions? There is an assumption that grown-ups should know better, that they should employ common sense. Unfortunately, common sense isn't common, it's taught. Should these adults not have been taught better? What is "better"? And what if that better teaching wasn't there? Should they receive the benefit of the doubt? Yes. Sometimes the only way to get an answer is to ask a question. As marvelous as Google is, this line of questions cannot be answered by a computer's search engine.
I was a residence Don during dental school. One of the students in my house was a first-year medical student. It was her first year at the University of Toronto. She had culture shock. Among her new experiences was me: she had never met a Black person before. Being born and raised in Toronto, I could hardly fathom this (my bias). She was born and raised in Ontario, had attended a smaller undergraduate university, was well-spoken, polite, very bright…and curious. I'm no expert on "Blackness" but I was her most convenient research tool. Many of her questions could have been viewed as demeaning or presumptive, or coming from a place of assumed superiority. But, using the benefit of the doubt, I believed that she just didn't know the answers. I answered what I could from my perspective.
In contrast, George Floyd faced macroaggression. Ahmaud Arbery faced macroaggression. Eric Garner faced macroaggression. So, historically, did Jesse Washington (1916, Texas) and Emmett Till (1955, Mississippi) to name but a few. Macroaggressions need not be fatal, but they are never well-intentioned. Once, travelling on the London Underground, I was physically cut off from friends (all of whom were White) by a slightly larger group of skinheads who started singing a derogatory song. Things didn't escalate very far. My friends — all rugby teammates — stood up to face the challenge, and the conflict ended. The situation could have gone very differently.
"There is a call to action for us all right now"
The Canadian borders do not protect us from such aggressions either, as some have suggested. I've been called the N-word from the window of a bus passing by in Winnipeg. I've been threatened with "guns for n*****s" in Sudbury. On the Toronto subway, I've had people kick me while climbing stairs to try to make me fall. I've even had some issues in the clinics that I've worked in, although not many. With some effort I could probably form a lengthy list of past transgressions. Maybe it's part of the continuing price to be paid for being Black in North America. But this is paying off a historic debt that never existed. It's time for the collection to stop.
I do not know what opportunities I have been denied by being Black, although I can guess at a few. I'm probably where I am in spite of, and because of, my race. I have achieved a modicum of success in my career and in my life. I'd like to believe that, ultimately, whatever successes I've enjoyed were earned without any unfair advantage. I believe in diversity and inclusion. I do not believe in quotas or in using the wrong measuring sticks to determine success or satisfaction in the quest for equality.
There is a call to action for us all right now. As one of the songs ("My Shot") from the ground-breaking musical Hamilton says, "This is not a moment, it's the movement." The eight minutes and forty-six seconds that Derek Chauvin knelt on George Floyd's neck were awful and transformative. If you support anti-Black racism, it's time to walk the talk. Start with yourself. Then move on to your friends, peers, and colleagues. Then move outside these circles. This is why I've written this piece (and others). It's why I've stepped up my mentoring activities, and made donations, and hosted or joined meetings addressing race issues. It's why I'm asking for ongoing diversity and inclusion initiatives at the Faculty of Dentistry. If you are not White, consider how you are being perceived and how you are perceiving others. If you are White, consider how you are being perceived and how you are perceiving others. Don't be colour-blind, because blindness doesn't help here. We are all different but equal — but equal does not mean the same.
Individually, we can make changes. Together we can make a difference. Challenge yourself and your colleagues to do more, and to be better. I'm willing to give you the benefit of the doubt.
Read about U of T Dentistry's remarkable alumni in the U of T Dentistry magazine: "The Mavericks"
Photo: Dr. Peter Nkansah (Jeff Comber)