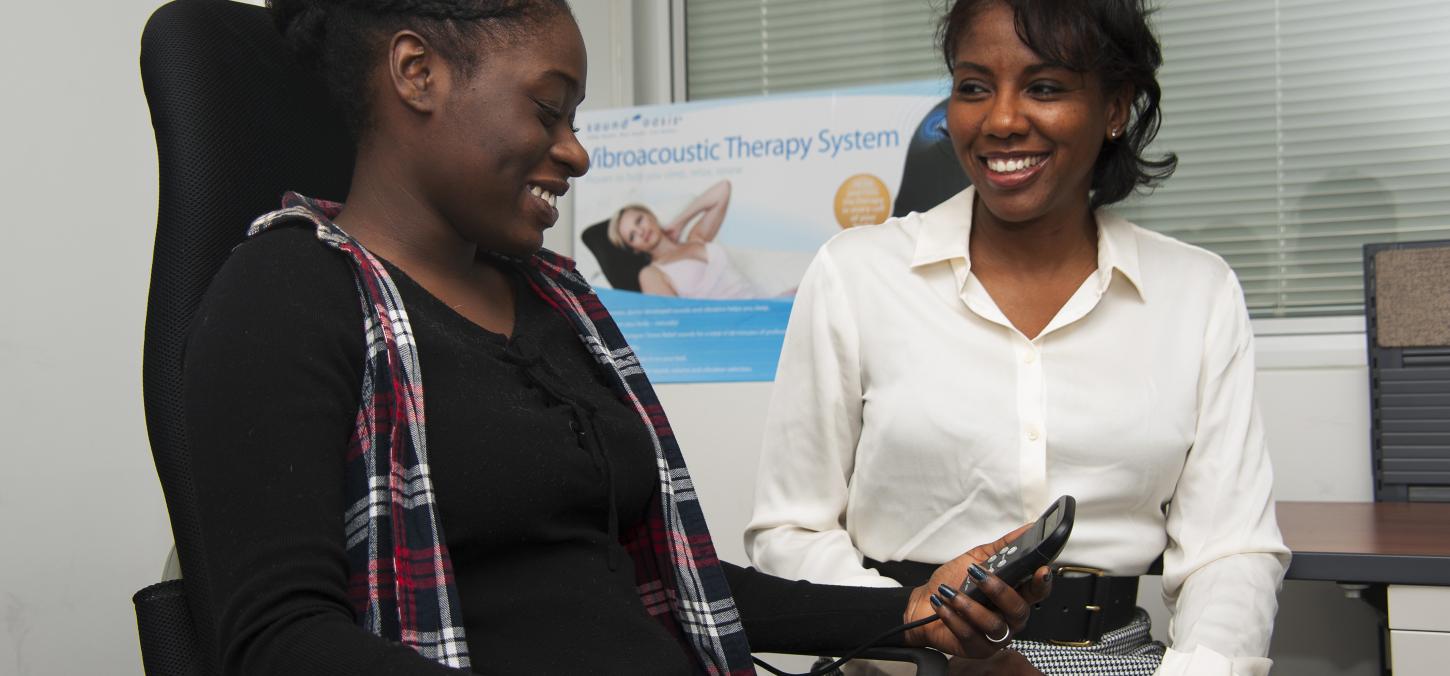 Orofacial Pain Patients Benefit From Music as Medicine: Study
It may not alleviate the pain, but for people suffering from chronic pain due to TMJ disorders, a new study at the University of Toronto is suggesting that a prescription for music can make a significant impact on quality of life.
The study, involving the Faculties of Dentistry and Music and the Wasser Pain Management Centre (Mount Sinai Hospital), forms the doctoral thesis work of PhD Candidate Alicia Howard (Faculty of Music). Co-supervised by Dentistry's Dr. Howard Tenenbaum, the double blind study specifically targets patients with chronic temporomandibular and myofascial pain, a condition that affects an estimated 15% of adults.
Participants in the double blind study were given two randomized interventions. One was a "music prescription": over a three week period–between 5 and 7 days a week for 30 minutes a day–patients were asked to listen to a playlist of their own choosing. After the musical intervention period, the patients were then asked to rate their pain levels.
After a 'washout' period involving no musical interventions, those same patients were then treated with the second intervention, in which participants were to sit in a pre-programmed "vibroacoustic" chair for the same amount of time as the first intervention.
The 'muzak-like' music emanating from the chair – according to Howard, the chair is more like a seat cushion that vibrates – isn't meant to conjure up scenes of doctor's offices or malls. Rather, the chair outputs vibrations through the music that travel up the neural pathways of the body and into the brain at an amplitude of 40 hertz. Past research has shown that neural vibrations at this amplitude helps to reset improperly functioning brainwaves thought to be a source of chronic pain.
After the second intervention the patients in the study were subjected to a final assessment, in which their overall progress and experience was tracked.
"The feedback we've received from patients is that they are learning a new way to experience music," said Howard.
For Howard, the preliminary results have yielded surprises. "We have now [a number of] complete assessments," she said. "The pain levels of the participants didn't change," she added, "but there was a change in mood."
In fact, patients reported an overall elevation to their mood for up to 2 hours after a treatment. "There is a possible carryover effect," Howard explained, "but we haven't broken the data down yet to determine which treatment [vibroacoustic or a patient's own music] is more effective."
Pain not the primary focus
For Dr. Tenenbaum, Professor at the Faculty of Dentistry and Chief of Dentistry at Mount Sinai Hospital, the project speaks volumes about an important outcome. 
"Pain levels don't necessarily improve, but if you just use pain as the focus, you're going to miss a lot of important outcomes. Alicia is also measuring quality of life," Tenenbaum said, pointing out that the "alpha wave" stimulation theories behind Howard's research are also playing an important role in current Alzheimer's and fibromyalgia research.
"These are outcomes that we should really be aiming for – to reduce the impact of pain on quality of life and to reduce impact on activities of daily living. Ultimately, this might be a more realistic goal than reducing algesic [pain sensitivity] input," added Tenenbaum.
Howard, who said the research has been a "fascinating experience," hopes to conclude her study by early June, after which she will continue to try to help chronic pain sufferers through music medicine. 
According to Tenenbaum, the Department of Dentistry at Mount Sinai Hospital (Sinai Health Systems) would like to collaborate further with Howard to develop more initiatives using music as medicine to help manage patients who suffer from chronic pain.
 Image: Alicia Howard with patient in vibroacoustic chair, courtesy Jeff Comber, IITS