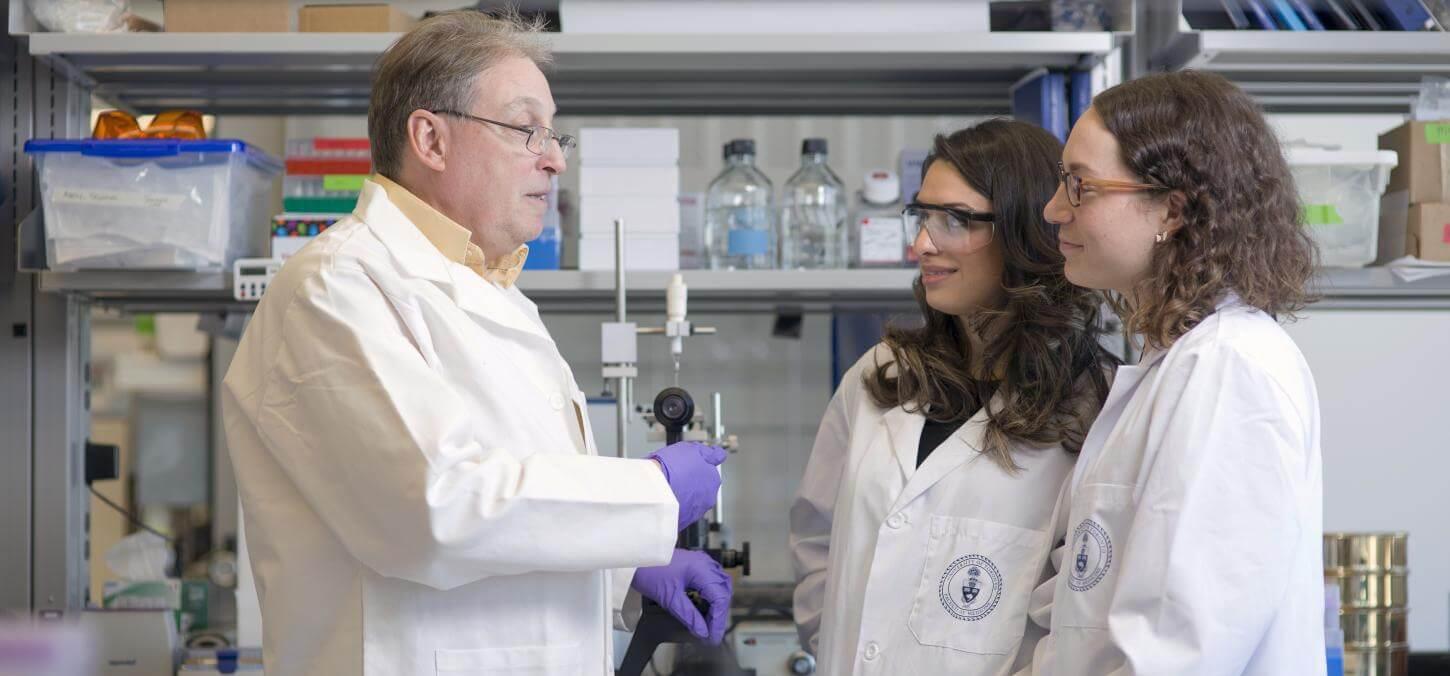 Paul Santerre in the spotlight
Professor Paul Santerre has added another prestigious award to his many prior accolades. The inaugural University of Toronto President's Impact Awards (PIA) celebrate and honour faculty members whose research has led to significant impact beyond academia. Santerre, who was recognized for his impact on research translation and commercialization, was one of seven award winners, spanning across disciplines such as law, pharmacy, political science, teaching & learning, medicine and psychology. The seven recipients of the PIA are simultaneously inducted as the first members of the President's Impact Academy, a newly created body that will discuss and advise on matters related to research impact.
In addition to this award, Santerre has been appointed as the Baxter Chair of Health Technology & Commercialization. The investment of $2.5M from Baxter Corporation will enable Dr. Santerre to advance his research in tissue engineering, implants, and medical devices at the Ted Rogers Centre for Heart Research. The award will also help Dr. Santerre raise the commercialization and entrepreneurial expertise at the University of Toronto and the University Health Network through mentoring and training of students and trainees and forging partnerships and relationships with local start-ups and companies.

The full story is available at: https://technainstitute.com/dr-j-paul-santerre-appointed-as-the-baxter-chair-of-health-technology-commercialization/
As all good things come in threes, Paul Santerre has been recognized with the Ontario Professional Engineers Award for Entrepreneurship for his exemplary role in promoting young researchers. The award recognizes Santerre's role in creating a new graduate program at the Institute of Biomaterials and Biomedical Engineering (IBBME), which seeks to equip and educate engineering students through innovative start-ups. Santerre is also, together with Dr. Joseph Ferenbok from the Faculty of Medicine, a co-founder of the Health Innovation Hub (H2i) at the University of Toronto. The hub works as a center for young students and budding researchers to be linked with the healthcare industry, through a mentorship collaboration with numerous companies and organizations. Add to that Santerre's role as founder and Chief Scientific officer of Interface Biologics, a growing company that develops biomedical polymer technologies to improve medical devices, and it becomes clear how his engagement in aspiring entrepreneurs has earned him this renowned award.

Read more at http://www.ibbme.utoronto.ca/news/three-ibbme-professors-recognized-ontario-professional-engineers-awards/
But there is even more: Ever more engineering-type solutions emerge to improve the health of Canadians. Some time ago, the two largest government funding agencies, the Canadian Institutes for Health Research (CIHR) and the National Science and Engineering Research Council (NSERC), have created the Collaborative Health Research Project (CHRP) grant program to promote such solutions. The CHRP program has seen many winners from the Faculty of Dentistry in previous years.
In the latest competition (Fall 2017), Professors Paul Santerre and Craig Simmons have won three such CHRP awards, a testimony to the quality of and need for their work. Santerre, one of the University's most accomplished innovators and entrepreneurs, received funding for two projects: "Degradable cardiac patch with immuno-modulatory function" and "Novel adhesive polymeric membranes for binding degradable composite materials to bone in craniomaxillofacial repair". His two winning research projects will drive the development of lab-created materials to fix defective heart and bone tissue, respectively, in a manner that improves efficiency yet reduces invasiveness and potential complications.
Craig Simmons, who is cross-appointed to the Faculty of Dentistry, was funded for the "Development of a physiological cardiac microtissue platform for drug development." His groundbreaking work will use stem cells from umbilical cords together with a polyurethane carrier to eventually fix congenital heart valve defects in infants. The Simmons team hopes to advance the project to the animal testing stage within two to three years.

Read the full story at: https://www.utoronto.ca/news/u-t-health-care-collaborations-share-35-million-new-federal-funding