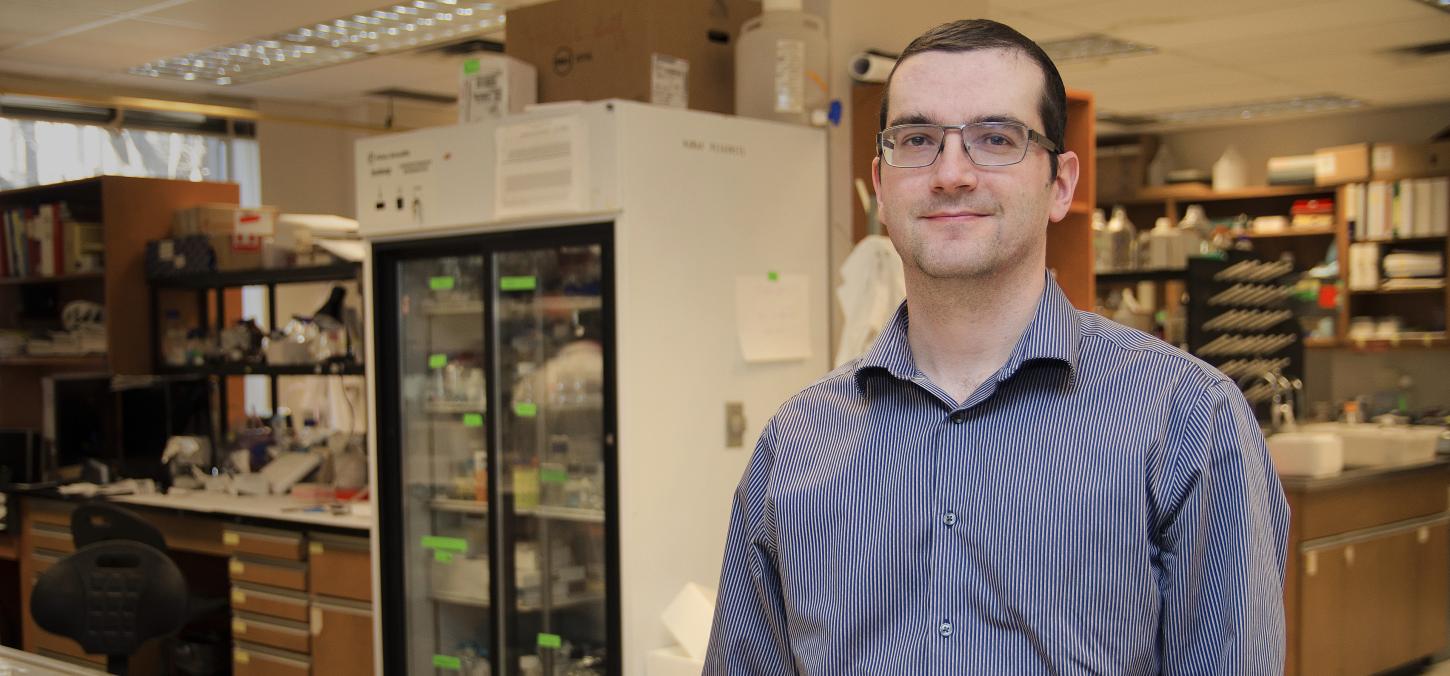 Dentistry's Professor Michael Glogauer Awarded CAHS Fellowship    
Dentistry's Professor Michael Glogauer, DDS 9T3, PhD 9T9, has been awarded a prestigious Canadian Academy of Health Sciences (CAHS) Fellowship.
Induction into the CAHS as a Fellow is considered one of the highest honours within Canada's academic community and focuses on bringing together Canada's top-ranked health and biomedical scientists and scholars to make a positive impact on the urgent health concerns of Canadians.
"This is a real privilege," says Dr. Glogauer. "Being a clinician-scientist is the best job in the world. There is creativity and problem solving involved and we get to work towards answering important questions."
Within CAHS, there is a select group of dental clinicians. Dr. Glogauer joins University of Toronto's Dr. Christopher McCulloch, as well as Dr. Chris Overall from University of British Columbia and Dr. Paul Allison from McGill University in the Dentistry stream of CAHS.
Dr. Glogauer says this will afford him the opportunity to demonstrate how important funding is to the work of dental clinician scientists – and to the lives of Canadians. "The oral cavity is connected to the rest of the body where health problems can be initially detected by dentists. For example, diabetes often presents with an infection in the mouth," he says. "With improved communication between the dentist and the rest of the health care team, we can potentially carryout earlier detection of new cases of diabetes, improve patient health, and reduce costs to the healthcare system."
Dr. Glogauer is a leader in oral innate immunity in health and disease. As a dental clinician scientist, he focuses on understanding how oral disease impacts on general health. The Glogauer lab has revealed novel concepts of distinct neutrophil (an immune cell that is one of the first cell types to travel to the site of an infection to help fight infection) activation states in oral health and periodontal disease and how shifts in neutrophil activation can be used as a diagnostic biomarker for early detection of periodontal diseases and furthermore, how oral disease can impact systemic health. He uses this knowledge to understand the impact of socio-economic status and lack of dental care access on overall health.
Dr. Glogauer is also an internationally-recognized leader in the fields of innate immunity, neutrophil function, and periodontal diseases. His research, which focuses on neutrophils, has resulted in important publications describing regulators of neutrophil function, immune regulation of periodontal disease, and alveolar bone loss. This work has led to two patents, one license, and two license disclosures.
It has also has led to the development of a novel non-invasive oral rinse test for periodontal disease, the leading inflammatory condition in humans. This test is based on 10 years of research in his lab (12 publications; 15 students) and has resulted in the creation of technology licensed to a Canadian company (Oral Sciences Inc.) for a diagnostic rinse test called PerioMonitorTM. It is in the final phase of clinical testing as required by the FDA and Health Canada for approved use in medical and dental offices. This rinse will be the first tool to allow for rapid screening for periodontitis in a non-dental setting.
This test builds on Dr. Glogauer's goal of overcoming the "dental disease blind spot" in the Canadian health care system that impacts the overall health and quality of life of Canadians. Dr. Glogauer's focus on connecting oral health to general well-being is also highlighted by his monthly speaking and teaching engagements to stakeholders in the healthcare community.
Dr. Glogauer is also the recent recipient of a grant from the Network for Canadian Oral Health Research (NCOHR): New Frontier Seed Grant Program (2018) for his work entitled: "Monetite biomaterial grafts loaded with a novel bone anabolic conjugate C3 conjugate drug to achieve more predictable and greater bone regeneration."