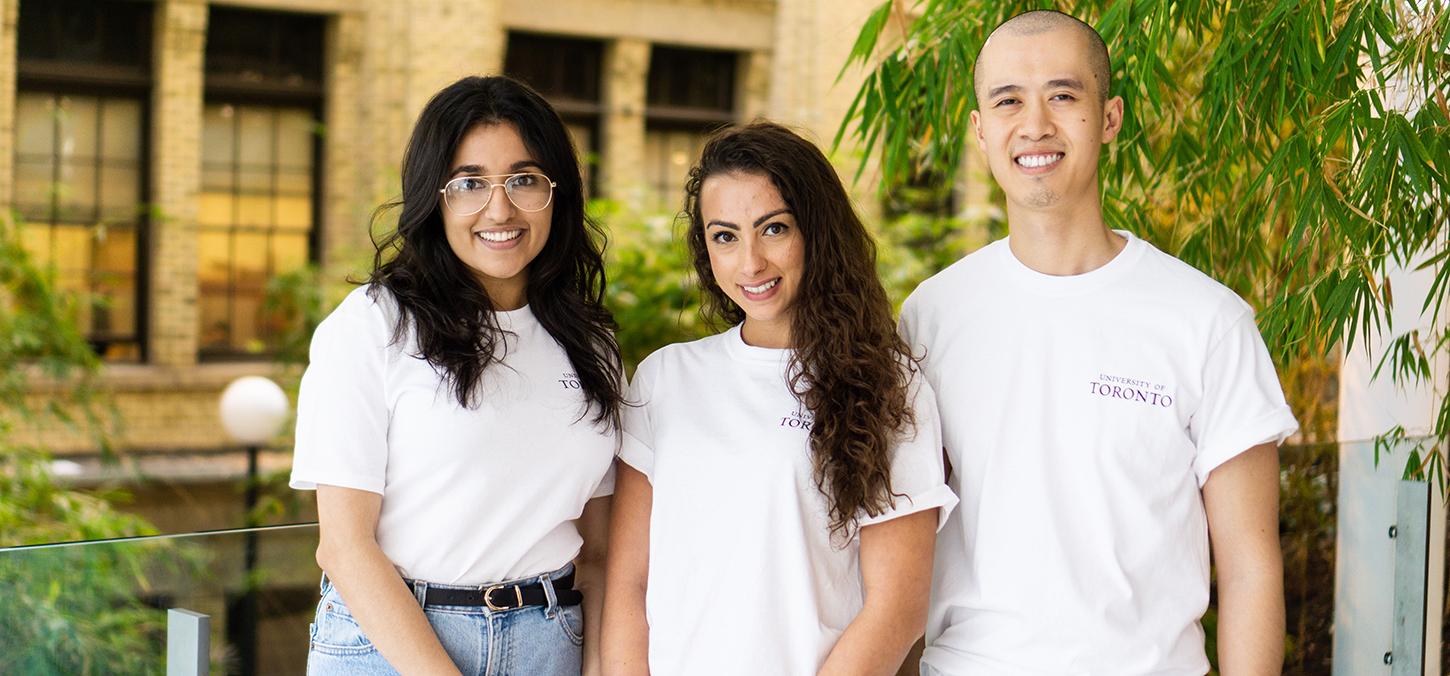 Q & A: Get to know your Dentistry student ambassadors
Student representatives to show how good it is to be at U of T Dentistry
They're passionate. They're committed in their learning. And they want to tell the world how great their school is.
Meet the Faculty of Dentistry's student ambassadors: Anmol Biajar (DDS 2), Richard He (DDS 4) and Madonna Rofaeel (DDS 2). These three can be found popping in at Dentistry undergraduate events to take photos, and at interview day to answer candidates' questions. They are here as a resource to any prospective candidate to the DDS program, and happy to cheerlead for their fellow students.
What word best describes you?
He: Honest. Everyone needs to be transparent. Part of consent is building that trust between you and your patients.
Rofaeel: Passion. Because you need to be passionate in whatever you do to keep moving forward in it.
Biajar: Dedicated  —  because I'm always fully committed towards achieving any objectives and goals I put my mind to. Whether it's about becoming a successful dental professional, being a better friend, getting good grades in school  —   whatever it may be, I work hard towards it, remain optimistic, and dedicate all my efforts until I'm satisfied with the outcome. 
What do you most want to accomplish as U of T Dentistry Ambassadors?
Rofaeel: To showcase the school  —  all aspects of it. The students here are involved in so many different things. It would be cool to show that off.
He: I want to encourage more students to consider dentistry as a profession. The public has negative views of dentistry. They see us as businessmen. I want to show that we are a medical profession – at the centre of it, we're not different than doctors. We still want what is best for the patient.
Biajar:  I want to be able to showcase what U of T Dentistry has to offer. Our school is full of so many wonderful, intelligent and talented people, with such versatile backgrounds - and I think that's what really sets us apart. For prospective students, this can really give them an insight on what it's like to be a student here and show them what U of T Dental has to offer.
What is your favourite thing about the Faculty of Dentistry?
Rofaeel: My favourite thing about the school? The people. My classmates. The instructors.
He: Definitely the clinical instructors. Everyone has a different personality, advice, different experiences. You get to learn so much about different approaches to dentistry. They are always very supportive and helpful. A lot of patients love them, too.
Biajar: There are so many great student-run initiatives and clubs at the school, which really allow students to showcase their strengths and passions. We have everything from a hockey team, to the annual Dentantics show, to Sharing Smiles Day, and many more! It really gives students the opportunity to get involved at the school, give back to the community, and have lot's of fun while doing so!
Get in touch with Dentistry's ambassadors at:  UofTAmbassadors@gmail.com
Image: courtesy of He, Rofaeel and Biajar