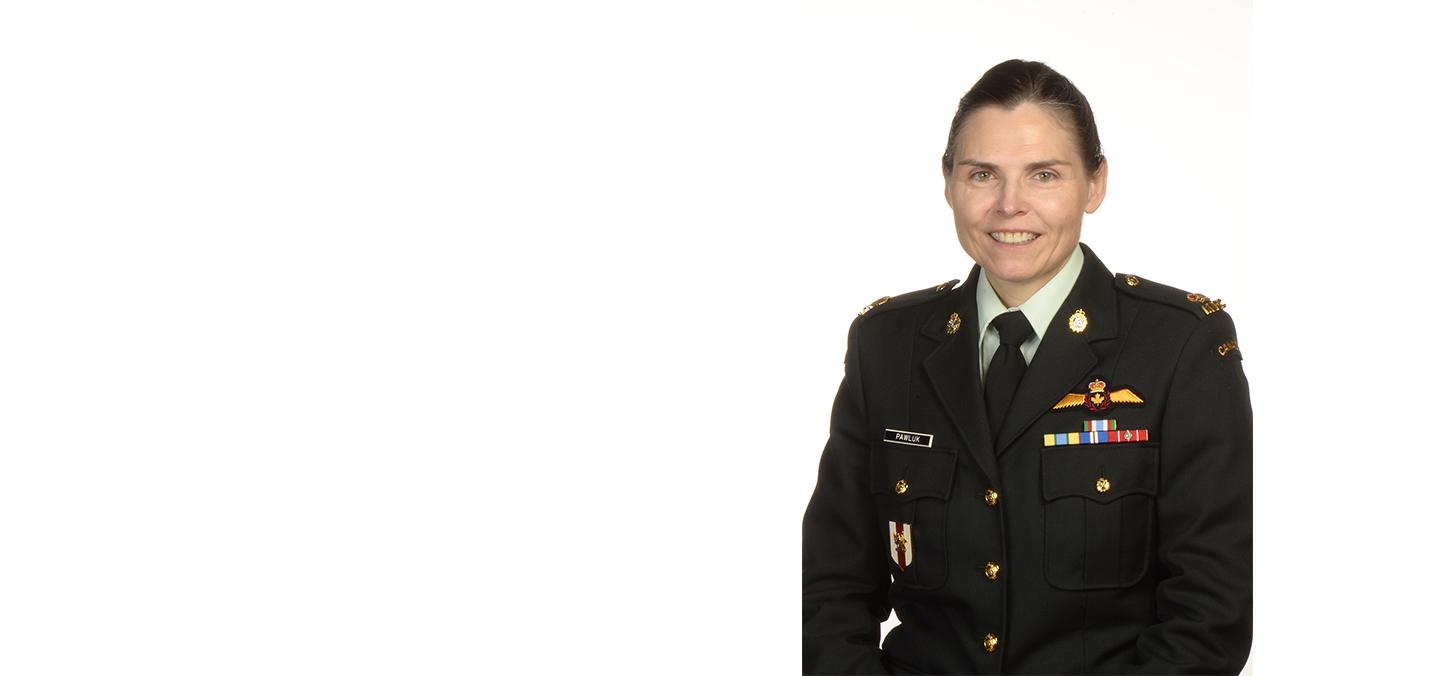 "Impact on a great scale": Q&A with Major Debra Pawluk
Major Debra Pawluk (M.Ed, DDS) is not your typical UofT grad student. Still an active member of the Canadian Armed Forces, at one time Pawluk's job involved flying helicopters for dangerous search and rescue missions.
This fall, Major Pawluk was recognized with the David Locker Graduate Scholarship in Dental Public Health.  
How did you become interested in joining the Canadian Armed Forces?
As a young girl, I had dreams of following in the steps of my father (civilian helicopter pilot) by becoming a search and rescue military pilot. I did not feel quite ready to make such a decision following high school.  For this reason, I decided to become a nurse. Upon completing my nursing program, I was hired to work on a cancer ward. As a nurse, I watched MedEvac helicopters land at the hospital and thought: I want to do that. I knew that nursing was not the right fit for me and realized it was time I followed my dreams of becoming a pilot in the Canadian Armed Forces. So I joined the Canadian Armed Forces and flew for close to 10 years.
One of the generators onboard caught on fire. The smoke prevented me from reaching land so I carried out a forced landing into the water.
You were a Search and Rescue pilot—what was that like?
Incredible! I wholeheartedly believe that the Canadian Armed Forces provided me with the best pilot training possible. I loved flying and I loved that the crew and I were doing our best to save lives. It was hard sometimes, especially when there were fatalities and when children were involved. At times, very poor weather conditions challenged our missions. The onboard crew consisted of two pilots, a flight engineer, and two search and rescue technicians — elite experts who can scuba dive and parachute, they are medics and mountaineers. They are amazing individuals.  
Is there a mission that stands out for you?
In 1997, our crew was tasked to search for a lost fisherman over the Pacific. One of the generators onboard caught on fire. The smoke prevented me from reaching land so I carried out a forced landing into the water. We immediately got into a life raft.
While waiting for the Coast Guard to pick us up, I decided to change professions. I loved flying and was happy to have followed that dream, but I also knew I wanted to be a dentist someday, too. In fact, I was in the process of upgrading my education to apply to dentistry.  I always brought my schoolbooks onboard the helicopter as I never knew if or when I would be home after a mission. And as the helicopter was stranded in the water I thought: my books are in the back of that helicopter getting soaking wet!!
I flew for about a year after the incident, and then I started dental school. 
What made you decide on dentistry?
My family dentist was Dr. Arthur Hobbs, a graduate from UofT (DDS Class of 1972). He is an awesome dentist and role model — he is the reason why I also wanted to become a dentist. I told him I would like to do what he does.
How did you end up in the Dental Public Health graduate specialty program at UofT?
I love chair-side dentistry, but Dental Public Health was always something in the back of my mind. While working at a base it was realized that there was no fluoride in the water. I did some research and after discussion with my superiors it was decided that fluoride would be beneficial for the members of the Canadian Forces and other staff on base. Eventually, all the water dispensers on base were replaced with fluoridated water.
It was pretty cool. Unlike chair side dentistry, I was looking more at the community. That's very impactful, very effective. I thought: this would be a good opportunity to have an impact on a greater scale.
What is your Dental Public Health research focus?
For my research I am conducting a mixed methods (qualitative and quantitative) study on the impact of oral health training taken by personal support workers caring for a geriatric population in a long-term care facility.
A local long-term care facility requested assistance with their oral health training program from the faculty of dentistry [with the school]. With my nursing training, I was uniquely situated for this research. I also know what it's like to work in a long-term care facility as I gained some experience in this setting while I was a nursing student.
How do you plan on applying your research, post-graduation?
After graduation I will work in a position within the Canadian Armed Forces, specifically within the Canadian Forces Health Services Group Headquarters, where I will apply the skills and knowledge I gained from my research and from the dental public health program.