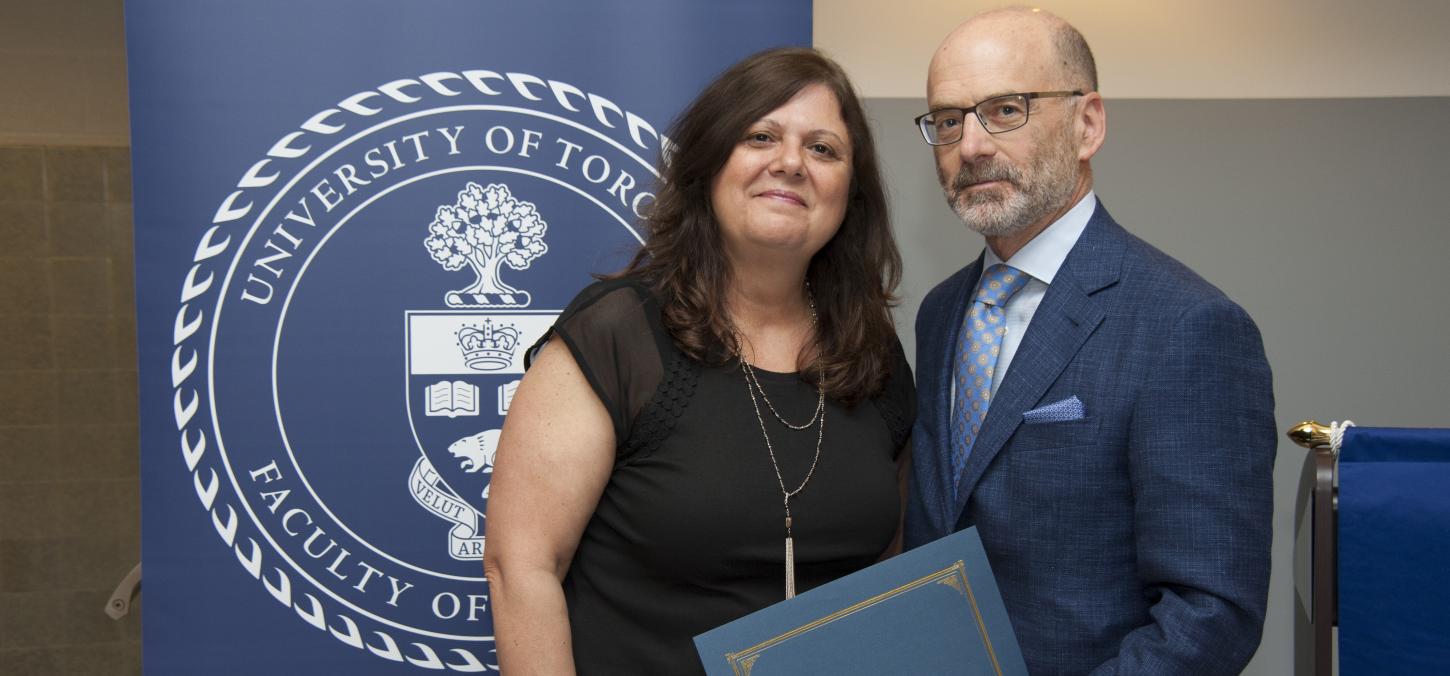 Recipients of Dean's Staff Excellence Awards announced
Awards recognize professionalism, contribution to morale
Administrative assistant Teresa Schiralli and laboratory technician Nancy Valiquette were announced as the recipients of the second annual Staff Excellence Award at the Faculty of Dentistry's Summer Luncheon. Instituted by Dean Daniel Haas in 2016, the Award recognizes staff members demonstrating excellence in their work, and who have earned the respect of their colleagues for their professionalism, teamwork and/or contribution to morale.
Schiralli began at the University of Toronto in 1981, and joined the Faculty of Dentistry a year and a half later. Her first position at Dentistry was in the Clinic Office under administrative assistant Pia Gurrisi, doing data entry and filing. A year later, a position became available as an administrative assistant in periodontics. She's been in the role ever since, and now keeps track of approximately 85 part time instructors and sets the schedule for the Graduate Specialty Program in Periodontics.
Schiralli's years at the Faculty have become something of a living record of the changes to both the school and the dentistry profession. When she first began at the Faculty, grades were written on stock cards each day and then manually entered into the records. "I've worked for four different [Perio] heads," says Schiralli, who fondly remembers Dr. Jim Lai, the Director of the Graduate Specialty Program in Periodontics, from his time as a graduate student. But while she can remember processes and people of days past, she is enthusiastic about the academic restructuring and the hiring of the new Manager of Academic Administrative Services, Beth Hensler. "Change is good," Schiralli notes.
One of Schiralli's nominators noted that she was an "important team member" and "a first critical point of contact" who genuinely cares for her colleagues, students and faculty members. For Schiralli, though, who finds herself "humbled" by the award, Dentistry's people are like family, and it's a family philosophy that inspires her attitude at work. "I taught my kids, treat people the way you want to be treated, no matter what level you're at."
Nancy Valiquette is also a longstanding employee at the Faculty of Dentistry. She began at the University of Toronto in 1977, where she worked as a laboratory technician at the Banting and Best Institute under giants of diabetes research. In 1986 she interviewed with Dr. Doug Deporter, who took her on as a histology technician for implant research. Valiquette took a front seat to history by assisting with clinical trials of the Endopore implant system, developed at the Faculty, and working under Professors Deporter, Pilliar, Davies and Watson.
"I came down here with the idea of only staying here a year, then moving back home." says the Ottawa native, "The rest, as they say, is history."
Described by one of her nominators as "the life and soul of the Faculty's histology laboratory" who "goes out of her way" to contribute to the work environment and provide solutions to challenges, Valiquette says she enjoys working with the students and the constant variety of her tasks.
Still, she admits, it hasn't always been easy. "Where I first started working here, I was in a lab by myself. To come here, and be so isolated—I had a hard time adjusting," says Valiquette, who looks forward to the collaborative work and meeting spaces that the renovations to the research areas will provide. Valiquette says she is "honoured to accept this award from her colleagues" at the Faculty.
Staff Excellence recipients are chosen by an awards committee based on nominations from the Faculty of Dentistry community. The Awards were announced at the Faculty's annual end-of-academic-year celebration on June 30th, alongside this year's recipients of the Faculty's teaching awards.
2017 Award Winners
Dr. A. Bruce Hord Master Teacher Awards
Dr. Vanessa Mendes
Dr. Peter Model
W.W. Wood Award
Dr. Anuradha Prakki
Staff Excellence Awards
Teresa Schiralli
Nancy Valiquette