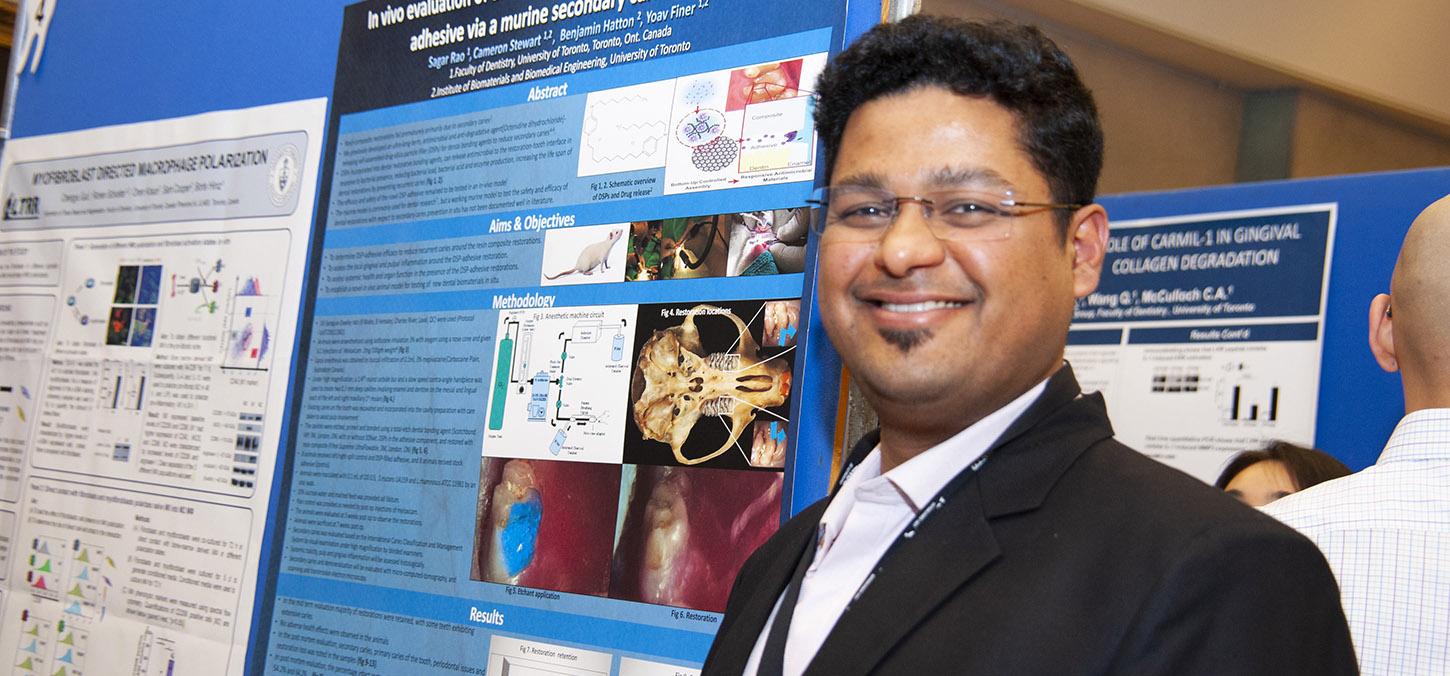 Poster Presentation Awards
Undergraduate (Summer Student) Category (3 awards): 
First place:  Poster #5 Melanie Kiebalo
"A Novel Mechanism Of Latent Tgf-B1 Presentation By Macrophages"
Supervisor: Boris Hinz
Kiebalo, M, Lodyga M, Karvonen H, Hinz B
Second place:  Poster #16 Nevena Zivkovic
"Examining Income-Related Inequalities In Dental Insurance Status Across Canada (1996-2016)"
Supervisor: Carlos Quiñonez
Zivkovic, N, Aldossri, M, Gomaa, N, Farmer, J Singhal, S, Quiñonez, C Ravaghi, V.
Third place:  Poster #10. Shahmina Rahat
"Co-Assembly Of Amelotin And Amelogenin Peptides Guide Calcium Phosphate Mineral Growth"
Supervisor: Karina Carneiro
Rahat, S, Danesi, A, Holcroft, J, Ganss, B, & Carneiro, K.
Graduate Student Basic Science Category (3 awards): 
First place:  Poster #35. Kimberly Ngai
"Dental Adhesives Containing Antimicrobial Drug-Silica-Co-Assembled-Particles Reduce Secondary Caries Development"
Supervisor: Yoav Finer
Ngai, K, Stewart, C, Cvitkovitch, D, Mandelis, A, Hatton, B, & Finer, Y.
Second place:  Poster #33 Shahrzad Nouri,
"A Novel Model System To Study The Matrix-Mediated Attachment Of Epithelial Cells To Mineralized Tooth Surfaces"
Supervisor:  Ben Ganss
Nouri, S,  Holcroft, J, & Ganss, B.
Third place: Poster #42. Georgia Hadjis
"A Cognitive Branching Model Of Pain-Interference"
Supervisor: Massieh Moayedi
Hadjis, G, Lin, AY,Yu A, Sotoodeh R, Seminowicz DA, Mcandrews, MP, & Moayedi, M.
Graduate Student Clinical Science category (2-awards):
First place:  Poster #49 Rolland Gillies
X-Ray Imaging Practices Of General Dentists In Ontario
Supervisor: Ernest Lam
Gillies, R, Quiñonez, C, Wood, Re, Lam, Ewn.
Second place: Poster #45  Laura MacDonald
"Efficacy And Safety Of Different Interventions To Accelerate Orthodontic Tooth Movement: A Systematic Review And Network Meta-Analysis"
Supervisor: Amir Azarpazhooh
Macdonald, L, Zanjir, M, Laghapour Lighvan, N, Da Costa, B, Suri, S, Azarpazhooh, A.
Three-Minute Thesis (3-MT) Talks
First place: Julie Farmer
Runners-up: Lizbeth Ayoub, Rolland Gillies
Student Research Group (SRG) Travel Award Winners ($1000 each)
Graduate Basic Science:
Sally El-Shennawy
"Streptococcus Salivarius Lab813, A Probiotic Against Dental Caries"
Supervisor: Siew-Ging Gong
El-Shennawy, S, Dufour, D, Leesque, Cm, Gong, S-G.
Graduate Clinical Science:
Vaishnavee Vassandacoumara
"Musculo-Aponeurotic Architecture Of The Human Masseter Muscle: An In Vivo Study Of Architectural Changes During Protrusion And Lateral Excursion"
Supervisor: Anne Agur
Vassandacoumara, V, Gheorghe, Ti, Leekam, R, Lam, Ewn, Perschbacher, Se, Liebgott, B, Agur, Amr.
Post-Doctoral Fellows:
Nazik Nurelhuda
"Oral Health Of Newly Arrived Humanitarian Immigrants In Quebec And Ontario; A Sequential Mixed Methods Protocol."
Nurelhuda, Nm, Keboa, Mt2, Lawrence, Hp, Singhal, S, Nicolau, B, Macdonald, Me.
N.B.  Supervisors listed here were reproduced from the Abstract Booklet. Apologies for any errors.