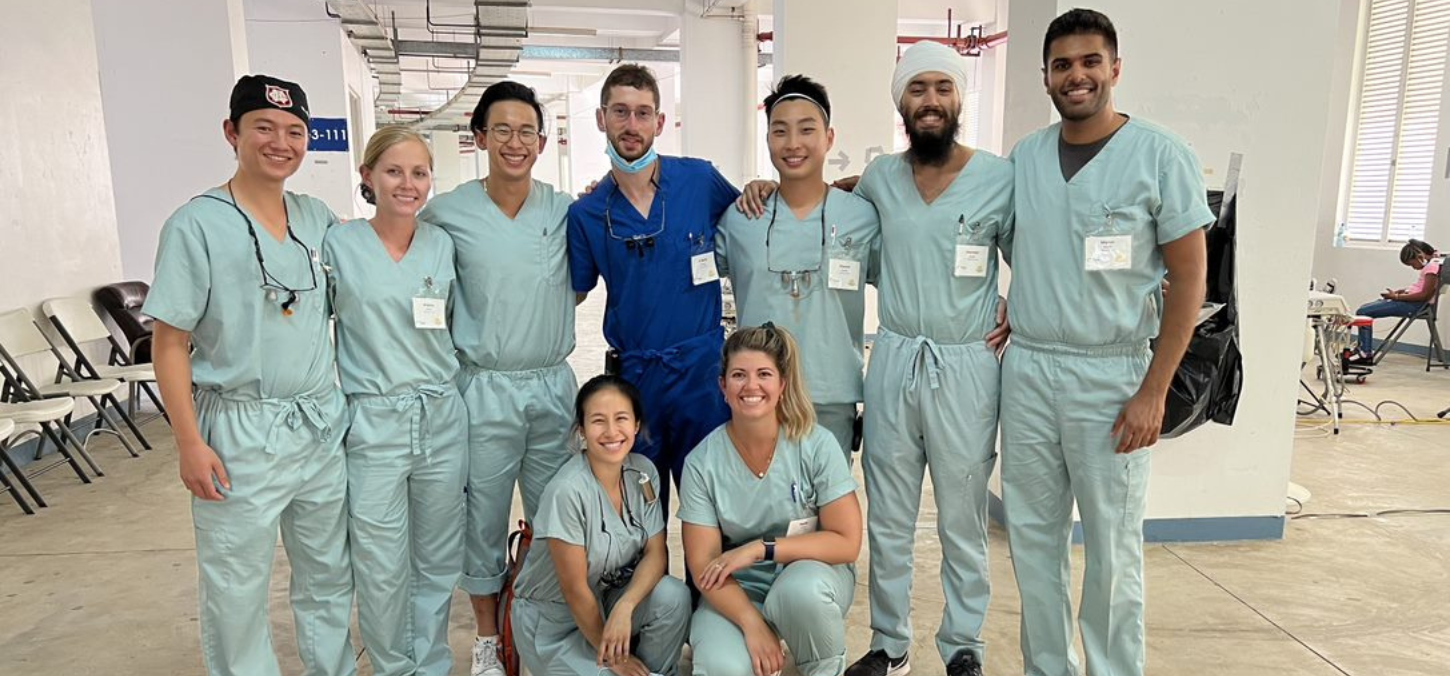 Student dentistry outreach in Grenada
By Diane Peters 
A group of DDS students and instructors made a difference on a trip in August
For the second-last week of August, instead of resting up before school started again, a group of 35 DDS students from the Faculty packed up for Grenada in the Caribbean.
And it wasn't for sun and fun – with the help of nine instructors and a support team, along with local volunteers, the group set up at the National Cricket Stadium in Saint George's to offer dental care to more than 600 people.
"You only really learn from experience, and we got a ton of it," says Adam Tepperman, a DDS4 student and class president, who took part in the trip.  
The outreach project was organized by Great Shape! Inc., a California-based group that runs social services projects in the Caribbean, including dental outreach through its 1000 Smiles arm. The group is affiliated with the Sandals Foundation, which is connected to Sandals Resorts. (Those working on outreach projects stay at the resorts.)
U of T clinical instructor Daniel Biner has been participating in 1000 Smiles trips since 2016. 
"They help people, and that is my main goal, to help give back something," says Biner. This was the second time he took the lead to organize U of T students on a rotation.
This trip entailed setting up a mobile dental unit at the stadium with 20 chairs and treating as many patients as possible. "It's a very intense week. When we work, we work," says Biner. The instructors and trained assistants included one dentist from the U.S. and U of T clinical instructor Mike Krawczuk, plus Biner's children — dentist sons Barry 1T2 and Steven 1T3, physician Mark (whose fiancé, Meredith Cooper, a physician's assistant, came too) and daughter Shira, a registered nurse.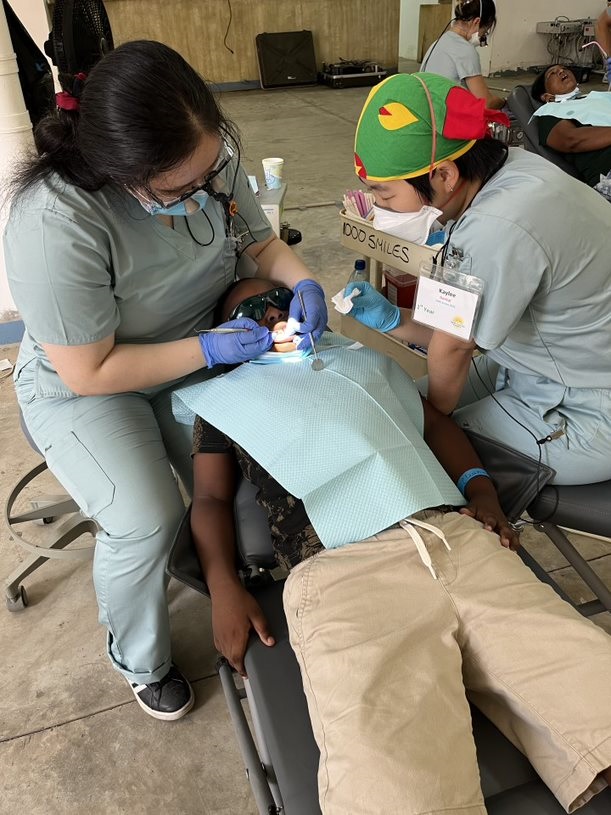 Many people in Grenada don't have access to affordable dental care, so there's always a need, but shutdowns and cancelled outreach programs because of COVID-19 have made the situation worse. "There were more extraction and more broken teeth than usual," says Biner, who noted that the team worked really hard on this trip to keep up with demand. "The students did more extractions in one week than in all of third year and most of fourth year in dental school."
Limited resources — such as only a certain number of dental drills — and the challenges of working in a remote setting, plus spending so much time together, forced the students to become friends and work as a team. "If they don't help each other out, nothing gets done. They work together almost like a family, just like you do in a clinic," says Biner.
The team rallied around the only DDS3 student on the trip, Clara Zhou, who performed her first extraction and restoration on a real patient, all under the close supervision of Biner and with the enthusiastic support of the whole team.
Tepperman notes that doing a lot of procedures helped him build confidence and speed as the week progressed. "It's a shift from having three hours to see one patient for a single filling in school to pushing yourself to really refine your skills and even go faster."
He liked the autonomy the outreach week offered, with instructors keeping an eye on everyone, but increasingly helping them build trust in their own decisions. "It gets you more ready to be your own boss," says Tepperman, who is looking to apply for a general practice residency for after graduation, and is considering a specialization for later.
Coming up, during his fourth year, he's interested in putting his name in for one of the Faculty's outreach programs to Africa or Northern Ontario. "Having been on this trip I'd like to try my hand at another one," he says, admitting he'd defer to others who've yet to get this kind of rich experience.
With the Grenada trip being so successful, Biner hopes to go again next August and bring a new group of students with him to experience offering dental care to patients in so much need.
Photo: David De Lazzari, Brianna Boissonneault, Darrien Lui, Dr. Barry Biner, Vincent Hua, Charanbir Dhillon, Manvir Kahlon - bottom: Kelly Yeung, Angela Dykes (courtesy of Adam Tepperman)