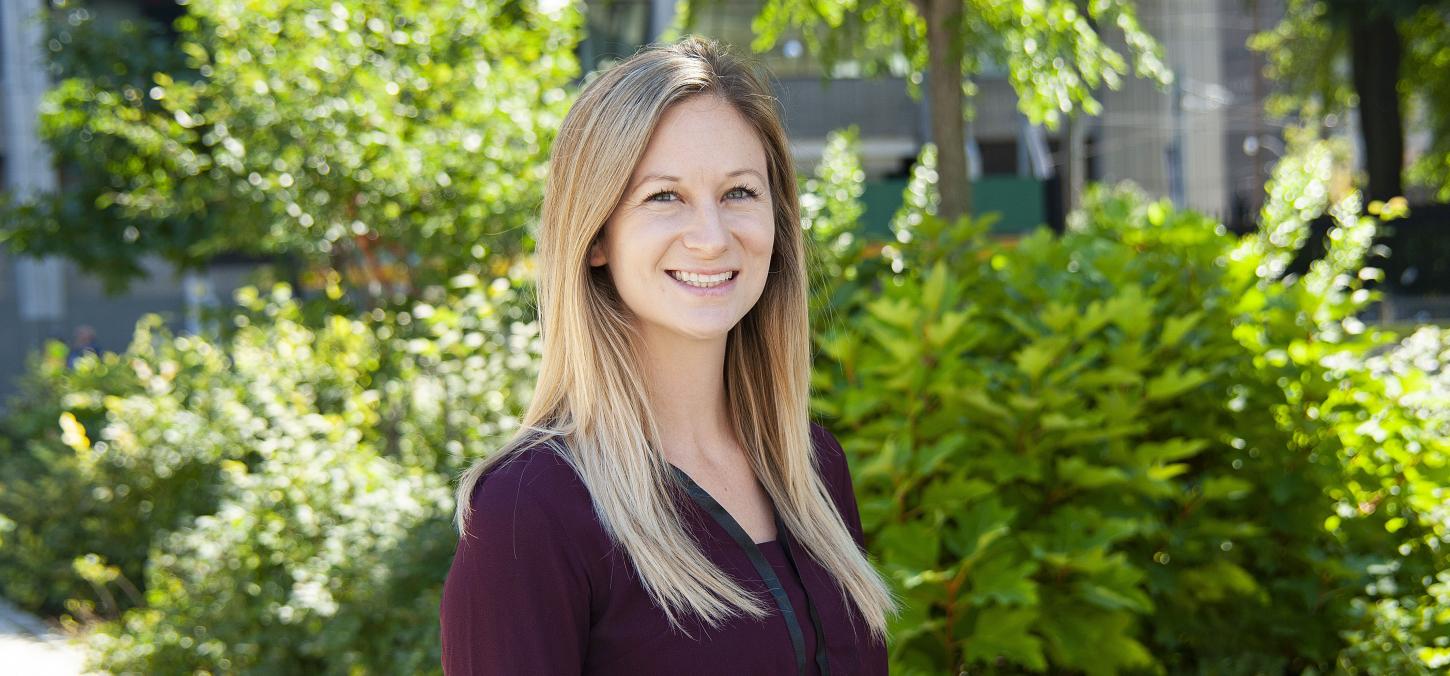 Student Profile: Christi Steele
It's not every day that you meet a former high-ranking competitive pairs figure skater who moved away from home at age 12 to carry out her dream. That's Dentistry's Christi Steele (DDS4).
Now, Christi says she is the better for it. "Because of all my training, I was able to handle a lot of pressure," said Christi. "I didn't even think about it; I just did it when I was a kid. It was good preparation ultimately, for school and for life. When you train up to six hours a day, you're so prepared. Performing in front of crowds didn't even phase me. Now, I think I would be nervous! You grow up fast with a lifestyle like that. Looking back now, I'm not sure how I did it!"
Originally from Chatham, Ontario, Christi performed pairs skating in Canada and the US, and across the world in countries such as England, Estonia and the Czech Republic.
Why did you choose dentistry?
I made a choice several years ago. I told myself that I was going to stop and go to school full time. U of T appealed to me because it's one of the best dental schools, if not the best dental school, in the country. Plus, after spending my undergraduate degree in one city for four years, I was looking for a change of scenery!
I was drawn to dentistry eventually because at first I didn't know what I wanted to do with my undergraduate medical science degree. Should I pursue Medicine? Dentistry is weirdly like the sport of skating: it's technical, there is a science to it, and there is also an artistic side. Skating is technical too, but it's a very artistic sport. 
My boyfriend is pursing a medical degree, but once he finishes he will then have four years of residency. I'm glad that after four years, I will be done and I can then go and work as a dentist.
What do you like about the city?
Being in Toronto is great – the city was certainly a draw when I choose the Faculty of Dentistry. While we're young it's really fun to be here. There is a lot to do, plus you don't need a car to get around, you can walk or take the TTC anywhere.
Do you still skate?
I eventually got to an age where I could not keep skating at the same level. So I stopped and went into school mode. I didn't give up skating all together at all. At the University of Western Ontario, where I did my undergraduate degree in medical sciences, I played on the varsity skating team. And here in Toronto, because there are some great spots to skate, I do skate in the winter. Now, I'm just really focused on school. Skating is for fun.
Do you take part in any activities outside of class?
I am a runner. I will be taking part in Rayman's Run this year. I've done it each year since I've been at the Faculty. In the first year I did a half marathon, but in subsequent years, I ran a full marathon. I'm going to do that again this year. I will also be playing a lead role in organizing the run with Dr. Rayman.
How do you feel about entering your final year?
Starting fourth year is exciting. In second year, there was an emphasis on cleanings and exams and in third year we had patients assigned to us. It was a lot of responsibility, but we were ready for it. By that time, we had a good grip on the procedures, and how things worked. We became better at handling the extra responsibility.
Do you have any words of advice for incoming students?
It's a tough program – there is no doubt about that. And they expect a lot of us, as they should. There are difficult days, but during these moments, I have to remind myself that when I was trying to get into the program I was stressed. Now, I'm here. We can each tell ourselves that we're on our way to becoming dentists, that we will be successful and get jobs out of school. So, to the younger students I would say: think about where you were before and be thankful for this opportunity and where you are now. The Faculty is a great place to be.
Photo Credit: Jeff Comber, IITS.