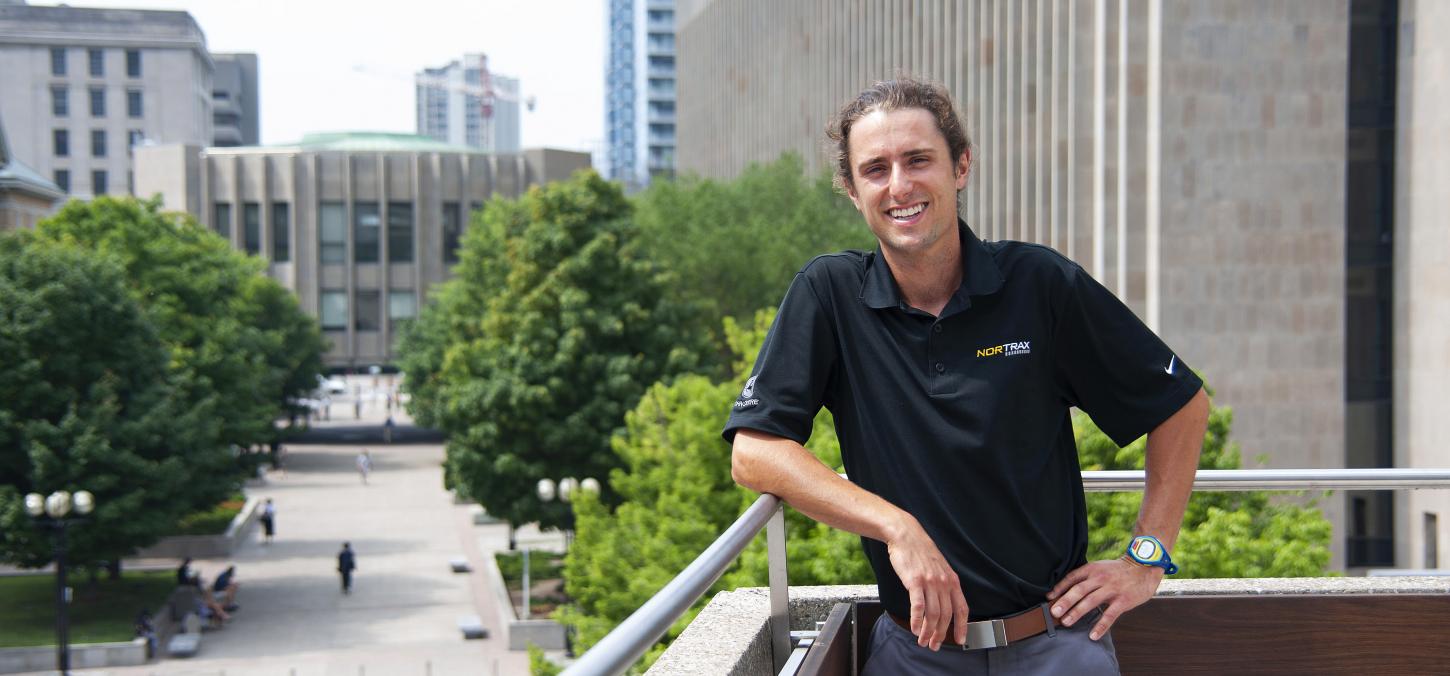 Student Profile: Greg Pigeon
Greg Pigeon, DDS3, just finished working his last official summer alongside his dad as a heavy equipment mechanic for Hec Clouthier & Sons Logging in Pembroke, Ontario. He worked with his dad for years, starting at age 15 and he kept going back during the summers while he was an undergraduate student in human kinetics at the University of Guelph.
It was during that time that Greg first considered dentistry – not because of a personal issue, but because of a colleague. "One morning a fellow worker came in complaining about an abscess in his mouth and he was clearly in a great deal of pain," he said. "That interested me – I wanted to know more about the cause of something like that, likely because of my human biology studies, so I did a Google search. I think that's when the thought of dentistry first took hold."
He carried out additional research and found out that there is an aspect of working with your hands, as well as the scientific part, so he was hooked. "I decided that would make a good career, so I pulled up my socks and worked harder at school," he said. He went on to pursue a Master's degree in human biology at Chatham University in Pittsburgh PA. Then he zeroed in on dental school. After spending time away, he wanted to stay as close to home as possible. "I was obviously very happy to get into U of T."
What do you like to get up to outside of class?
I'm a member of the Toronto Dental Hockey Club. We play one game per week during each semester. Every year we take part in the ODA Cup, which is a charity game against Western's dental hockey team. The game helps raise funds for CAMH as well as docs (Western's charity). We have a great group of guys. We get to relax outside of class and take part in some physical activity. I like it a lot.
I'm a runner. I have taken part in Rayman's Run for the past two years. Rayman's Run is our school's charity team that participates in the Toronto Scotiabank Waterfront race series. We raise funds for Princess Margaret Hospital. Last year I ran the marathon in 3:26. I'm running an ultra-marathon (50Km) in September in Haliburton ON. Depending on how my body recovers from the ultra will dictate the distance I choose to do for Rayman's Run.
Our class is tight knit. We spend 8-9 hours a day with each other, so we get to know each other pretty well. We lean on each other for support and we encourage others.
Are there any spots at the university, or around the city, that you particularly like?
I like studying at the Faculty Library. I always found it quiet and I could get a lot done there.
Is there anything you know now that you wish you'd known then?
Coming from a small town I was shell shocked when I came here. I wish I had known the layout of the building a bit better – just to get around and navigate my way to class. I think it would have been better to know my way around Toronto a little more. 
Maybe look into housing well in advance because it's challenging and it's expensive. The first place I rented was outside of the main downtown area. It nice and quiet. I was, and I still am, able to bike into school. I like having a bit of a distance from the downtown core.
Do you have any words of wisdom for students in first year?
Sure. If you're having a bad day, know that others have been where you are and know what you're going through. You can do it. Try not to get discouraged in first year. There is going to be so much thrown at you. For example, if restorative work isn't going well, just stay positive and look at the bigger picture. Ask yourself how you're progressing, not just today, but overall. Stay positive and have perspective. It's a four-year program, you'll get there.
I also think it's important to be physically active; to have that balance with the rigors of a heavy academic and clinical schedule. We need to have that balance for our physical and mental well being.
It's super important to stay healthy and strike that balance.