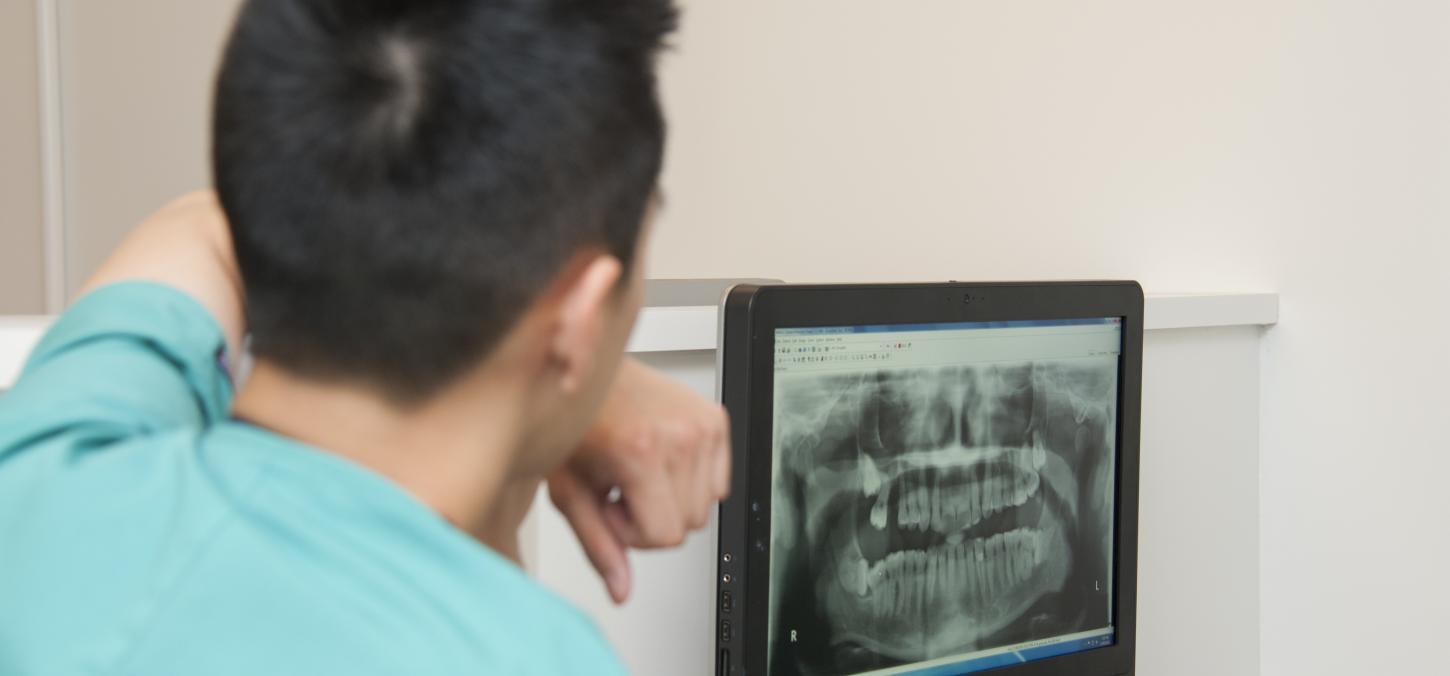 The Summer Emergency Clinic at Faculty of Dentistry
The Faculty of Dentistry's Emergency Clinic began with one student in 1992. It has evolved and grown into a key learning platform for students since then.
This summer, eight DDS3 students are spending five weeks honing their skills in the second floor clinic. Supervised by faculty members such as Dr. Rick Rayman, Dr. Greg Anderson, Dr. Aviv Ouanounou and others, students work directly with patients from the Faculty's other clinics.
"With this placement, we have more exposure to different kinds of patient cases," said Alice Lee. "In Emergency, we don't always know who is coming in – the cases can be very different. In other clinics, things are more scheduled – we generally know how the day will go. With emergencies, things can be unpredictable."
Faculty of Dentistry clinic patients are referred to the Emergency Clinic if they have a pressing issue, such as cracked or lost fillings, temporary crowns that have fallen out, denture problems, the need for a pulpectomy to remove the nerve of a tooth, or even finding the source of overwhelming pain. Procedures such as fillings, and restorative dentistry, and root canals are covered in the regular clinics.
"Sometimes patients come to us after they've had a tooth pulled and they're having complications, maybe the dry socket is exposed, or they need help with their dressing and they want follow up," said Dr. Ouanounou. "Usually we can resolve their issues, but sometimes there is a need to refer patients to the hospital for further examination."
Students find they learn a lot in a short time, and they really learn to think on their feet. They also further develop their relationships with patients. "We know that when the patients come to us, they are in pain," says Christi Steele, DDS3. "We need to be empathetic and sympathetic, and we need to know what we're looking for."
During the school year, dental students regularly rotate through the Emergency Clinic, but this internship affords them extra practice – and they are paid for their time.
Students know that when they graduate from Dental School, there will still be a steep learning curve. Shifts at the Emergency Clinic can only help prepare them for real-life cases. "This program affords them extra training," said Dr. Rick Rayman. "They learn a great deal, they enjoy themselves, develop camaraderie, and they also gain confidence. At the conclusion, they almost feel like real dentists."